As an Amazon affiliate, and affiliate with other businesses, I earn from qualifying purchases.
These Biscoff Snickerdoodle Sandwich Cookies are Chewy, Tangy, Cinnamon Sugar covered Snickerdoodle Cookies held together by the most heavenly Cookie Butter Frosting you've ever tasted!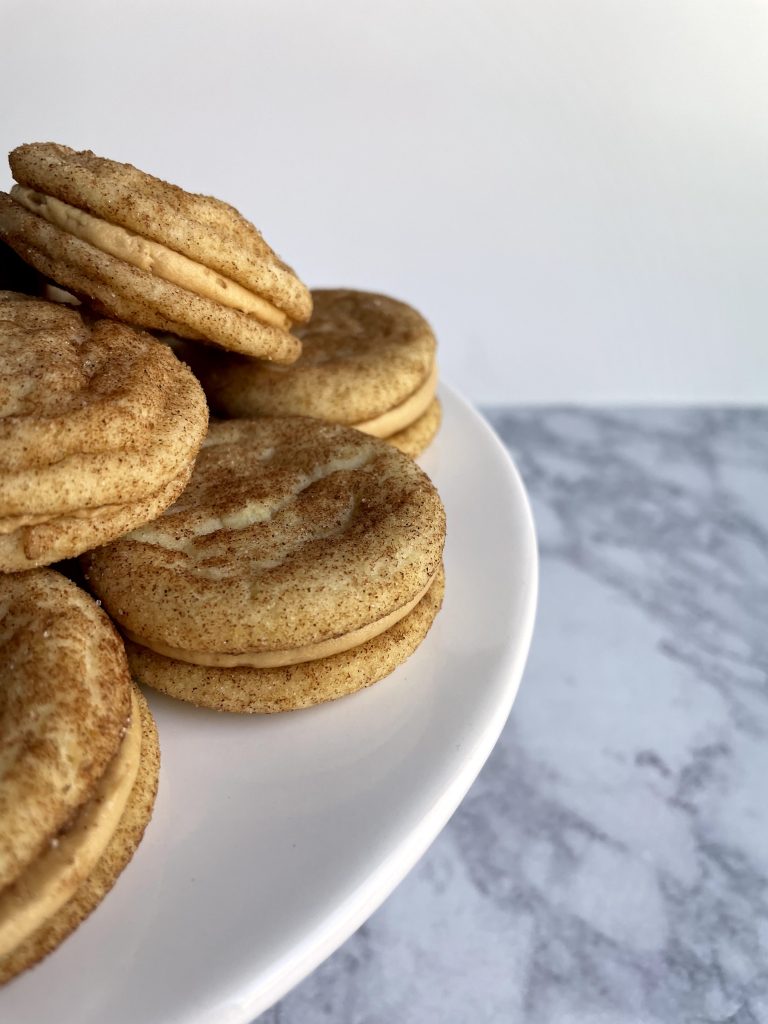 One of my most famous cookie recipes is now sitting right here in the palm of your hand! This Biscoff Buttercream is TO DIE FOR. Silky, creamy, sweet, fluffy, it's all you could ever ask for in a frosting… And these Snickerdoodle Cookies are the perfect chewy and sweet yet perfectly tangy cookie you've ever tasted. Grab your favorite Cookie Butter and make these Biscoff Snickerdoodle Sandwich Cookies for your loved ones!
It's been 2 years since I announced the launch of Sugared Sentiments! So in celebration I'm giving in and sharing one of my most sought after recipes!! There are a few signature recipes I've created since diving into the world of custom bakes. The ones I'm most proud of are my Pumpkin Gingersnap Cheesecake, my Perfectly Perfect Buttercreams- Both Vanilla AND Chocolate, My Coconut Sugar Cookies (which aren't on here just yet), and these lovelies! So…
Jump on in, lets talk about these fabulous Cookie Sandwiches!
What Is Biscoff?
Biscoff, if you haven't been introduced, is cookie butter. It's all the flavor of the best store bought cookies in a peanut butter like texture. You can spread it on crepes, put it in between layers of cake, you could dip your fruit in it… I'm pretty sure there isn't much you COULD NOT put it on.
And this Biscoff Buttercream will be your very best friend! It makes a fabulous filling for cake as well! Spread it in between layers of my Easy Moist Dark Chocolate Cake or Easy One Bowl Vanilla Cake for such a unique and tasty treat!
Do I have to use Biscoff Brand?
No! You can use whatever brand of Cookie Butter you can find. I prefer Biscoff Cookie Butter. It has a strong flavor, so when combined with powdered sugar, the taste isn't lost. But I have also used Speculoos Cookie Butter from Trader Joe's and it was pretty good also. Not quite the same, but very close!
Now days you can even find off brands of cookie butter, I know that Walmart has one. I have yet to try the other brands, only the two I mentioned above.
One important note… you'll want to buy CREAMY Cookie Butter. Crunchy Cookie Butter is absolutely fabulous on crepes and waffles and ALL the breakfast foods, but for this frosting, you're going to want the creamy stuff. You can always crush up some Biscoff Cookies and roll your cookie edges in it if you'd like some crunch… But I'd recommend keeping it out of the silky buttercream! 😉
Prep Your ingredients
Butter needs to be room temperature for both your cookies AND your frosting. Set it out on your counter, and go about your business.
Make your Snickerdoodle Cookie Dough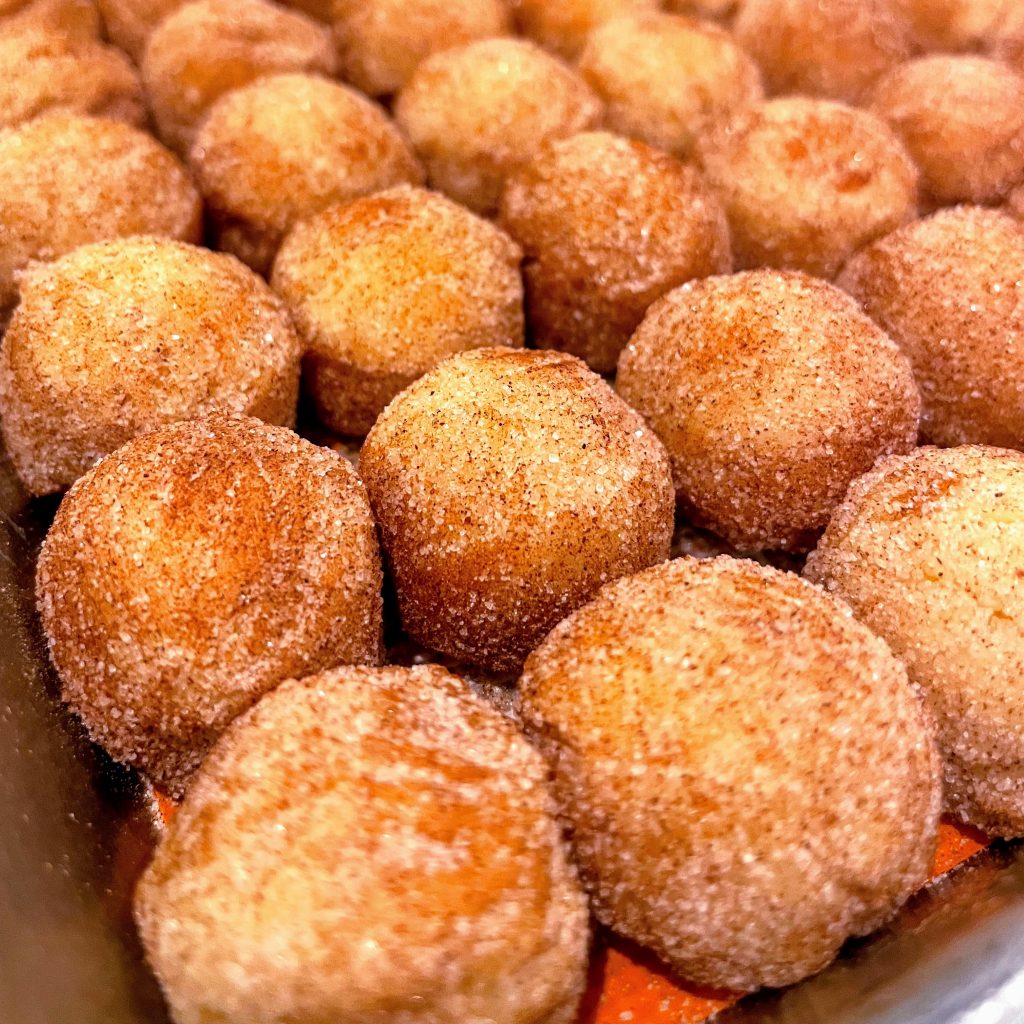 For this recipe I use a combination of butter and vegetable shortening. If you haven't noticed from my other cookies, I'm not against shortening. I also use it in my No Fail Chocolate Chip Cookies. I like shortening in my cookies because I feel like it keeps them softer longer, and because it prevents them from spreading too much.
If you do NOT like using shortening, just substitute butter for the shortening! Easy fix.
To make your Biscoff Snickerdoodle Sandwich Cookies you'll need to start with your butter, shortening, and sugar. Put it all into the bowl of your stand mixer fitted with the paddle attachment. Whip it all together on Med-High until the mixture has combined and is light and fluffy.
While it's whipping measure out your dry ingredients. Whisk together or sift your flour with your salt, baking soda and cream of tartar.
Scrape down the sides of your bowl, and any excess butter and what not on your paddle attachment. Then add your eggs, milk, and your vanilla and whip again until they've been fully incorporated. It shouldn't have any pockets of slimy egg white! Then scrape down the sides and bottom of your bowl again!
At this point you can start to slowly incorporate your flour. Slowly add the flour while your mixer is on stir. Once it has all been added and mostly combined you can turn up the speed just enough to watch as the dough pulls away from the sides of the bowl. It should clean the sides of the bowl. Your dough should not be sticky, but it also should not be crumbly. If it's too dry, add a little more milk. If it's too wet add a bit more flour.
***DISCLAIMER: PLEASE REMEMBER I LIVE IN A HIGH ALTUTUDE AREA! IF YOU DO NOT, DECREASE YOUR FLOUR ACCORDINGLY!!***
Make the dough in advance & FREEZE IT FOR LATER!!!
Do you love knowing you have cookie dough in your freezer?! I do! And my family LIVES for cookies when they want them.
This dough can be made, scooped, and rolled in the cinnamon sugar mixture and then frozen in dough balls for later!!
Simply roll your cookies, throw them on some parchment or a baking mat and freeze them for about 20 minutes. Then throw them in a Ziplock bag and put it back into the freezer for up to 3 months!!!
When you're ready to bake them, just pull them out and place the desired amount onto your lined cookie sheet to thaw before you bake them.
Bake your snickerdoodles
Snickerdooles are meant to have that cracked top. While baking they rise quickly and then deflate. This is what gives them that classic appearance. With these cookies you have options:
Make BIG Sandwich Cookies. Big enough to share! (I use a regular ice cream scoop from the grocery store for these ones)
Make Minis! Minis are a little more work, but they are adorable! And I HAVE found that most people aren't hesitant to try a cookie if it's small!
Make them into a regular cookie with the Biscoff Buttercream on top. I still use a regular ice cream scoop for these ones as well.
Choose your appropriate cookie scoop and add these doughballs to your bowl of cinnamon sugar. Roll each ball until completely coated and bake on a cookie sheet covered with a silicone baking mat or parchment paper until they puff up and edges are just set. Cracks will look underbaked. This is OKAY!!!
Leave cookies on the cookie sheet for 3-5 minutes to set up and then transfer to a wire cooling rack to cool completely.
If you choose to make minis just know that you will need to decrease your bake time. I believe when I made these cute little minis for a wedding I baked them for about 5-6 minutes. But watch your oven carefully. As soon as your cookies have puffed up, pull them out. In the cracks they will look underdone. But it is important that you do NOT OVERBAKE these cookies. It will take away from the chewy, soft texture we are looking for. With a sandwich cookie, we are not looking for crunch.
I've overbaked enough snickerdoodles in my day to tell you that NO ONE likes that!!!
Wanna make some of the other cookies you see? Those Coconut Sugar Cookies will be coming to the blog soon, as well as those sweet and tangy Lemon Raspberry Sugar cookies. But you can find the recipe for that Coconut Cream Cheese Frosting in my post containing The Best Coconut Cupcakes. And my Easy Red Velvet Sandwich Cookies with Fluffy Cream Cheese Frosting are a must try!
Make Biscoff Buttercream
This buttercream is so easy you'll laugh when you realize how popular it will be at all of your gatherings!
Simply whip your butter and Cookie Butter together until light and creamy.
Scrape down the sides of your bowl and make sure to combine ALL of the cookie butter and butter together.
Then add your powdered sugar a cup at a time.
Once done, add in your heavy cream and whip until light and fluffy. Try to add small amounts at a time. You'll want your buttercream light, but not so soft that it oozes out of the sandwich!
Assemble Biscoff Snickerdoodle Sandwich Cookies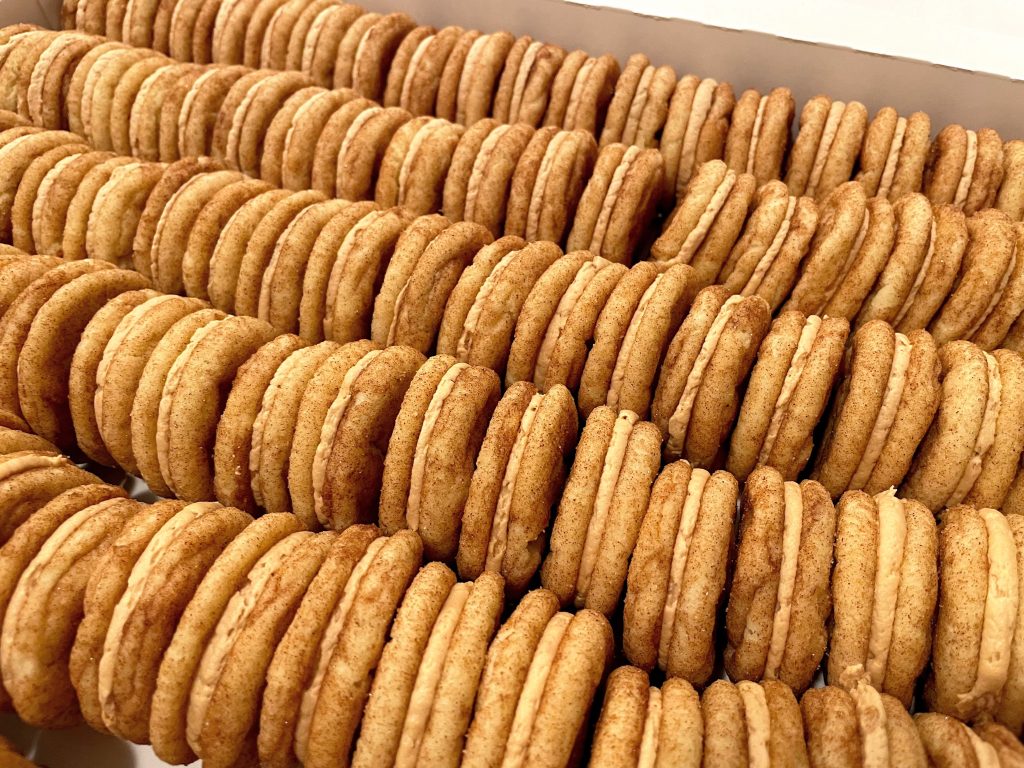 I've found the easiest way to assemble my sandwich cookies is to place them on the pan I used to bake them, fill them with buttercream and throw the other cookies on top. That being said, I do take the time to match up the cookies ahead of time.
Even while using a cookie scoop, sometimes my cookies come out a little flatter, or a little wonky shaped. So I just take a little extra time to match up each cookie so there doesn't end up being a big one with a much smaller one!!
How to Store your Sandwich Cookies
These cookies keep fabulously!!! You'll want to keep them cold just because of the Heavy Whipping Cream in the frosting.
Store them in an airtight container in the fridge for up to a week, or throw that container in the freezer and they'll last for months! If I know I'll be storing these cookies long term I'll individually wrap these cookies in self sealed cellophane bags and place them in an airtight container before I freeze them. They rarely last long enough for me to find out exactly how long they do last this way!!! Sorry!
If they last in your freezer…. let me know!!!
Happy Baking! -Chels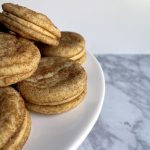 Print Recipe
Biscoff Snickerdoodle Sandwich Cookies
Soft & Chewy Snickerdoodle Cookies sandwiching Creamy Delicious Biscoff Buttercream
Servings:
11
Jumbo Sandwich Cookies
Ingredients
Snickerdoodles
3 1/2

C

All Purpose Flour

1

tsp

Baking Soda

1

tsp

Cream of Tartar

1/2

tsp

Salt

1/2

Cup

Butter

1/2

Cup

Vegetable Shortening

1 3/4

Cup

Sugar

2

Large

Eggs

1

tsp

Pure Vanilla Extract

2

Tbsp

Milk
For Rolling
1/3

Cup

Sugar

1

Tbsp

Ground Cinnamon
Biscoff Buttercream
1

Cup

Biscoff Cookie Butter

1

Cup

Butter

softened

2

Cups

Powdered Sugar

2-4

Tbsp

Heavy Whipping Cream
Instructions
Making Snickerdoodle Cookies
Preheat your oven to 375° Fahrenheit.

In a large bowl, whisk together flour, baking soda, cream of tartar and salt. Set aside.

In a bowl of a stand mixer fitted with the paddle attachment, add butter, shortening, and sugar and mix on medium high until light and fluffy. About 2-3 minutes

Scrape down the sides and bottom of the bowl. Add eggs, vanilla and milk and mix until fully combined. About 1-2 minutes.

Scrape down the sides and bottom of the bowl and add your dry ingredients slowly. Mix on low until fully combined. Dough should start to clean the sides of your mixing bowl.

Mix your 1/3 C Sugar and tablespoon Ground Cinnamon in a small bowl. Using a regular sized iced cream scoop, drop dough into the cinnamon sugar mixture and roll to cover completely. Then place dough balls at least 2" apart on a cookie sheet lined with parchment or a silicone baking mat.

Bake for 8-10 minutes, until they puff and crack. The cracks will still look underbaked when you remove them. Do NOT overbake.

Cool on sheet for 3-5 minutes and then remove to a wire rack to cool completely.
Make Biscoff Buttercream
Add softened butter and Biscoff to the bowl of a stand mixer fitted with the paddle attachment or use a bowl and a hand mixer. Mix until fully combined and fluffy. There should be no lumps of butter or cookie butter remaining.

Slowly add your powdered sugar until completely combined. Mixture will appear dry.

Add your whipping cream one tablespoon at a time until you reach desired consistency. Whip well between additions. You want the buttercream to be creamy and fluffy, not too thick but NOT thin. If it's too thick it will taste chalky, but if it's too thin, when you eat your cookies it will come out the sides of the cookie. Find a good "in between" consistency!
Assemble your Biscoff Snickerdoodle Sandwich Cookies
Pair your cookies according to size and shape.

Pipe or spread your buttercream onto the bottom side of half of the cookies and top with the other cookies.

Store in an airtight container and place into the fridge. Cookies will keep for up to a week.
Notes
***THIS RECIPE WAS CREATED AT A VERY HIGH ALTITUDE. IF YOU DO NOT LIVE IN A HIGH ALTITUDE AREA, PLEASE DECREASE YOUR FLOUR AND ADD MORE IF NEEDED!!***
If you like a salty sweet flavor, I'd recommend using salted butter in the cookie dough and the buttercream. If you prefer them a little more sweet, use unsalted. Your call.
To make them smaller cookies, just use a smaller scoop and decrease your bake time accordingly.
These snickerdoodle cookies also taste fabulous without the buttercream if you're looking for a simple, less decadent dessert!