As an Amazon affiliate, and affiliate with other businesses, I earn from qualifying purchases.
Fluffy but dense and stack-able, this Easy Moist Dark chocolate cake recipe is my absolute favorite one to use as a cake decorator.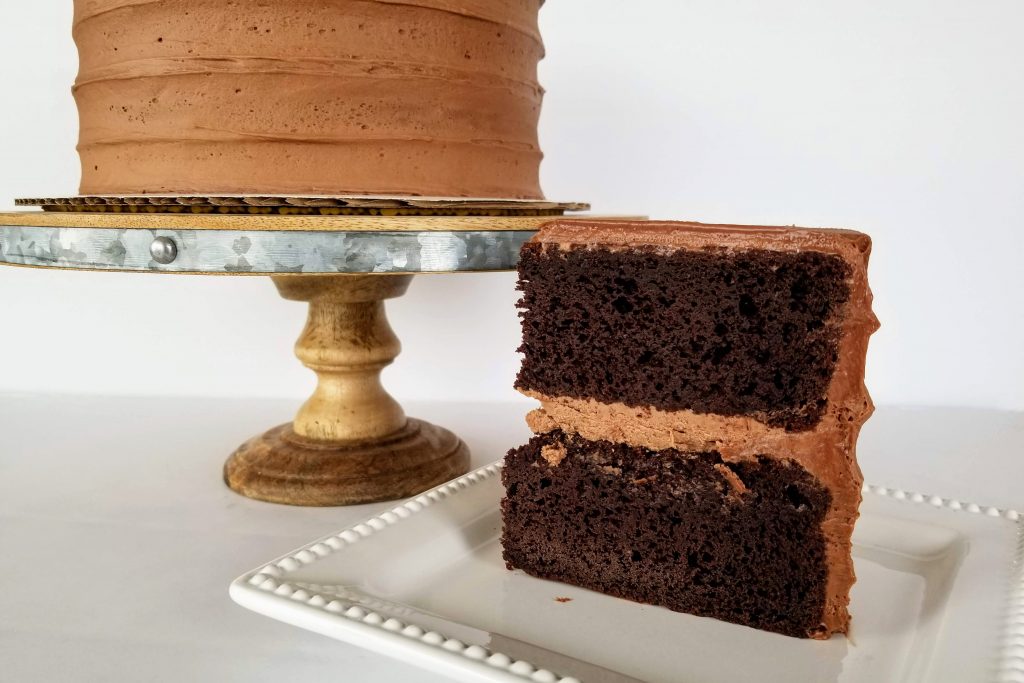 Finding a great Chocolate Cake recipe can be a challenge. Box based recipes get a bad wrap, but this Easy Moist Dark Chocolate Cake recipe is one of the BEST Chocolate Cakes out there. It has a fluffy but dense texture that is satisfying without being heavy and it packs that chocolate flavor. It is also great for stacked, tiered and carved cakes!
Growing up my mom always gave us two options for our birthday cakes. Texas Sheet Cake or Strawberry boxed cake. The Texas sheet cake was always made from scratch and was the clear favorite in our home. (Although to this day, I still love strawberry boxed cake with my mom's fluffy 7 minute frosting.) That sheet cake is where my love of Chocolate Cake started.
Shortly after I started learning to decorate cakes I started looking for base recipes. I tried to make that sheet cake into a layered cake, but as good as it was, it just wasn't sturdy enough to use for layered cakes. Especially ones that were going to be stacked, tiered, or covered in fondant.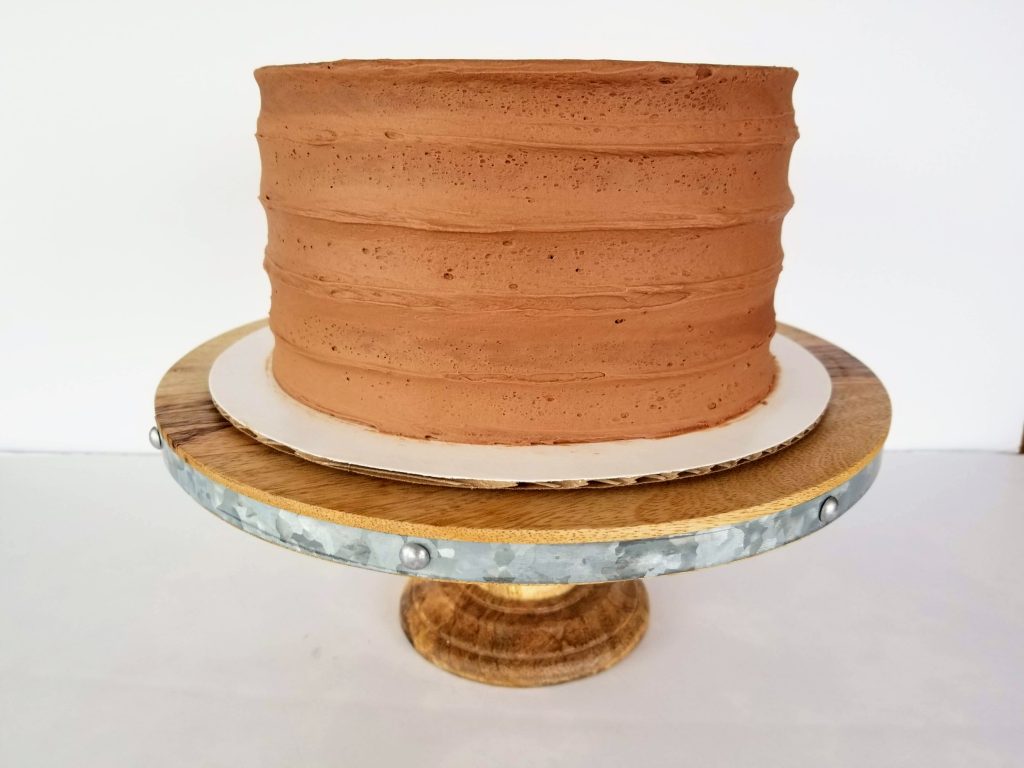 The search for the best Chocolate Cake
And so the hunt for a Chocolate Cake that was stack-able, sturdy, fluffy but dense and filling, and NEVER dry began. I tried from scratch recipes. I loved Hershey's Especially Dark Chocolate Cake Recipe. The flavor and moisture were exactly what I was looking for, but the cake was too fluffy, not sturdy enough to stack high or tier. A great one for a simple birthday cake, but NOT a go-to favorite.
I found an AMAZING boxed base recipe for Durable Chocolate Cake from Rose Bakes. It checks almost all of the boxes, but she unfortunately does not live at a high altitude like I do, so it wasn't a no fail recipe that I could solely rely on. With some adjustments I made it work for a long time, but ultimately it's not one I feel works for "everyone".
I recently tried converting my Decadent Red Velvet Cake into a chocolate cake. It wasn't in vain, it was very good. But I didn't love the texture as much as the boxed based recipe from Rose Bakes, and the chocolate flavor wasn't as deep even when adding dutch cocoa and coffee.
Ultimately I settled on sharing a box based recipe of my own creation until I have a CLEAR and NO FAIL from scratch recipe that I LOVE! (I'm still searching, experimenting and committed to find the very best!)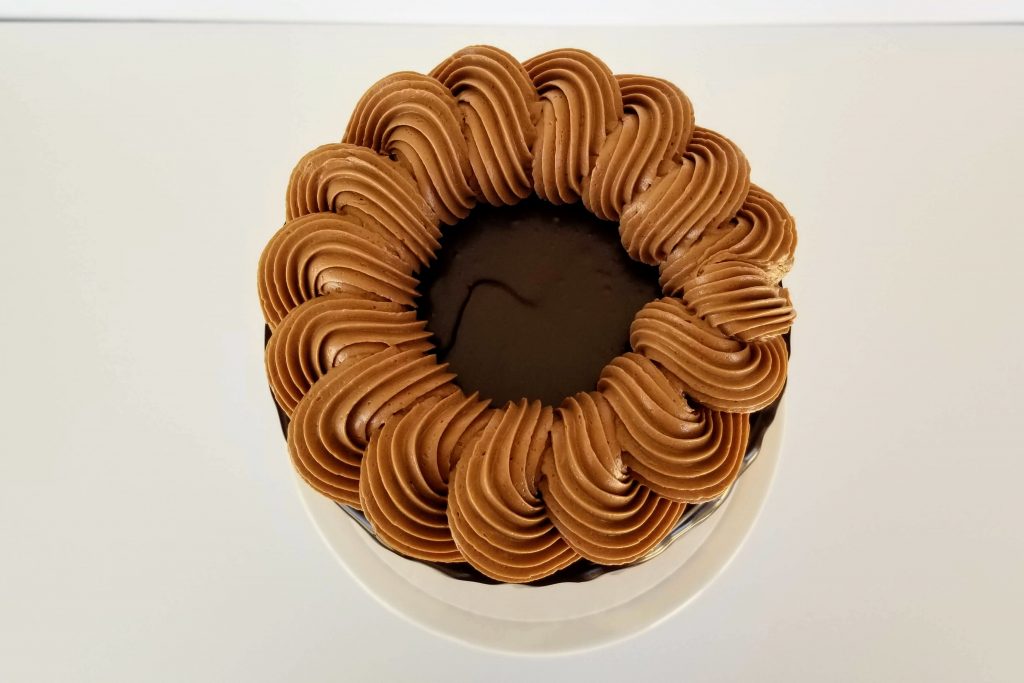 What makes this boxed base recipe a winner
The thing I love about boxed based cakes are that they rarely are ever a complete fail. The cake is usually sturdy, moist and doesn't typically have any trouble rising. And using Duncan Hines Dark Chocolate Fudge Cake mix ensures a deep chocolate flavor.
When making a boxed base cake I usually look for one that uses Sour Cream and Pudding Mix. Both of which add moisture. I think there is NOTHING worse than dry cake! This recipe has both. AND… I also use a Chocolate Fudge Pudding Mix to intensify that chocolate flavor!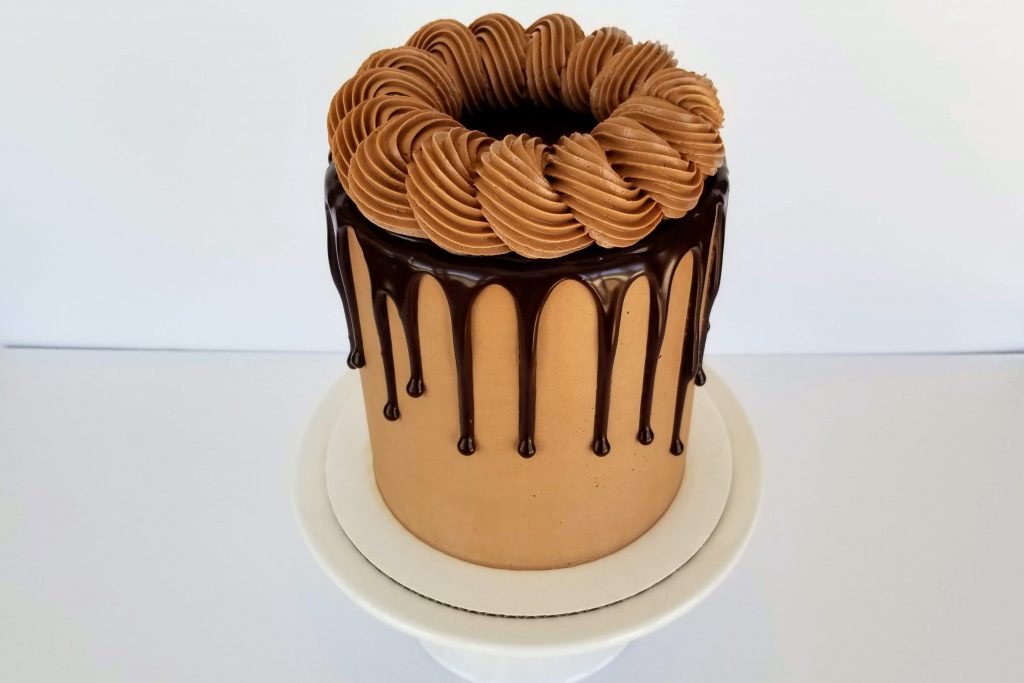 Things to remember
I live at a high altitude, so remember, if you do not, you may need to decrease the amount of added flour. It might be a bit much for your altitude (I am at about 5000 ft).
Even though it is a mix, you can over-beat your batter. This can cause your cake to sink. So pay attention and don't mix more than about 2 minutes.
This Chocolate Cake was decorated with my Perfectly Perfect Chocolate Buttercream, recipe is attached bellow. But it also pairs well with my Perfectly Perfect Vanilla Buttercream or my Fluffy Cream Cheese Frosting if you are worried about it being "too chocolaty" (I personally am not sure that is possible!)
How do I add that beautiful Chocolate Drip?
This Easy Moist Dark Chocolate Cake was also adorned with a Dark Chocolate Drip. You can do this also by adding 1/2 Cup of Hershey's Dark Chocolate Chips to a glass measuring bowl and pouring 1/4 cup of very hot Whipping Cream over the Chips. Allow the Chips and Cream to set and meld for about 2 minutes. Then stir until incorporated and smooth. Then you can drizzle over the top and side of your chilled cake. I recommend using a squeeze bottle, see the video below, but you can also use a piping bag or a spoon.
Baking your Easy moist dark chocolate cake
Oven temperatures and bake times will vary. This Easy Moist Dark Chocolate Cake bakes best at 350 degrees Fahrenheit. Here are a few baking time references:
3- 6″ Round Pans: 11 oz of batter per pan for 25-32 minutes
2-8″ Round Pans: about 24 oz of batter per pan for 30-40 minutes
3 Dozen Cupcakes: Fill with your typical ice cream scoop and bake for 16-18 minutes
I often use heating cores to help my chocolate layers bake evenly. (Image and Product linked above) These prevent the outside of the cake baking faster than the center. I use one core in a 6″ Pan and three in an 8″ or 9″ pan.
Bake your layers until a toothpick inserted into the middle comes out clean or with just a few moist crumbs.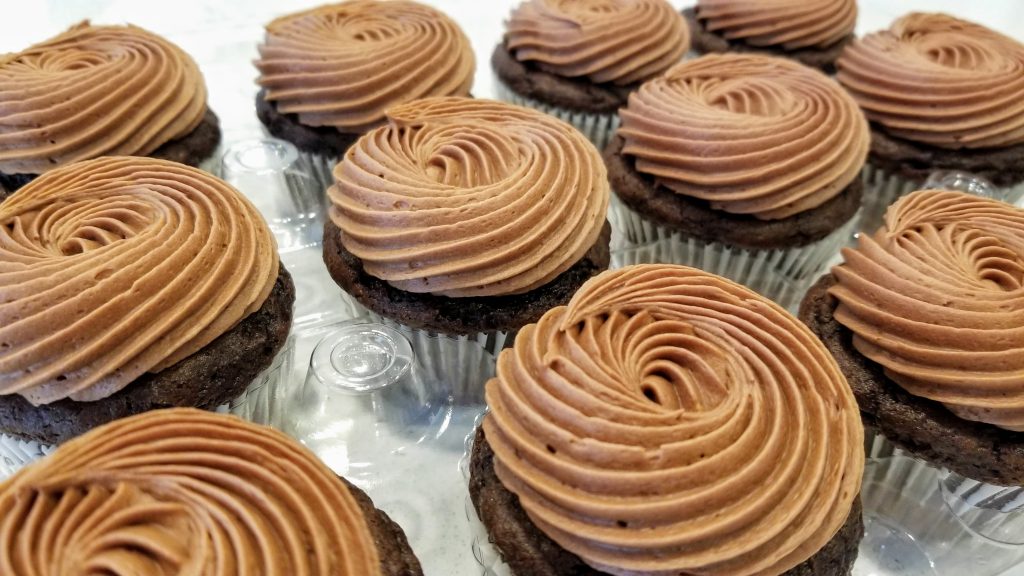 Important tips for storing and assembly
Check out my post about Baking the Perfect Cake Layers for all of the tips you need to prep your pans, bake your layers, get them out of the pan, and prep them to be decorated.
Chocolate Cake tends to loose moisture more quickly than other cake flavors. Because of this I wrap my layers in plastic wrap while they're still warm and throw them in the freezer to retain moisture.
Hit me up with any of your comments, reviews or questions below… And as always: HAPPY BAKING!!! -Chels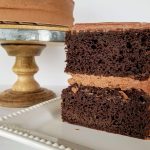 Print Recipe
Easy Moist Dark Chocolate Cake
Super Yummy Box-Based Chocolate Cake
Ingredients
3/4

Cup

Hot Water***

1

tsp

Instant Espresso Powder***

1

Small

Box Instant Chocolate Fudge Pudding Mix (unprepared)

1

Box

Duncan Hines Dark Chocolate Fudge Cake Mix

1/4

Cup

Dutch Cocoa Powder

1

Cup

All Purpose Flour

1

tsp

Baking Powder

3

Large

Eggs

1

Large

Egg White

1/3

Cup

Vegetable or Canola Oil

1

Cup

Sour Cream

1/2

Tbsp

Vanilla
Instructions
Add Espresso Powder to Hot Water and set aside.

In a separate bowl, sift or whisk together the Pudding Mix, Cake Mix, Cocoa Powder, Flour and Baking Powder and set aside.

Add Eggs, Sour Cream, Oil, Vanilla and dry ingredients to the bowl of a stand mixer fitted with the paddle attachment.

Mix on Low, increasing speed to Medium High as ingredients are incorporated. Mix for about a minute

With mixer on stir, add in the slightly cooled coffee mixture. Increase the speed to Medium and mix for another minute or until fully combined and slightly lighter in color.

Divide batter evenly into prepared pans and bake at 350° until a toothpick inserted into the middle of each cake comes out with only a few moist crumbs.
Notes
***Instant Espresso Powder can be omitted, and Coffee can be substituted for the same amount of room temperature Water, Milk, or Buttermilk.
Baking Recommendations based on my Gas Oven at High Altitude:
3- 6″ Pans filled 1/2 full for about 30 minute
2-8″ Pans filled 1/2 full for about 38 minutes
3 Dozen Cupcakes 15-18 Minutes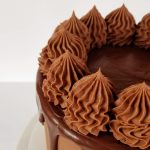 Print Recipe
Perfectly Perfect Chocolate Buttercream
Perfectly Balanced, Meringue Based Chocolate Frosting
Ingredients
5

Large

Egg Whites

1 1/4

Cup

Sugar

5

Sticks

Salted Butter (2 1/2 Cups, 20 oz)

2

Sticks

Unsalted Butter (1 Cup, 8oz)

2

lbs

Powdered Sugar

1/2

C

Cocoa Powder (sifted)

1

Tbsp

Pure Vanilla Extract (Mexican Vanilla recommended)

4

oz

Melted Dark/Semi-Sweet Chocolate (room temperature)
Instructions
Sift your Cocoa Powder into a separate bowl and set aside.

Melt your chocolate over a double boiler and set aside.

Cut your butter into Tablespoon sized slices and set aside.

Mix together sugar and egg whites, using a whisk, in the bowl of a stand mixer and place over a pan with simmering water. Stir constantly until temperature reaches 160° F, or until all of the sugar is melted and mixture is foamy and white on the top. Remove from heat and put onto mixer with the whisk attachment. Mix on high.

Once meringue is room temperature, slow the mixer down to about 7, and start adding butter one tablespoon at a time. Do not add another slice until the first one disappears. After adding about 8-16 tablespoons, switch to the paddle attachment and continue adding butter until it is all incorporated. Then mix on high for 2 minutes.

With mixer set to stir, add your cocoa powder slowly followed by your powdered sugar. Scrape down the sides and bottom of your bowl and then add your vanilla and whip again for 2 minutes.

Set your mixer to stir once again and pour in your room temperature melted chocolate. Whip your buttercream again until fully incorporated. Scrape down the sides and bottom of your bowl and WHIP AGAIN!! If your buttercream seems too soft, stick the bowl in the fridge for 10-20 minutes and then re-whip.

To remove air bubbles, set mixer to stir and let it run for about 10 minutes. This will help release a lot of the excess air, leaving you with smooth, dreamy PERFECTLY PERFECT CHOCOLATE BUTTERCREAM!
Notes
***If your kitchen is particularly warm, wait to slice your butter until your meringue is whipping up.