As an Amazon affiliate, and affiliate with other businesses, I earn from qualifying purchases.
Much easier to make than cake pops, these rich chocolate cake bites combine yummy chocolate cake with cream cheese frosting and are then covered in an easy to use chocolate candy coating.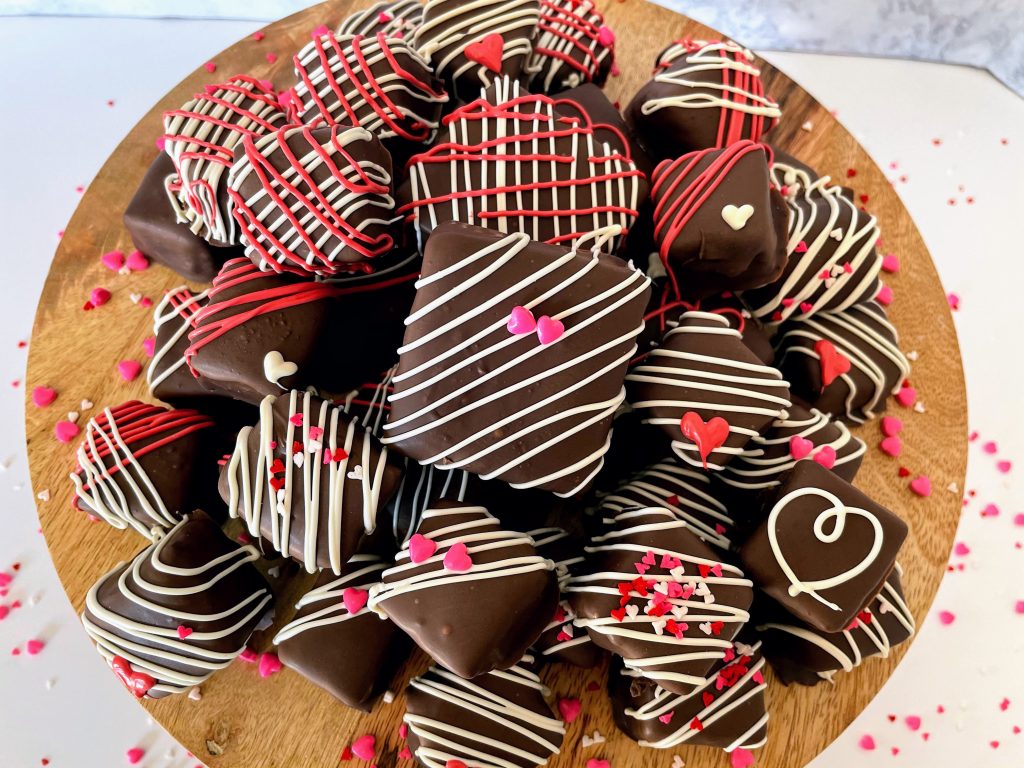 If you're a fan of cake pops, you need to try making these Rich Chocolate Cake Bites. They are much easier to make, because there are no sticks or shaping involved! Just cutting and dipping. Not to mention, this recipe uses a cake mix and simple Cream Cheese Frosting. They Taste AMAZING! I even use an easy to melt Chocolate Candy Coating so there is no need to temper your chocolate.
What I love most about these Rich Chocolate Cake Bites are the moist texture and deep chocolate flavor they offer. They are always the hit of the party, and are rarely turned down. You can make them any size you like, and decorate them for any holiday! And seeing as Valentine's day is right around the corner, these ones are dressed up with pinks and reds today.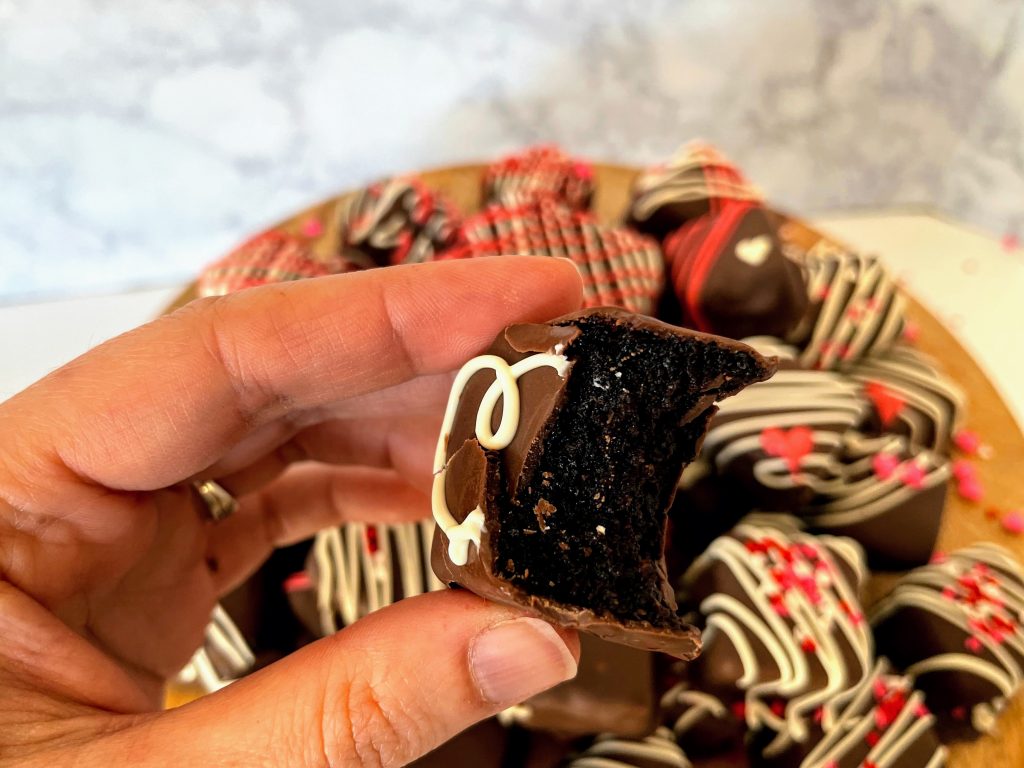 If you've never had a cake bite, let me break it down for you. A cake bite is like a small slice of cake (and icing) all combined into a small, decadent bite size piece that is contained in a chocolate shell. They sell them in other forms at some local bakeries. Here in Utah you can find them at Sweet Tooth Fairy and Cravings in Pleasant Grove, they look like a truffle you'd buy in a chocolate shop.
I have been making cake bites for years! And all the ones I make were inspired by this simple and sweet video recipe from Cook'n that I saw on Facebook many many years ago!
But why buy them when you can make a bunch yourself for less than $10?!! Lets get to it!
Step by step video
Tips for success
Use a high quality cake mix that you love the flavor of. I prefer Duncan Hines Moist Dark Chocolate Fudge Cake mix. This is the same mix I use in my Easy Moist Dark Chocolate Cake. I have it linked just so you can see which one I'm talking about, but it will be MUCH cheaper at your local grocery store! And if you're not a fan of a box, you can sub in your favorite scratch recipe instead!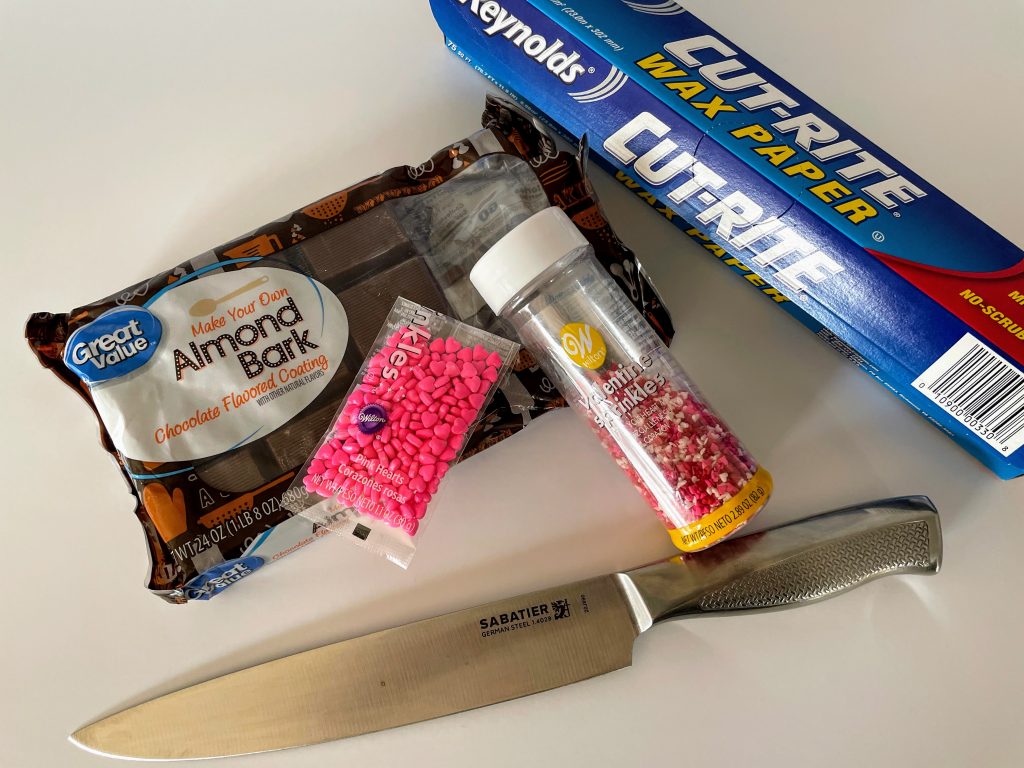 Almond bark is great, but some brands are not created equally. For this reason, I would stay away from Palmer's Almond Bark. It does not taste like chocolate to me. But Great Value and Kroger do, and I've linked my favorite brand above. If you want to spend a bit more and really elevate your flavor, you could buy some Dark Chocolate A'Peels from your local bakery supply or Ghirardelli Melting Wafers also do a great job. For our purposes, I wanted to share the most affordable, and attainable option that yields a similar result!
Keep in mind that your cake bites should be properly cooled, so you may have to pop your chocolate back into the microwave from time to time to keep it the right consistency.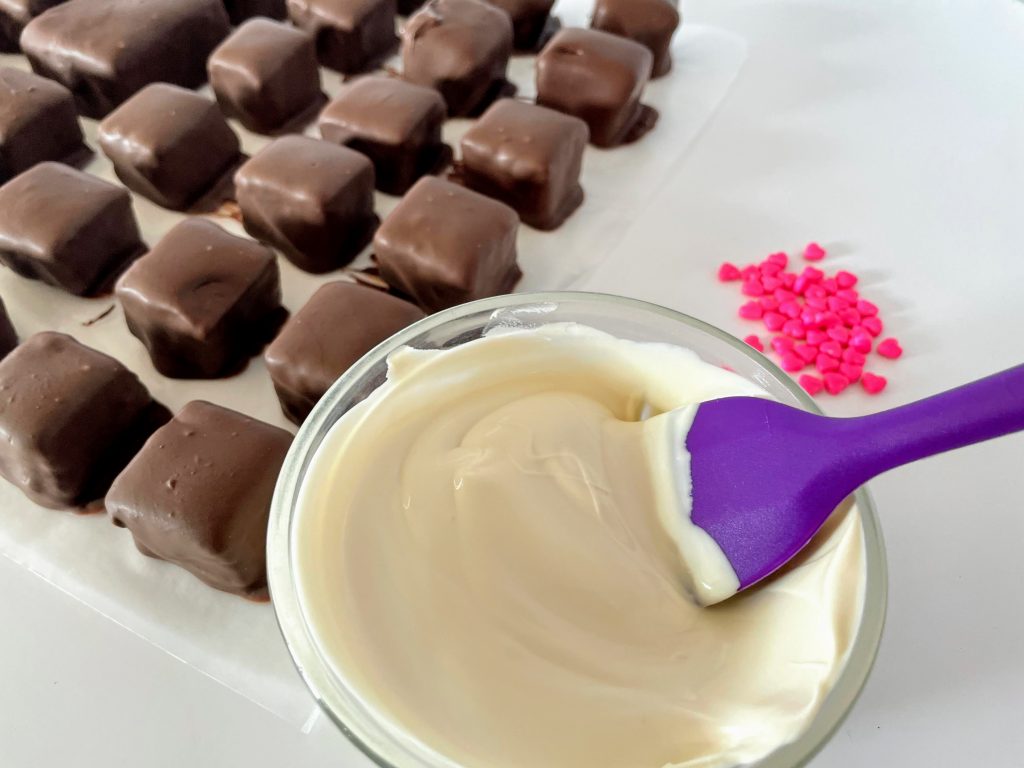 The easiest way to decorate your cake bites is with some Wilton Candy Melts in your favorite flavors and some sprinkles. Or you can use an oil based powder or oil food color to color Vanilla A'Peels like I did with Red Oil Powder from Sugarin North America.
How to store your rich chocolate cake bites
These Rich Chocolate Cake Bites should be stored in the fridge. However, they taste best when closer to room temperature, so give them a bit of time out on the counter before you devour them!
I HAVE had luck with storing them in the freezer as well. Though, it is important to recognize that the Chocolate might crack or lose its sheen.
SMALL QUANTITIY TIP: As long as it is properly sealed and protected against freezer damage, I have been able to store the cake mixture in my freezer for a few months before cutting into squares and dipping. That way, if we only want a few, we don't have to make all of it at once! I will simply slice off what we want and throw the rest of the mixture back into the freezer for next time. This makes it really simple to drop off a small treat to a friend on their birthday, or take a few for a GNO.
Can I make these with other flavors as well?
YOU ABSOLUTELY CAN!!!! I have made these Cake bites with all kinds of cake flavors! Red Velvet, Vanilla, Funfetti, Cookies n' Cream…. the flavor possibilities are endless.
These would be a great dessert to do a gender reveal with, coloring your cake pink or blue!
It is a really fun dessert to dress up for any occasion.
Happy Baking -Chels
Print Recipe
Rich Chocolate Cake Bites
Moist Chocolate Cake and Cream Cheese Frosting all contained in a bite sized Chocolate Shell
Ingredients
1

Box

Chocolate Cake (Prepared, baked & Slightly Cooled)

4

oz

Cream Cheese, room temperature

3

Tbsp

Butter, room temperature

2 1/2

cups

Powdered Sugar

1

tsp

Vanilla

1

Tbsp

Whipping Cream, or Milk

1

Package

Dark Chocolate Almond Bark

1/4

Cup

Candy Melts

*optional

Sprinkles

*optional
Instructions
Prepare and bake your boxed cake according to package directions.

Prepare a square or rectangular baking dish with wax or parchment paper and set aside.

Whip together butter and cream cheese in a large mixing bowl. Add powdered sugar and mix until combined. Add vanilla and whipping cream or milk and whip until fluffy.

Add baked and slightly cooled cake to the frosting and mix until fully incorporated. Mixture will be thick and wet.

Spread the mixture in your prepared baking dish and cover with an additional piece of wax or parchment paper. Cover the dish with a lid or tinfoil and freeze at least 2 hours, preferably overnight.

When the cake mixture is frozen, cut into squares and pop them back into the freezer while you chop and melt your chocolate.

Drop each square, one by one, into the melted chocolate and flip to cover it completely in chocolate. Place on a piece of parchment or wax paper to cool and harden. If you will be adding something like sprinkles, make sure to do it while the chocolate is still wet.

If desired, decorate with drizzled melted chocolate in different colors.

Store in the fridge for up to a week, or in the freezer in a sealed container for up to 3 months.