As an Amazon affiliate, and affiliate with other businesses, I earn from qualifying purchases.
Simple, Inexpensive, Beautiful and most importantly- DELICOUS!! These Show Stopper Gourmet Chocolate Covered Strawberries are amazingly easy to make following this step by step tutorial.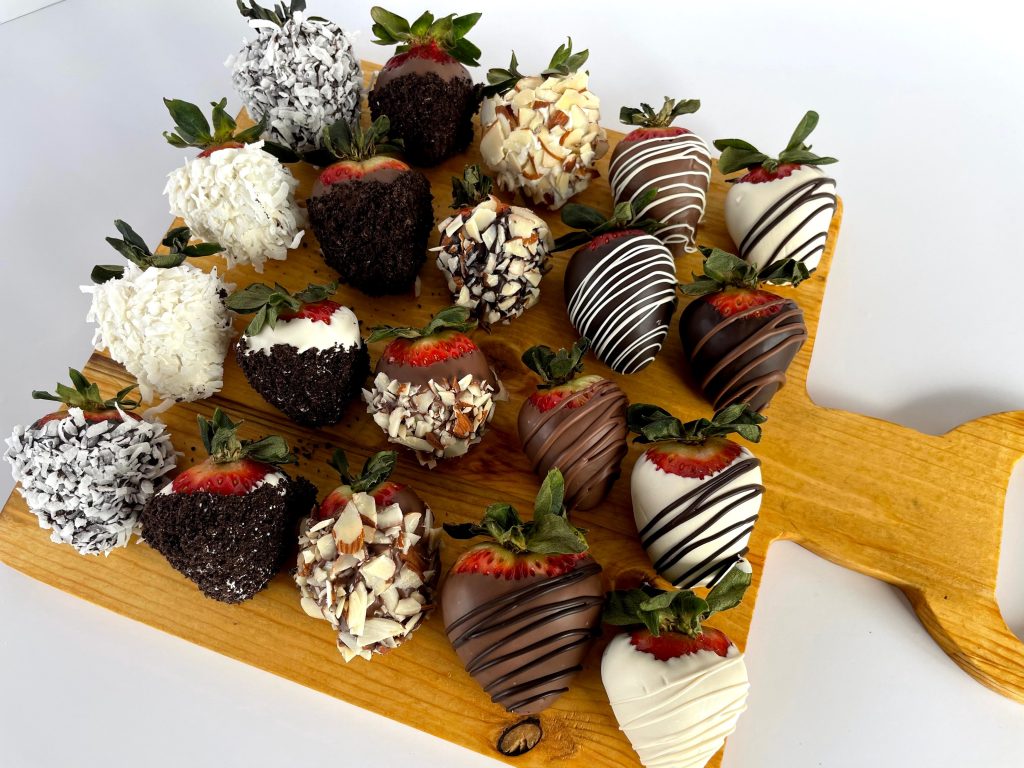 Save your money, don't shell out your hard earned dollars for Chocolate Covered Strawberries this Valentines Day. Make these Gourmet Chocolate Covered Strawberries from the comfort of your own home and impress your loved ones. No tempering chocolate, no double broiler, no hassle, no fuss! Just hunt down some beautiful strawberries, tasty chocolate and yummy toppings!
Make them yourself!
Valentines Day, the official candy, flowers and chocolate day is coming up quick! And while I ABSOLUTLY support bakeries and candy shops, what I struggle supporting is the inflation imposed upon supply and demand items during holidays. For that reason, I have never purchased chocolate covered strawberries during Valentines Day. However, we have them every year!
One of the first things I taught myself to do after I got married was to make Chocolate Covered Strawberries! I was surprised at how easy it was, and how I could make them on a budget.
Last year I made these for my girls, only because they begged. You see, Valentines fell just days after filing divorce papers, but there was no way they were going to let me off the hook. As you can see, even THEY are used to eating the rejects every year!
I share this personal tidbit only because you don't need to be in a relationship to make pretty delicious things this Valentines! If you're alone, treat yourself! If I've learned anything over the past couple of years it is that if you don't take care of yourself, no one else is going to. So be your own biggest fan, and show yourself some love.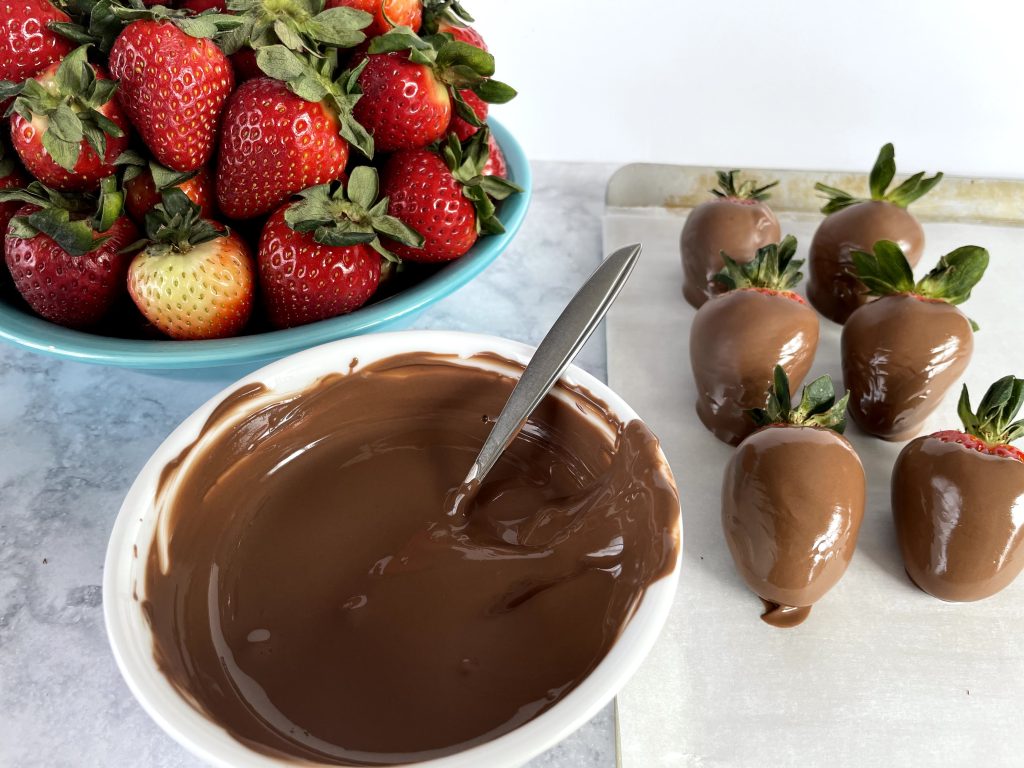 Supplies
Fresh Beautiful Strawberries
Chocolate (I suggest using Guittard A'Peels so you don't have to temper your Chocolate)
Toppings (nuts, coconut, oreos, candy bars, sprinkles, etc…)
Tutorial: Gourmet Chocolate Covered Strawberries
Step By Step
Prep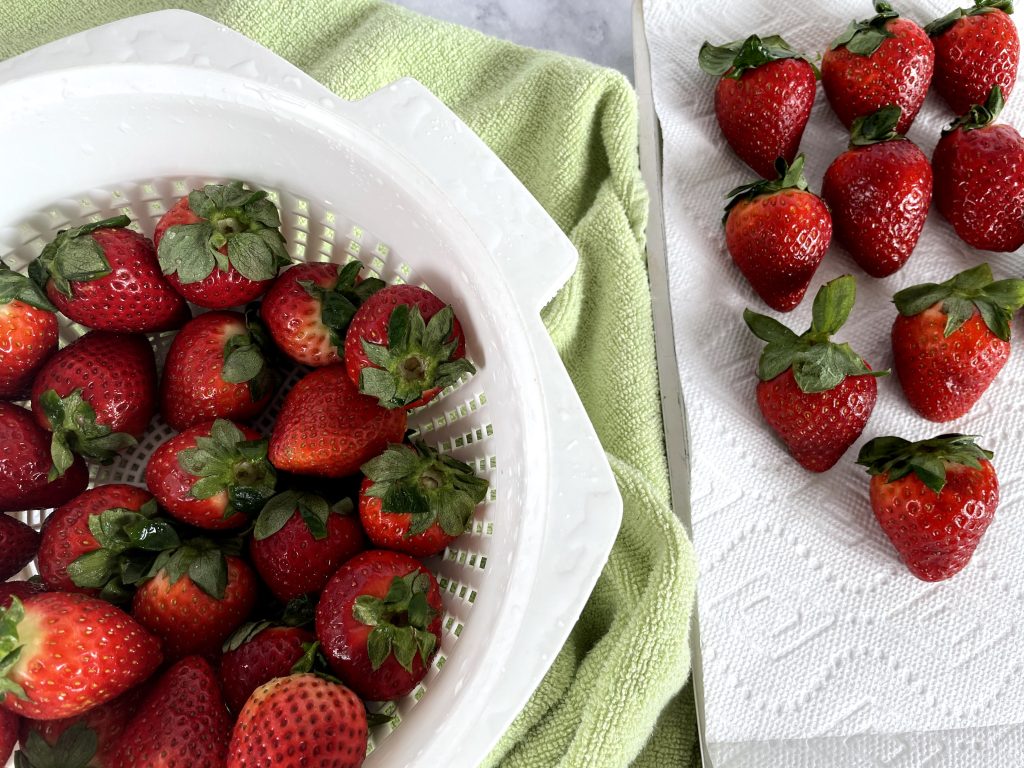 Wash & thoroughly dry fresh strawberries. The bigger the better!
Any remaining moisture on your berries will cause the chocolate to seize and will prevent the chocolate from properly adhering to your strawberries. Therefore, it is very important to hand dry EACH individual berry!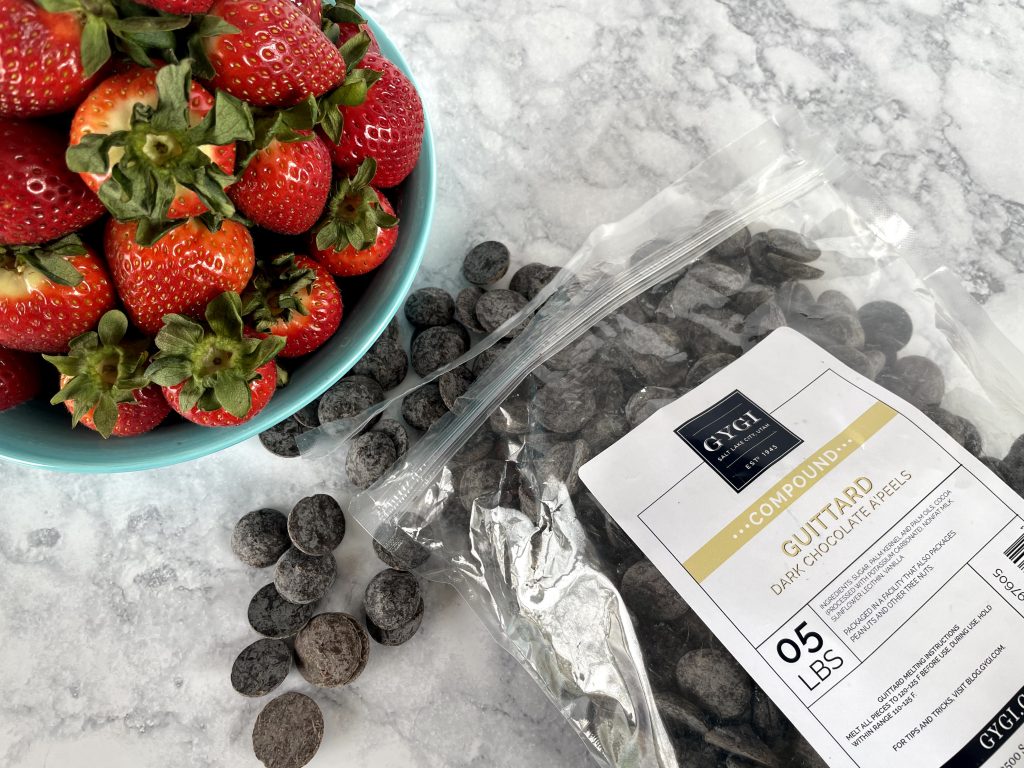 Choose your Chocolate
When Covering Strawberries you DO have options.
Guittard A'Peels in various flavors (I used Milk Chocolate, Dark Chocolate and Vanilla) This is my preferred method. This is because it is easy to use, but still provides great flavor.
Pure Chocolate. Keep in mind, this will have to be tempered. If you choose to go this way please visit this website for instructions on tempering Chocolate.
Almond Bark, found at your local Grocery Store. (PSA: Avoid Palmer's, it's yucky!) This is your easily obtained and affordable option.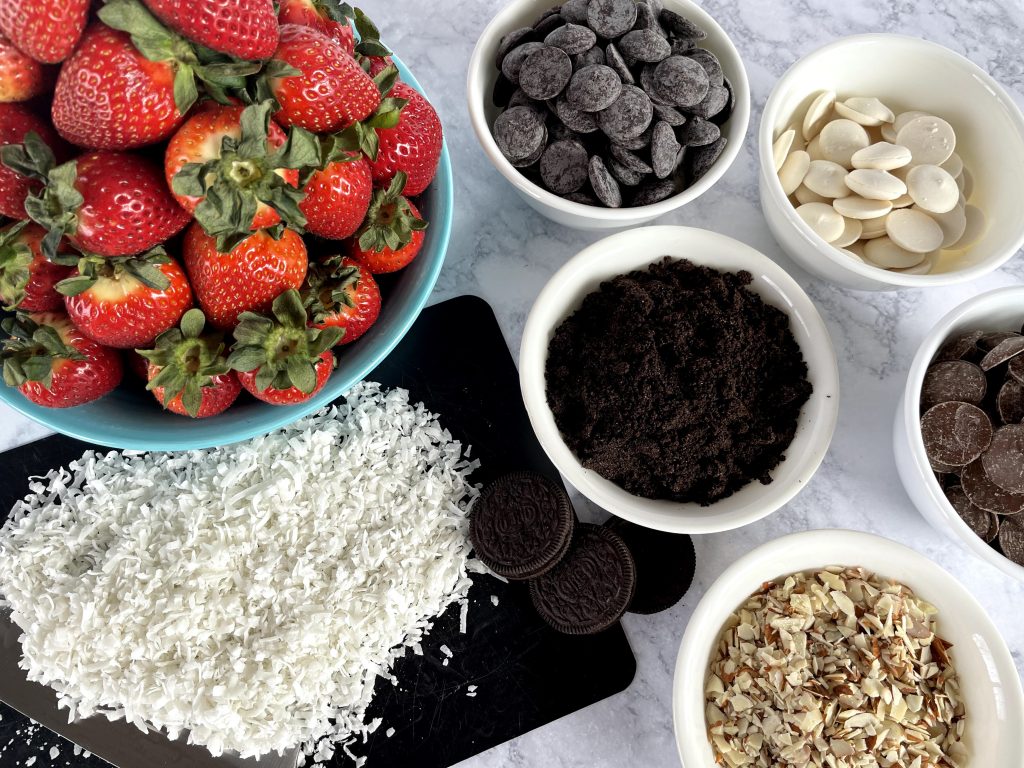 Prep your toppings
Use Small Microwavable Bowls for each flavor of Chocolate A'Peels.
Chop up Coconut, this will coat the chocolate better and look neater.
Chop up any nuts you'd like to use into small, fine chunks. If they are too heavy they won't stay on the berry.
Crush Sandwich Cookies into fine crumbs. This is crucial, as big pieces will fall off.
Dip Dip Dip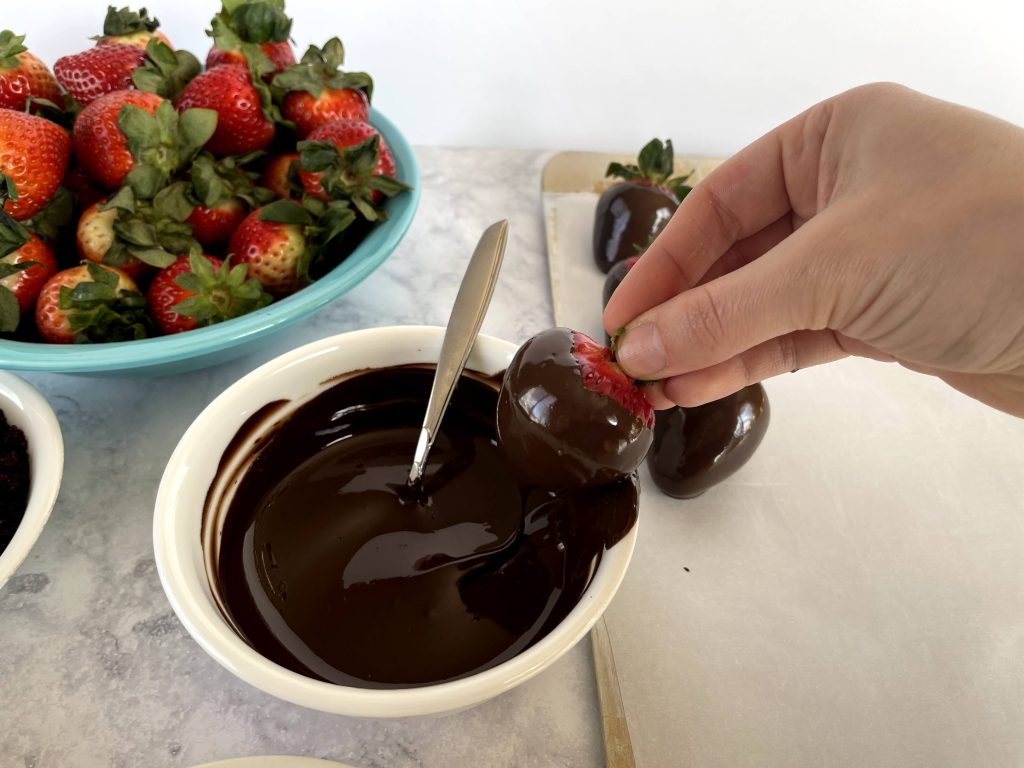 Melt & Dip
Tips For Melting & Dipping
If using a ceramic or glass bowl in the microwave, heat your a'peels at 50% power to avoid overheating the chocolate.
Scrape your berry on the side of the bowl to avoid a pool of extra chocolate under your set berry.
Cold Berries will set up quicker!
Place onto Parchment or Waxed Paper for easy removal and simple clean up!
Decorate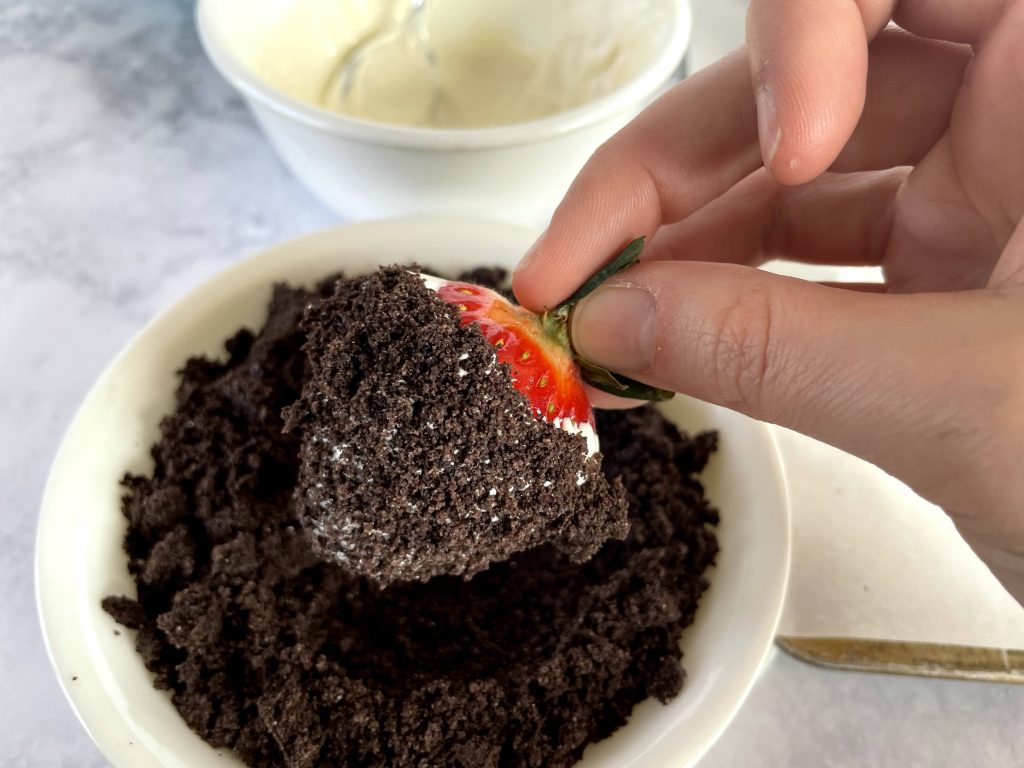 Adding Toppings to your Berries
Make sure to roll your berries in toppings quickly, otherwise the chocolate will harden and your toppings will not stick! So do this immediately after dipping them into the desired flavor of chocolate.
Toppings are limited only to your imagination!
Visit the end of this post for some flavor combo recommendations!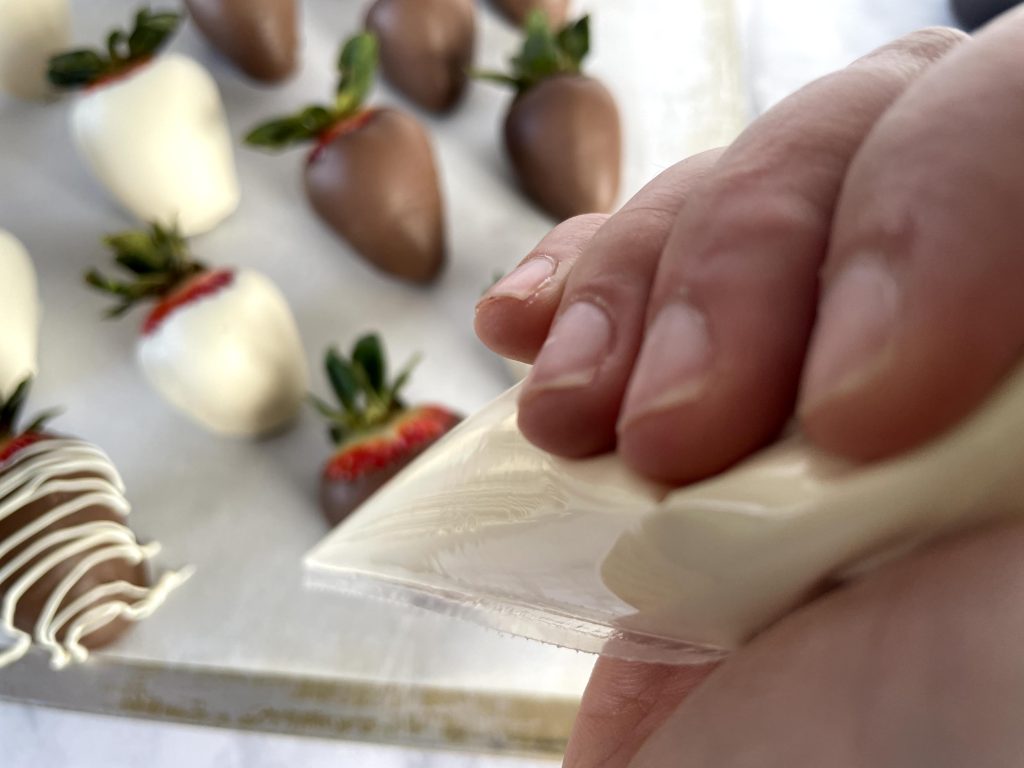 Dress Up Plain Berries with a Drizzle
Melt Different Flavors of Chocolate, or even use colored chocolate like Candy Melts to drizzle on top of your berries
Dish the melted Chocolate into a piping bag or a Ziplock bag and cut the tip off, start with a small hole, you can always make it bigger but you can't go back and make it smaller!
Get Fancy and Decorate a Tuxedo Berry
All you need is a toothpick and two different shades of Chocolate. For these adorable Strawberries I used Vanilla and Dark Chocolate.
Flavor Suggestions
The great thing about making your own Gourmet Chocolate Covered Strawberries is that you get to choose the toppings! This way you're not stuck with all plain, or a bunch of varieties you don't want to eat! There's nothing worse than having a box of chocolates and you'll only eat half of them….
Really, the sky is the limit. The toppings listed above are the ones I use the most. However, I switch it up from time to time, and here are some of our favorites:
Turtle Berry- Chop up some pecans and then drizzle with melted caramel
Butterfinger Berry- Crush up Butterfinger and roll your dipped berry in the crumbs
Toffee Berry- Roll your berry in crushed Heath Bar or high quality toffee
Sprinkles- This is a great way to add featured colors to your party table
Sweet & Salty- Crush up some pretzels, for that fabulous salty sweet combo
Storing Gourmet Chocolate Covered Strawberries
These delicious berries can be kept at room temperature the day you are planning to serve them. Afterwards they need to be placed into the fridge, covered, for up to 3 days. Depending on how ripe the strawberries are they might last a little longer or less so.
Other Great Valentines Treats
Not a huge strawberry fan?…. I've got a few other desserts that will rock your Valentine's Day! For instance, try making these Rich Chocolate Cake Bites, they're delightfully rich and pack that chocolate flavor!
Want to treat the whole family? Bake up a Classic New York Style Cheesecake and top it with your favorite yummy toppings. Or bring the heat AND that lovey Valentine's theme with these Red Hot Sugar Cookies & Cinnamon Cream Cheese Frosting!
Alright friends, I'm aware of how talented my followers are! Therefore, If you're using any of my recipes or tutorials this Valentines, tag me in your social media posts (@chelseyscakesncookies) so I can see what you've been able to create! Seeing your baking wins only fuels my fire to create more content!
Happy Valentines Day!
-Chels