As an Amazon affiliate, and affiliate with other businesses, I earn from qualifying purchases.
roll out Sugar cookies riddled with red hots and topped with a creamy, fluffy, cinnamon Cream cheese frosting.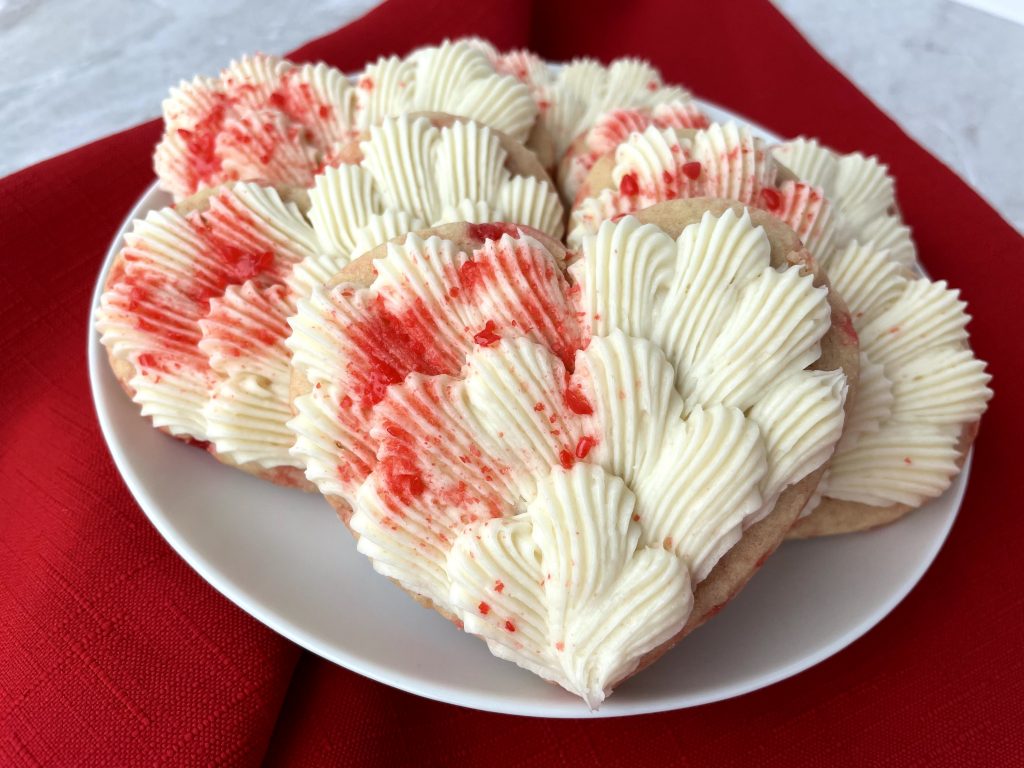 These Roll Out Red Hot Sugar Cookies with Cinnamon Cream Cheese Frosting are the perfect combination of sugar and spice! These delightfully soft sugar cookies are riddled with chopped up red hots to give them that extra cinnamon kick. And this cinnamon cream cheese frosting is seriously heaven. Soft, fluffy, creamy, dreamy… yes… I have a minor obsession with this frosting!
How much do you love cinnamon flavored candy? I go through bags and bags of cinnamon jelly hearts during Valentines. I am also obsessed with cinnamon salt water taffy. It's one of my absolute favorite things. So naturally, these Red Hot Sugar Cookies with Cinnamon Cream Cheese Frosting just needed to be shared in time for the holiday that celebrates love! Or commercialism… lol. I agree that this holiday is all about profit! But hey, I'll take any excuse to make cute heart shaped desserts!
The inspiration behind the cookie
I have been using this Cinnamon Cream Cheese Frosting on my sugar cookies for years, but there is a local baker here in Utah who makes beautiful Custom Cookies and she makes a Red Hot Cinnamon Roll Out Cookie that sparked my interest quite some time ago. I have yet to try her recipe as it is for No Spread Cookies. You can find her website here. She does sell the recipe if you're looking for another great recipe to flood with my Soft Royal Icing Recipe, I'm sure hers is fantastic also!
The cookie base for THESE Red Hot Sugar Cookies is almost identical to my Soft Roll Out Sugar Cookies. You make them the same way except for how they are flavored and then of course, folding in the red hots! Head over to the post if you'd like some step by step instructions for mixing the dough and my roll out process.
Why you need to make these cookies right Now!!!
I love these cookies because they fluff up and are great with Cream Cheese Frosting. (I may or may not be, but most definitely am, eating one of these cookies as I type this blog post! And I had to hide it from my family so they didn't eat it before me!)
These are NOT no spread cookies! They spread, a lot! They are 100% made for a cream cheese frosting or buttercream. And I would definitely recommend easy, uncomplicated shapes! Hearts, circles… nothing with very distinct lines.
The great thing about these cookies is that they are so stunning, no one will care WHAT they look like! They'll blow the pants off of anyone you make them for! Enter Valentine's day sweetheart! hahahaha…
Life is too short not to laugh at your own jokes! 😉
Alright, back to talking seriously about what makes these cookies so fantastic and why you need to drop everything and bake them RIGHT NOW!!!
This Cinnamon Cream Cheese Frosting has the same base as my Fluffy Cream Cheese Frosting. It is easy, it is simple, it takes 5 minutes to make, and it is a great balance between a buttercream and a cream cheese frosting. Not to mention, it'll cost you about $6 to make. I love affordable recipes!
How to turn my soft roll out sugar cookies into red hot sugar cookies
Add about a cup of Red Hots to a food processor or blender and pulse until they are chopped, but not powdered. A little bit of powder is fine, and honestly, unavoidable. But try to pulse them! Set them aside until your cookie dough is ready.
After fluffing your butter, sugar and salt add your eggs. <These steps are all the same as my original recipe> I suggest you make the following change: add Vanilla AND Almond extract! Then you'll follow the recipe the same way, mixing in the red hots at the end.
And for some step by step guidance to the most incredible roll out method ever…. head back to the Soft Roll Out Sugar Cookie post. It's my favorite easy, mess free roll out method!
I rolled these sugar cookies 3/8″ thick, and I love them. They're the perfect thickness for that Cinnamon Cream Cheese Frosting! They puff up perfectly and bake though without drama.
Tips for Successful Baking
After rolling out your dough, let it chill for at least an hour.
Use a high quality cutter, or a metal cutter to cut your shapes. When you have a decent sized red hot in your dough, it can be very difficult to cut through.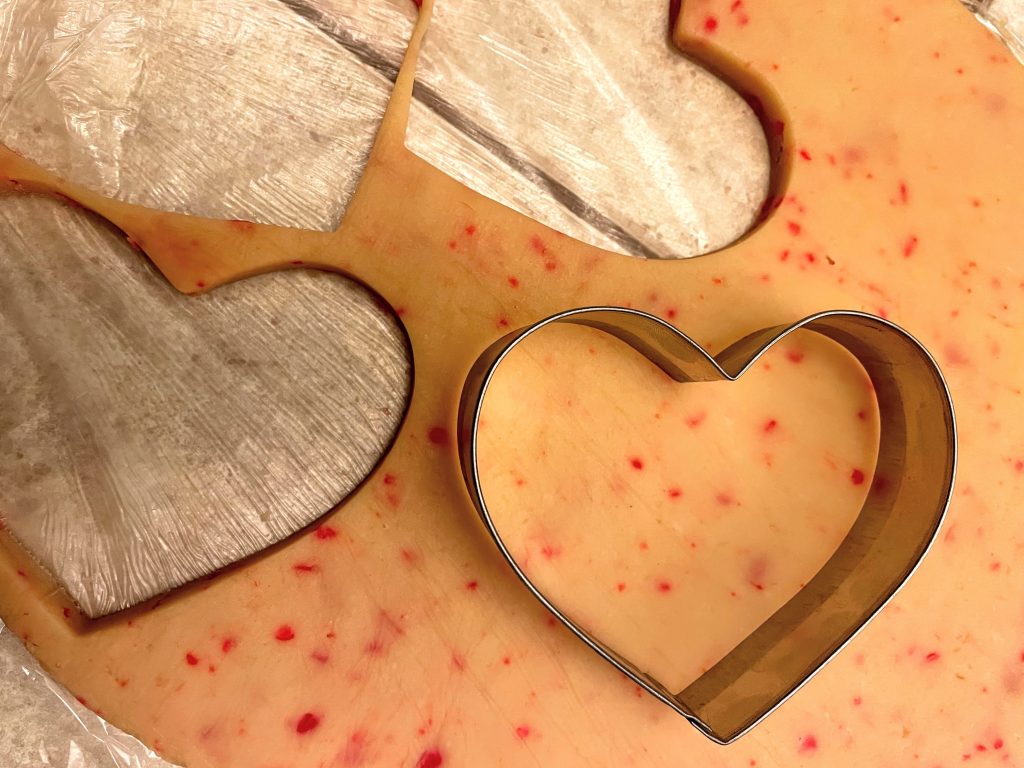 Use a silicone baking mat or parchment paper to line your pans. These cookies WILL stick to your baking sheet!!
Make sure not to add your cut shapes to a warm baking sheet. I chill my baking sheet in my freezer until it is cool enough to add more dough to.
If your shapes have come to room temperature I suggest you chill them before you bake them. This will yield in more uniform shapes, and less spread.
When the cookies come out of the oven, use a metal spatula to push any red hots that have melted out of your dough back up against the edge of the cookie. Be careful not to take a chunk out of your cookie in the process as it is warm and very fragile, and be cautious of that VERY HOT melted candy! It WILL burn you!
Leave the cookies on the sheet for at least 5 minutes before transferring them to a wire rack to cool completely.
the key to cinnamon cream cheese frosting
There are 2 ingredients in this Cinnamon Cream Cheese Frosting that are ESSENTIAL!!
Cinnamon Oil– this gives it that cinnamon candy flavor, and it doesn't taste fake!
Heavy Whipping Cream– this gives the buttercream that fluffy, airy texture that melts in your mouth!
How to store your decorated cookies
This Cinnamon Cream Cheese Frosting IS perishable. So these cookies really need to be stored in the fridge in an airtight container. As long as they are stored properly, they will last for at least a week… though, there's no way they will last in your fridge that long! 😉
How to decorate like the picture
These cookies are SOOOOOOO good that they don't need fancy décor. You can just use a knife to spread on some of that delicious cream cheese frosting. But if you would like to decorate them with the shells you see in the photo on the right, you'll need Wilton Tip 6B or Wilton 22.
For a list of my favorite decorating tips visit my Must Have Cake Decorating Tools post. I have a section in that post dedicated to the tips I use most. Any of them would make some truly stunning Red Hot Sugar Cookies!
I decorated these cookies with some extra crushed up Red Hots, but you can also use some sprinkles, or leave the red hots off. This Cinnamon Cream Cheese Frosting also takes on color quite well. So you could also tint it to match any event you'll want to serve these at! Americolor gel food colors and Chefmaster are my favorite brands to use.
Even if you are not a Cinnamon fan, these Red Hot Sugar Cookies with Cinnamon Cream Cheese Icing won't disappoint. It's just a really great combo… so do like Sam I Am recommends in Green Eggs and Ham:
You do not like them.

So You Say.

Try Them! Try Them!

Try them and you may, I say.

-Dr. Seuss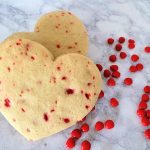 Print Recipe
Red Hot Sugar Cookies
Vanilla Almond Sugar Cookies riddled with Cinnamon Red Hot Candies
Ingredients
3/4

Cup

Chopped Cinnamon Red Hot Candies

2

Cups

Unsalted Butter, softened

2

Cups

Sugar

1

tsp

Vanilla Extract

1

tsp

Almond Extract

1

tsp

Salt

4

large

Eggs

1 1/2

tsp

Baking Soda

1/2

Cup

Milk

8

Cups

All Purpose Flour
Instructions
Put about a cup of Red Hot Cinnamon Candies into a food processor and pulse until chopped. Try not to powder them. A little bit of powder is fine, but you want mostly pieces. Set them aside.

Cream Butter, Vanilla, Almond Extract, Salt and Sugar together in the bowl of a stand mixer. Whip until light in color and fluffy. Scrape down the sides and bottom of the bowl and add the eggs. Whip again until fully incorporated.

Dissolve the baking soda in the milk and set aside. Add four cups of flour and mix until incorporated. Add the milk mixture until incorporated. Add the rest of the flour (adding the last cup slowly, and as needed) until the dough starts to pull away from the sides of the bowl. It should essentially clean the sides of the bowl. Dough should be soft and not sticky.

Add in 3/4 Cup of Chopped Red Hots and mix until fully incorporated.

Divide dough into 3 separate sections. Roll each section out in between two pieces of waxed paper using guide rulers or an adjustable rolling pin. 3/8" thickness is recommended. Place dough onto a baking sheet and cover. Place into the fridge for at least 1 hour to chill.

Cut to desired shapes, place on baking sheet, and bake at 350°. Depending on the size and thickness of your shapes, dough might need to cook for 6-18 minutes. Cookie is thoroughly baked through when the surface is no longer shiny and the edges cannot be indented with your finger.

When you remove the cookie sheet from the oven use a metal spatula to gently push any melted candy back into the side of each cookie. Let cookies rest on pan for 5 minutes and then remove to a cooling rack to cool completely.

Decorate with Cinnamon Cream Cheese Frosting!
Notes
This Recipe was created for use in High Altitudes. If you live in a lower altitude than 5000' you may want to decrease your flour. Adding the last cup only as needed.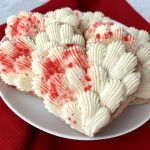 Print Recipe
Cinnamon Cream Cheese Frosting
Fluffy & Creamy Cinnamon Candy Flavored Cream Cheese Buttercream
Ingredients
1/2

Cup

Unsalted Butter, softened

1/2

Cup

Salted Butter, softened

8 oz

Package

Cream Cheese, softened

2

lbs

Powdered Sugar

1

tsp

Cinnamon Oil

1

tsp

Vanilla Extract

1/2

tsp

Almond Extract

3-5

Tbsp

Heavy Whipping Cream
Instructions
Whip together butters and cream cheese until fully combined and fluffy.

Add powdered sugar slowly, and mix until incorporated.

Add your flavors and 3 tbsp of heavy whipping cream. Whip until light and fluffy. Add more cream if necessary to thin to desired consistency. Whip well after each addition to fluff your buttercream.

Use to decorate Red Hot Sugar Cookies!

Store decorated cookies and any leftover icing in the refrigerator.