As an Amazon affiliate, and affiliate with other businesses, I earn from qualifying purchases.
MAking beautiful royal iced cookies that don't taste chalky or dry hard is Possible! Here I'll share my tips, tricks, and favorite recipe for tasty and soft royal icing.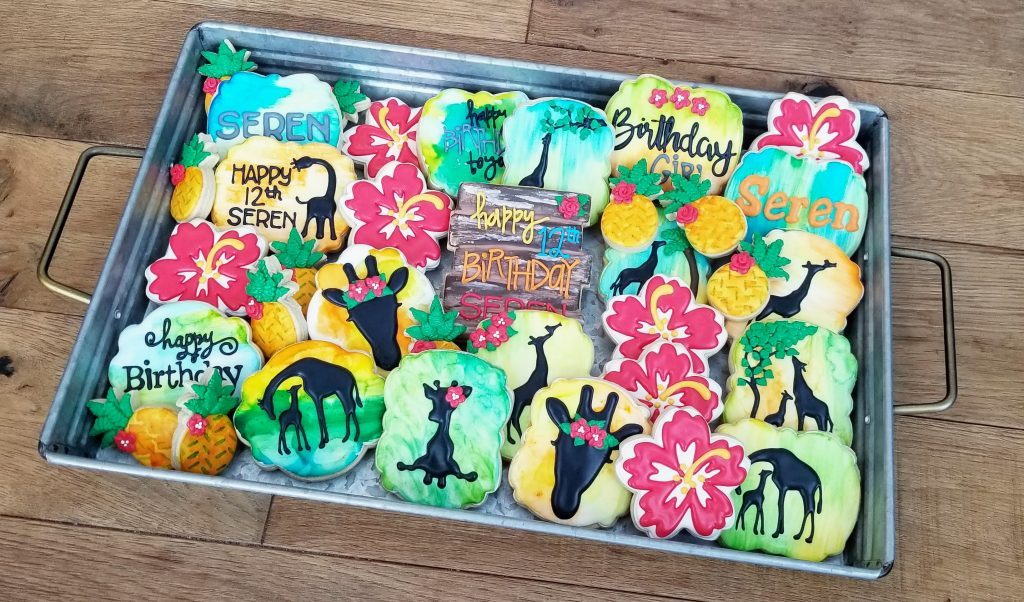 I used to think that Royal Iced Cookies were fun to look at, but NOT fun to eat! But I'm here to blow your preconceived notions of what a Royal Iced Cookie IS out of the water! I'm going to tell you all about Soft Royal Icing, what makes it different, and share my recipe adapted from Cookie Concepts Soft Royal Icing Recipe. It will change everything you THOUGHT you knew, and help you fall in love with Pretty AND Delicious Royal Iced Cookies!
What is Royal Icing?
Lets start with talking about what Royal Icing is… Royal Icing is a hard white icing traditionally made from Egg Whites and Powdered Sugar. By definition, Royal Icing is void of oils and fat.
Royal Icing is most commonly used to decorate cookies so that you can stack and bag them without destroying the pretty decoration.
This Soft Royal Icing Recipe contains fat. Which is typically a no no, but we're going to do it anyway!
what makes this recipe different?
One difference between traditional Royal Icing and this Soft Royal Icing Recipe is the addition of Shortening. There isn't much, only 2 tablespoons, but that's all it takes to prevent that chalky, hard texture that we all dread when biting into one of these beautiful cookies.
I love the addition of Shortening for a couple of reasons:
A soft bite instead of a hard one when the icing dries.
A slight sheen to the icing when it dries.
The ability to add oil based flavors! This makes it possible to add fun, non traditional flavors without having to turn to an emulsion. (I personally do not like the taste of emulsions, especially in a non baked portion of the dessert.)
The CTR Shield Cookie <above> on the left was decorated with Soft Royal Icing, the Heart Cookies on the right were decorated with Traditional Royal Icing. If you look closely, you can see that the Traditional Royal Iced hearts are a bit dull and the shield has a bit of a shine.
Another difference between traditional Royal icing and this Soft Royal Icing Recipe is the amount of time that you will need to cure the icing before you can bag your cookies. This icing takes a bit longer to set up. You'll need to give your decorated cookies at least 24 hours to dry before you try to bag or box them. Maybe even longer if you have layers of decoration on your cookie.
Flavor, Flavor, Flavor!
Royal Icing has come a long way when it comes to taste. If you were to make it the traditional way, it pretty much just tastes like sugar… There are so many ways to flavor this Soft Royal Icing Recipe. I've listed my favorite flavors in the actual recipe. But they can be substituted with various other flavors:
Lemon Juice
Lime Juice
Orange Extract
Cinnamon Oil. Think Liquid Red Hots! (This is my absolute favorite, but remember, this can only be used in this Soft Royal Icing Recipe, as it is an oil based flavor. It will break traditional Royal Icing recipes)
How to make Soft Royal Icing
Add your meringue powder and water to a bowl. Mix with a hand mixer, or a stand mixer fitted with the whisk attachment, until frothy.
Add about a third of your powdered sugar, flavors, shortening and light corn syrup and mix until combined.
Slowly add in the remainder of your powdered sugar and mix until combined.
Add about a tablespoon of white gel food color (this part is optional, but the icing will be opaque without it and almost an ivory color.) This does 2 things: gives it a bright white color, and prevents colors from bleeding. **So I recommend adding even if you will be tinting it different colors**
Scrape down the sides of your bowl and then mix for 2 minutes, or until well combined and stiff.
Mixture should be quite thick. This is the consistency you want for things like Gingerbread Houses.
At this point, you'll want to thin to your desired consistencies. See my post All About Royal Icing Consistency.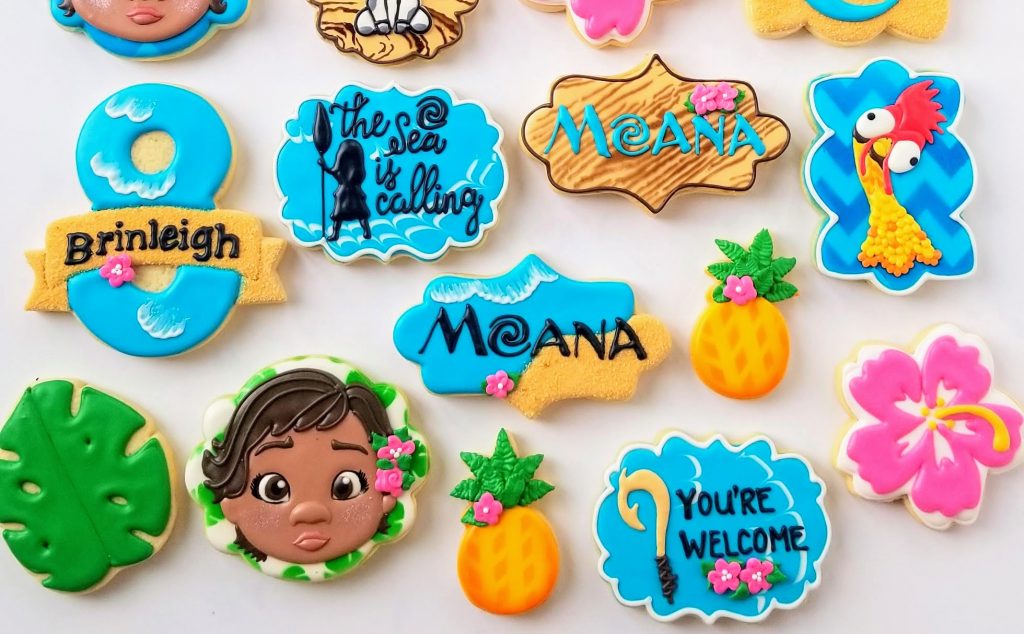 This Soft Royal Icing Recipe is a great addition to my Soft No-Spread Sugar Cookies. They bake up relatively flat, keep their shape, and are very flood friendly cookie. There are great tips for how to bake them included in the post.
If you're looking for a great cookie that isn't a sugar cookie, I would highly recommend LilaLoa's Chocolate Cookies. I have personally made these cookies many times (Including with the cookie set pictured below) and I think they pair beautifully with this Soft Royal Icing Recipe.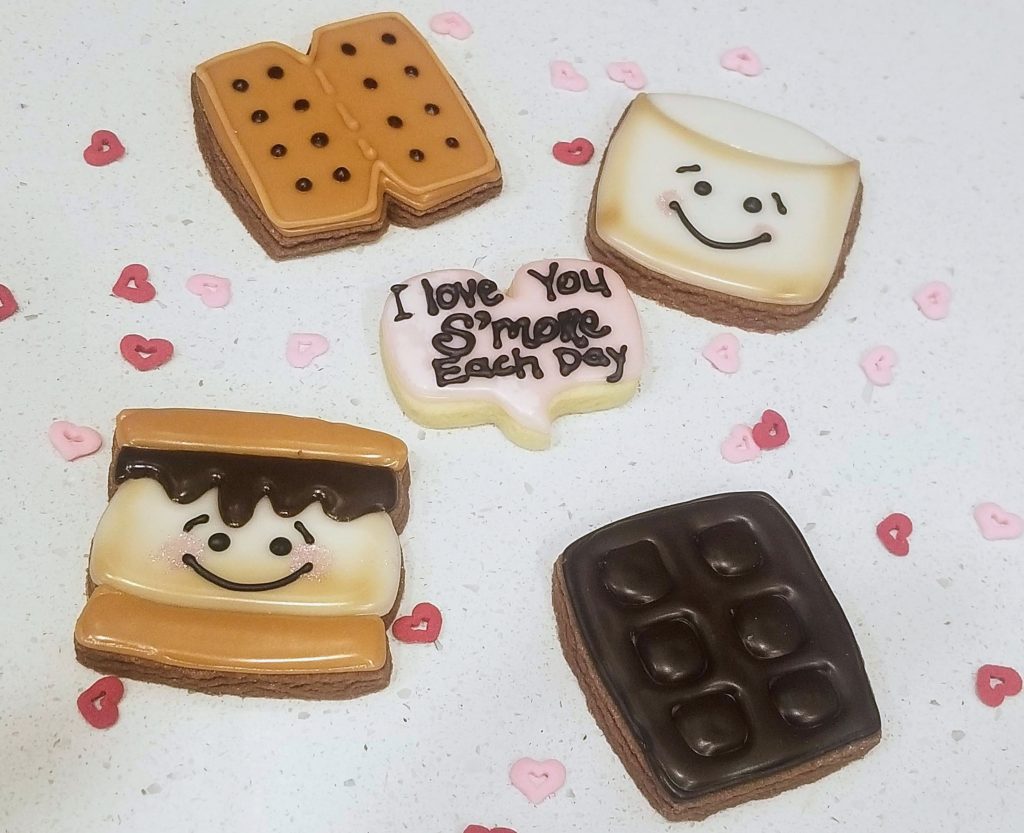 Once decorated, most Cookies tend to keep their soft, delicious flavor and texture for days. This Soft Royal Icing Recipe acts as a great freshness preserver. If you'd like to keep your Royal Iced Sugar Cookies fresh for weeks, consider investing in some bags and a Heat Sealer.
How to Store Soft Royal Icing
Once made, this royal icing should remain covered to prevent forming a shell. When coloring, thinning, bagging etc… I recommend draping a damp lint free cloth, or paper towel over the bowl.
If you happen to have leftover icing, I personally bag mine in a Ziploc bag and place it into the freezer. That way I have some all ready to go next time! Set it out on the counter for a couple of hours to come to room temperature, mix it thoroughly and it'll be all set to color, thin, and bag.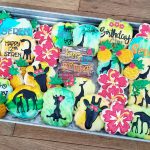 Print Recipe
Soft Royal Icing
Royal Icing that tastes great and has a soft bite
Servings:
2
Dozen Cookies
Ingredients
1/2

Cup

Water

1/4

Cup

Meringue Powder

2

lbs

Powdered Sugar

2

TBSP

Light Corn Syrup

2

TBSP

Vegetable Shortening

1

Tsp

Vanilla Extract

1/2

Tsp

Butter Extract

1

Tsp

Cream Cheese Extract

1

TBSP

White Gel Food Color (optional)
Instructions
In the bowl of a stand mixer fitted with the whisk attachment, add water and meringue powder. Mix on med-high speed until frothy.

Add corn syrup, shortening, flavors and about 1/3 of the powdered sugar and mix well. Make sure it is all combined and there are no chunks of shortening left behind.

Add the rest of the powdered sugar and mix until combined. Scrape down the sides of the bowl and add white gel food color. Then mix on med speed for about two minutes, until stiff and pretty thick.

Color, and thin to desired consistency(s), bag and DECORATE!! Keep covered to prevent drying out. Store completely covered at room temperature for up to a week, or bag and place in the freezer for up to 3 months.
Notes
White food color is optional. It helps prevent color bleed and gives the icing more of a bright white appearance. Without it the icing is a bit opaque.