As an Amazon affiliate, and affiliate with other businesses, I earn from qualifying purchases.
These coconut cupcakes are moist and simple to make, then topped with creamy and delightful coconut cream cheese frosting.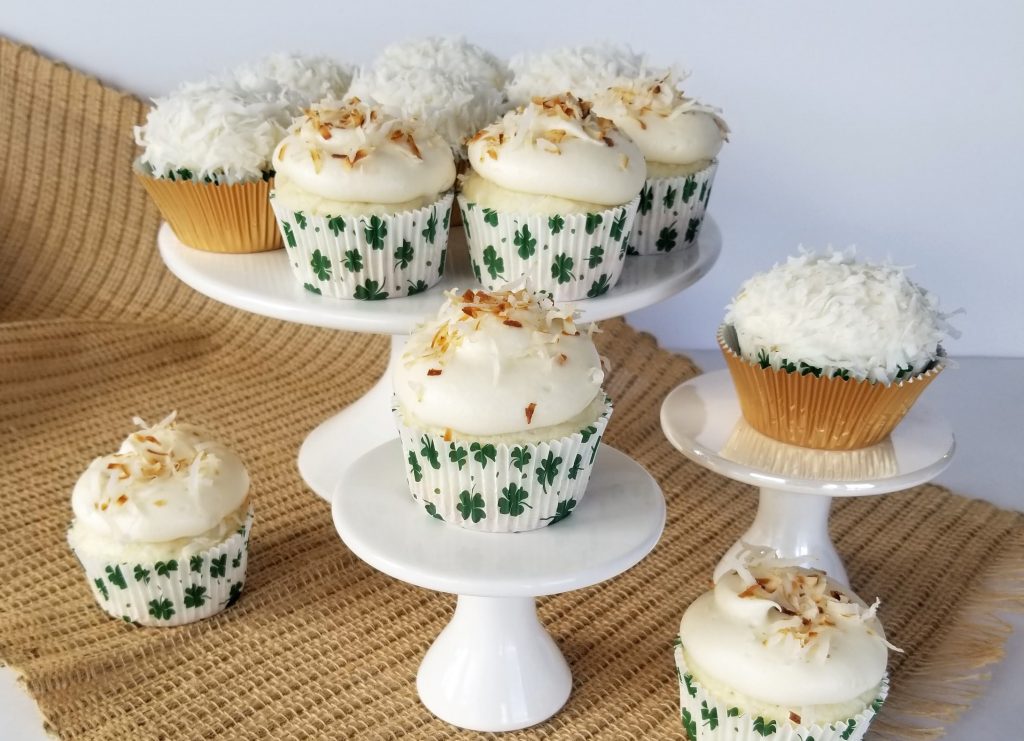 These really are The Best Coconut Cupcakes, and the best part is that they can be made, baked and decorated in about an hour! Coconut milk, sour cream, and pure coconut extract dress up this simple box based recipe and Coconut Cream Cheese Frosting gives it that extra coconut kick and delectable creaminess.
There are two things I do extremely well. One is Frosting. Frosting is my life's calling. The other is coconut. I am fairly well known in my area for my Coconut Cream Cheese Cookies and my Coconut Cake and Cupcakes. I also make these super yummy Chewy Coconut Oatmeal Cookies, a long lived family recipe, that NEVER last long!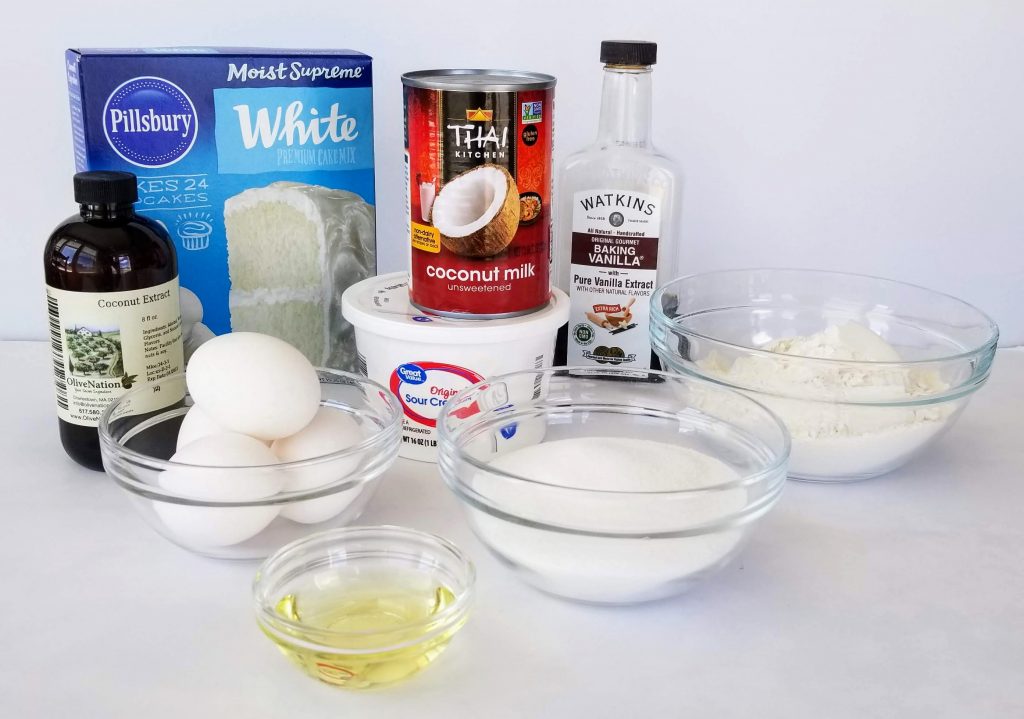 Coconut can be a difficult flavor to obtain in your baked recipes naturally. It's a subtle flavor that often is overpowered, or tastes fake when replicated. For these cupcakes I suggest using coconut milk and a pure coconut extract. The coconut milk really brings that coconut flavor to life, while adding a creaminess to the frosting. Coconut extract can be found in your local grocery store, or if you like coconut as much as we do, I buy a bigger bottle linked above.
Over the years, I've found that some people really enjoy coconut flavor, but not the texture of coconut. If that is the case, you can omit the actual coconut. We, however, love coconut in all its forms! So I added Coconut to the top of my cake batter before it baked, and then added it on top of the cupcakes as well.
I love to toast my shredded coconut. Not only does it give the coconut a slightly nutty component, it also makes your house smell AMAZING!!! And with how fluffy the cupcakes are, the addition of a little crunch is a delightful addition.
Can this recipe be made into a cake?
This recipe also makes a fantastic layered cake as well. You'll just want to split the batter between 3- 8″ cake pans or 4- 6″ cake pans and adjust the bake time. About 35 minutes for the 8″ pans and 30 for the 6″. Make sure to check out my post for Baking the Perfect Cake Layers. It can help you turn this cupcake recipe into fool proof layers!
Tips for Baking perfect Cupcakes
I use a standard sized Ice Cream Scoop to fill my cupcake liners. One scoop of this cupcake batter bakes a perfect sized cupcake. If you don't have a cookie scoop, just fill your cupcake liner about halfway full.
Use a toothpick to check your cupcakes before you pull them out of the oven. It should come out with a few moist crumbs.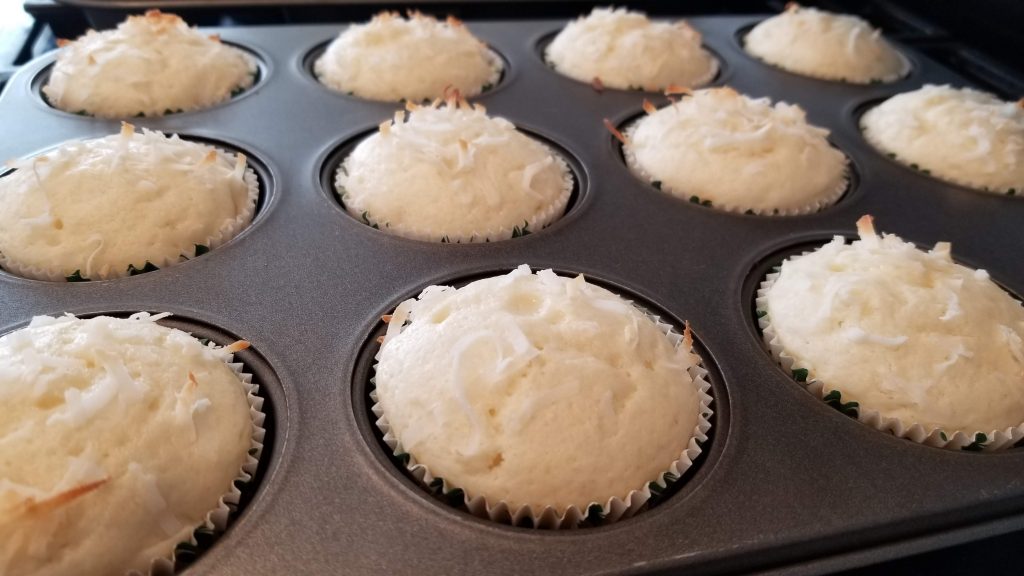 Tips for Creamy & PIPE-ABLE Cream Cheese Frosting
Cream Cheese Frosting can be difficult to pipe with. The Cream Cheese changes the ability of the buttercream to hold its shape. This Coconut Cream Cheese Frosting is similar to my Fluffy Cream Cheese Frosting. It has less Cream Cheese in it then your typical Cream Cheese Frosting. This helps it to hold its shape a bit better, and also provides more of a buttercream texture.
Be careful as you add your Coconut Milk to thin the frosting. Add it a tablespoon at a time so as to not thin it too much. Your frosting should cling to the back of a spatula when held upside down. If it slides off you've added too much. You can always add a bit more powdered sugar, but it will increase the sweetness of the buttercream.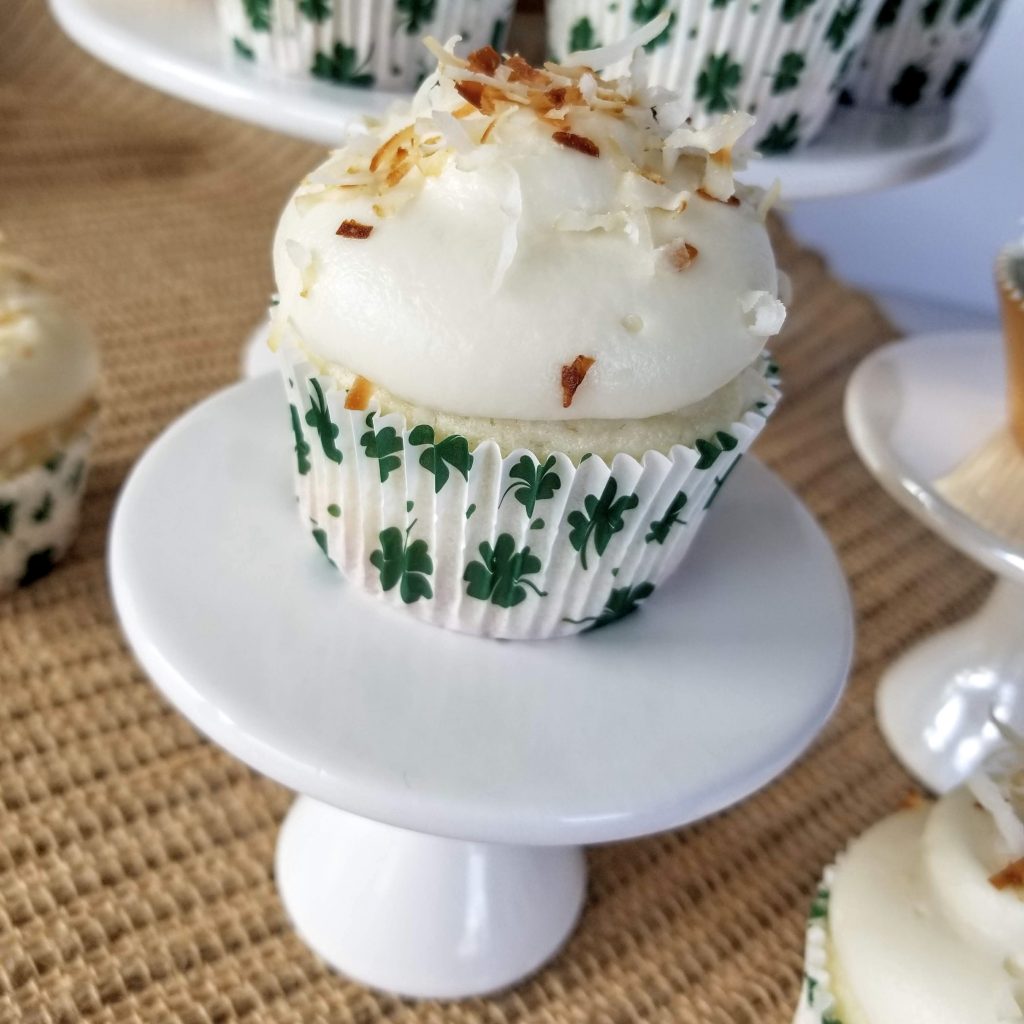 Baking and Decorating 2 Ways!!!
Check out how to bake and decorate The Best Coconut Cupcakes ever!!! Below
More Recipes like the Best Coconut Cupcakes
If you love these Coconut Cupcakes, Check out the following Recipes that are sure to satisfy your sweet tooth:
Happy Baking!! -Chels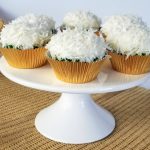 Print Recipe
The Best Coconut Cupcakes
Moist, Fluffy and Delightful Coconut Cupcakes
Servings:
3
Dozen Cupcakes
Ingredients
4

Large

Egg Whites

1

Cup

Sour Cream

2

Tbsp

Vegetable Oil

1

Tsp

Vanilla Extract

1

Tsp

Coconut Extract

1

Box

Pillsbury White Cake Mix

1

Cup

Sugar

1 1/2

Cup

All Purpose Flour

1 1/3

Cup

Coconut Milk
Instructions
Add all ingredients into the bowl of a stand mixer. Mix on Medium speed until completely combined.

Using a standard sized ice cream scoop, fill cupcake liners half way full and place into preheated oven. Bake for 16-18 minutes or until a toothpick inserted into the middle of a cupcake comes out with a few moist crumbs.

Frost with Coconut Cream Cheese Frosting. Roll in shredded coconut or top with shredded toasted coconut, and store in an airtight container in the refrigerator for up to 5 days.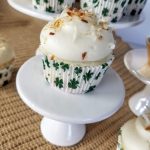 Print Recipe
The Best Coconut Cream Cheese Frosting
Creamy and Fluffy Coconut Cream Cheese Frosting
Servings:
3
Dozen Cupcakes
Ingredients
4

oz

Cream Cheese, room temperature

1/2

Cup

Salted Butter, room temperature

1

lb

Powdered Sugar

1

tsp

Pure Coconut Extract

1/4

tsp

Pure Vanilla Extract

3-5

Tbsp

Coconut Milk
Instructions
Whip Cream Cheese until fluffy

Add Butter and mix together until fully combined. Scrape down sides and bottom of the bowl.

Add Powdered Sugar Slowly until combined. Scrape down sides and bottom of the bowl.

Add Extracts and 2 Tbsp Coconut Milk. Mix on Med-High.

Check consistency. Frosting should be stiff enough to pipe, but not tough. Add extra Coconut Milk by the Tbsp until consistency is light, fluffy, but pip-able. It should create a stiff peak when a spatula is pulled up through the bowl of buttercream.

Frosting can be stored tightly covered in the fridge for up to 5 days.
Notes
Unsalted butter can be substituted for salted butter. Just add a small pinch of salt.