As an Amazon affiliate, and affiliate with other businesses, I earn from qualifying purchases.
Crunchy on the outside, Chewy on the inside, these chewy coconut oatmeal cookies are a semi healthy, delicious option for your sweet tooth!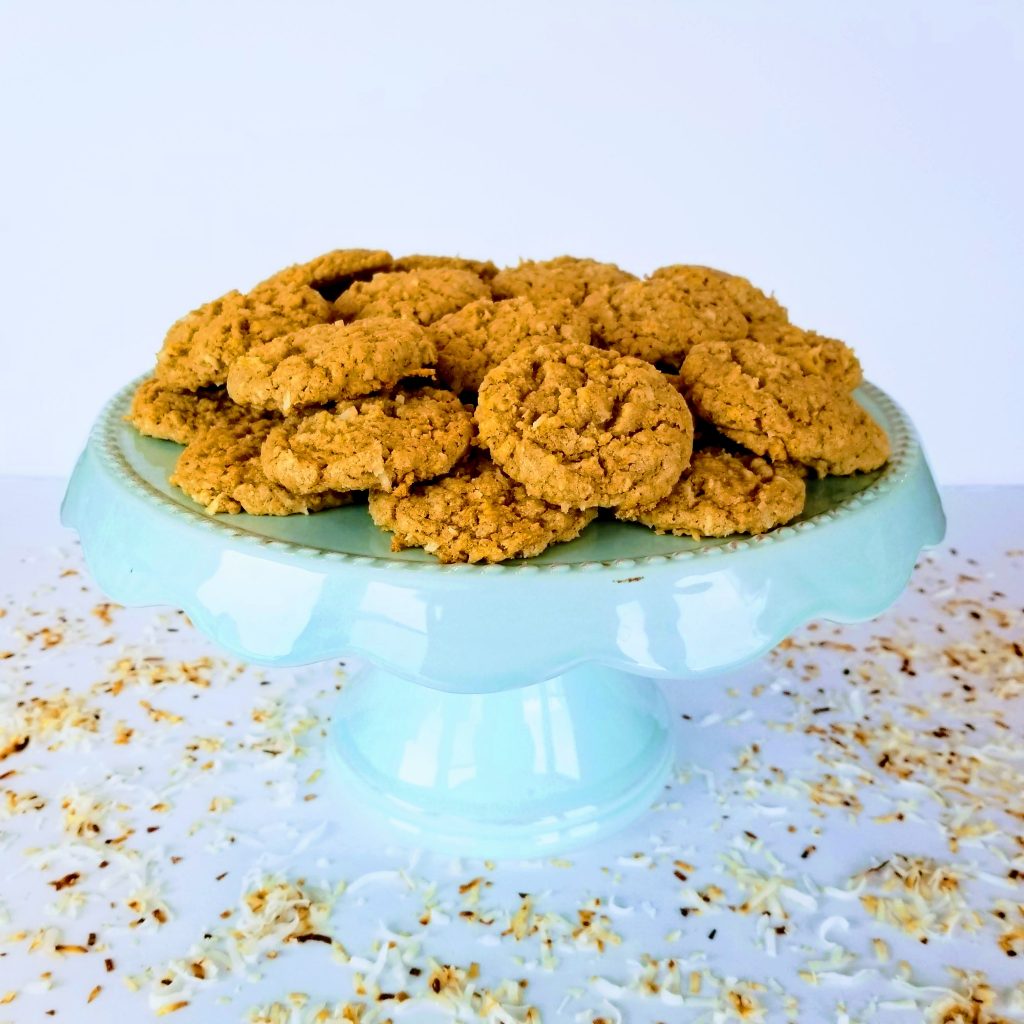 These Chewy Coconut Oatmeal Cookies are what homemade cookies are supposed to be. They bring you back to your childhood. The whole wheat flour, oatmeal and coconut help you feel like you made a healthy choice, but the sweetness and classic textures satisfy even the biggest sweet tooth.
Excuse me for getting personal for a minute. If you are sick of hearing about COVID and Earthquakes, head straight to the recipe by clicking the link below.
Jump to Recipe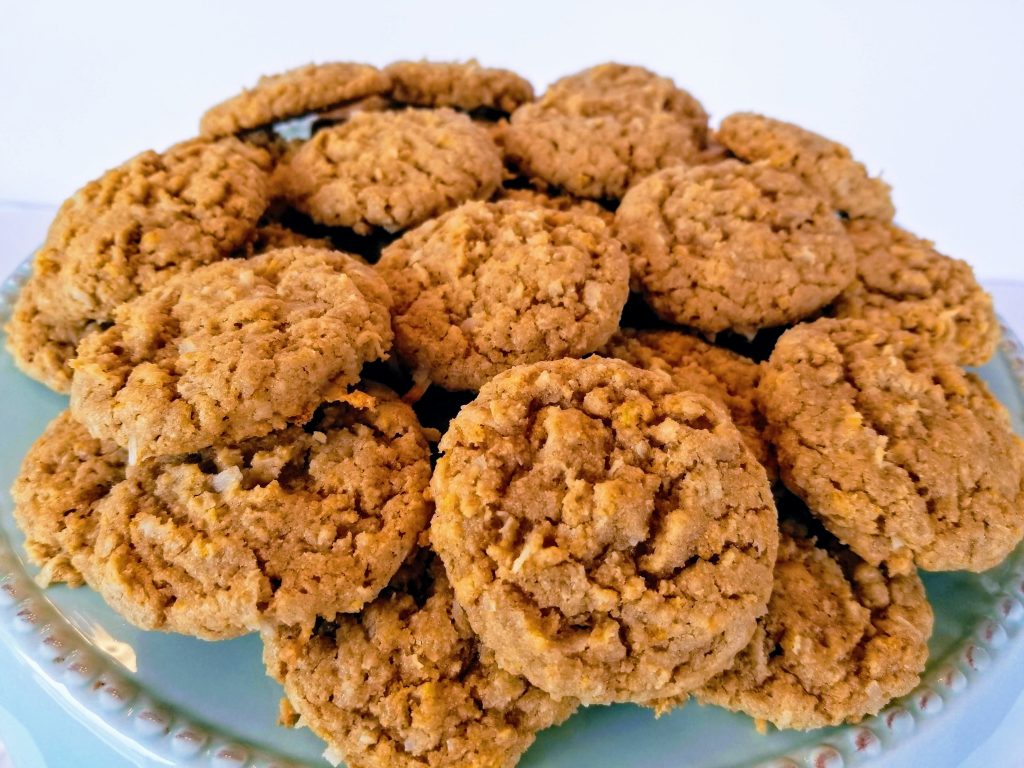 Here in Utah things are kind of… well… a nightmare if I'm being honest! I know the threat of COVID is a worldwide issue right now, and we are all suffering the fear it is causing together. Our family is very lucky, as none of us are in the high risk category. We are doing our best to stay home and do our part.
Wednesday morning we all woke up to a 5.7 Magnitude Earthquake on top of everything else! It was startling, and not my favorite alarm clock… but I can't complain as we occurred no damage.
We were a ways from the epicenter, many had it much worse. Our only casualty was a bowl of boiled eggs that had shifted in the fridge during the quake, and so fell straight out of the fridge when we opened the doors! hahaha. Like I said, we were very lucky.
So in addition to everyone's panic about this pandemic, we also have a lot of shaken (pun intended) residents, as we are still experiencing hundreds of aftershocks. Most are so small that we don't feel them here in Herriman. But I know that the loss of control we all feel has left many on edge.
I wanted a way to help people feel comforted. I have had a rough past 4 months, so not having any control over my circumstances and the feelings of fear, inadequacy, and unknowing are not new to me. But I know how overwhelming those feelings are, and how hard they can hit.
Stressed is just Desserts spelled backwards!
In times like these my natural instinct is to bake. Cookies, Cupcakes, Pretzels, Cinnamon Rolls… the list goes on. I decided to bake a TON of these delicious Chewy Coconut Oatmeal Cookies and sell them for cost. I've had so many requests for treats during these stressful 10 days. And at first I would say it was due to all the kids being home from school full time, but now… who knows what is causing the most stress?!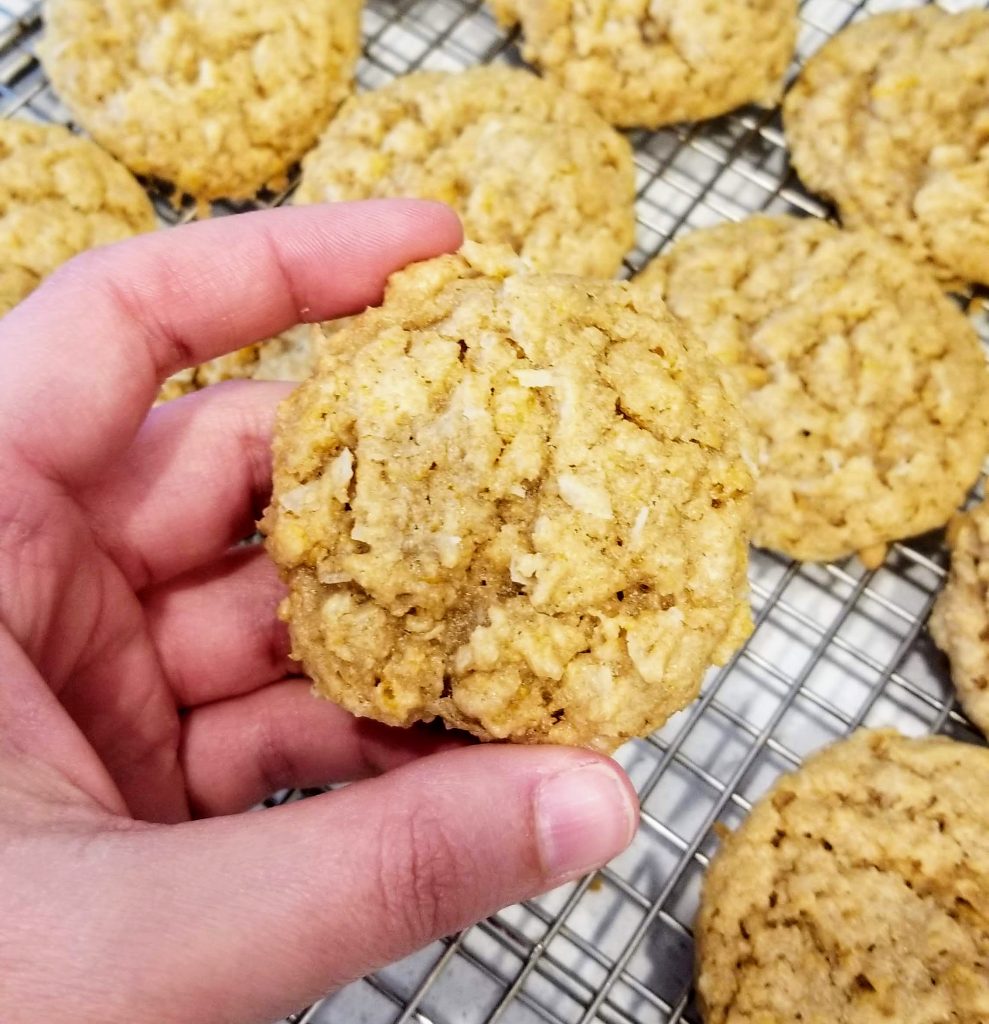 So if you're looking for a way to brighten someone's spirits during these crazy times, bake some cookies to show you care. If you don't like coconut, I have other cookie options! I'd suggest making my No Fail Chocolate Chip Cookies or Easy Red Velvet Sandwich Cookies with Fluffy Cream Cheese Frosting! Both are crowd pleasers!
If you haven't figured it out already, I LOVE Coconut. I could honestly eat the entire batch of these Chewy Coconut Oatmeal Cookies myself.
So Many Options to Customize these cookies
And these ones are the best! All of the Coconut, Oatmeal, and Corn Flake quantities are recommendations. So if you're a BIG Oatmeal fan, you can increase the oatmeal and decrease the cornflakes or the coconut. And vice versa.
If you're a big fan of thinner cookies, you can use the minimum suggested quantities of Oatmeal, Coconut, and Corn Flakes. But if you like thicker, chunkier cookies you can add more.
I love a cookie recipe that can cater to my specific preferences. Some people like a chewy cookie, some like a crunch. I personally like a bit of both wrapped up into one. If you're like me, follow my suggested amounts and it will yield a perfectly balanced cookie. Crispy on the edges, chewy and delightful in the center.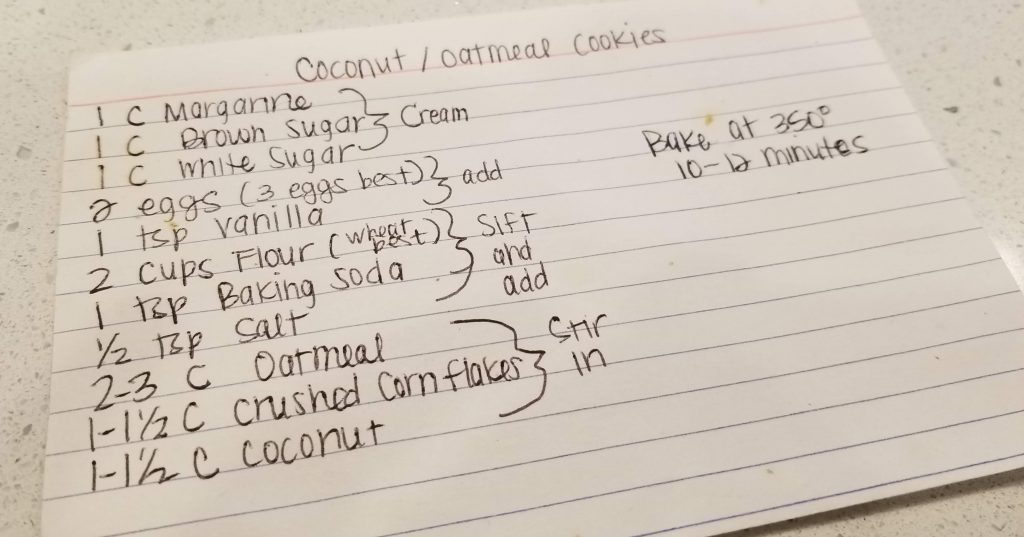 Why Whole Wheat Flour?
I use fresh stone ground whole wheat flour in these cookies. Let me tell you why this is the better option…
Whole wheat flour tends to add almost a nutty flavor to these cookies. I have made them with both whole wheat and all purpose unbleached flour, and each time I don't grab the whole wheat I regret it. They are still very good cookies, but they are missing something. The wheat deepens the flavors, and makes for a heartier cookie. If you DO grind wheat yourself (which I know not many do) make sure to sift your flour, and carefully measure so you don't add too much. It makes for a dry cookie.
If you don't have whole wheat flour, you can absolutely makes these with your typical all purpose flour! They are still GREAT cookies.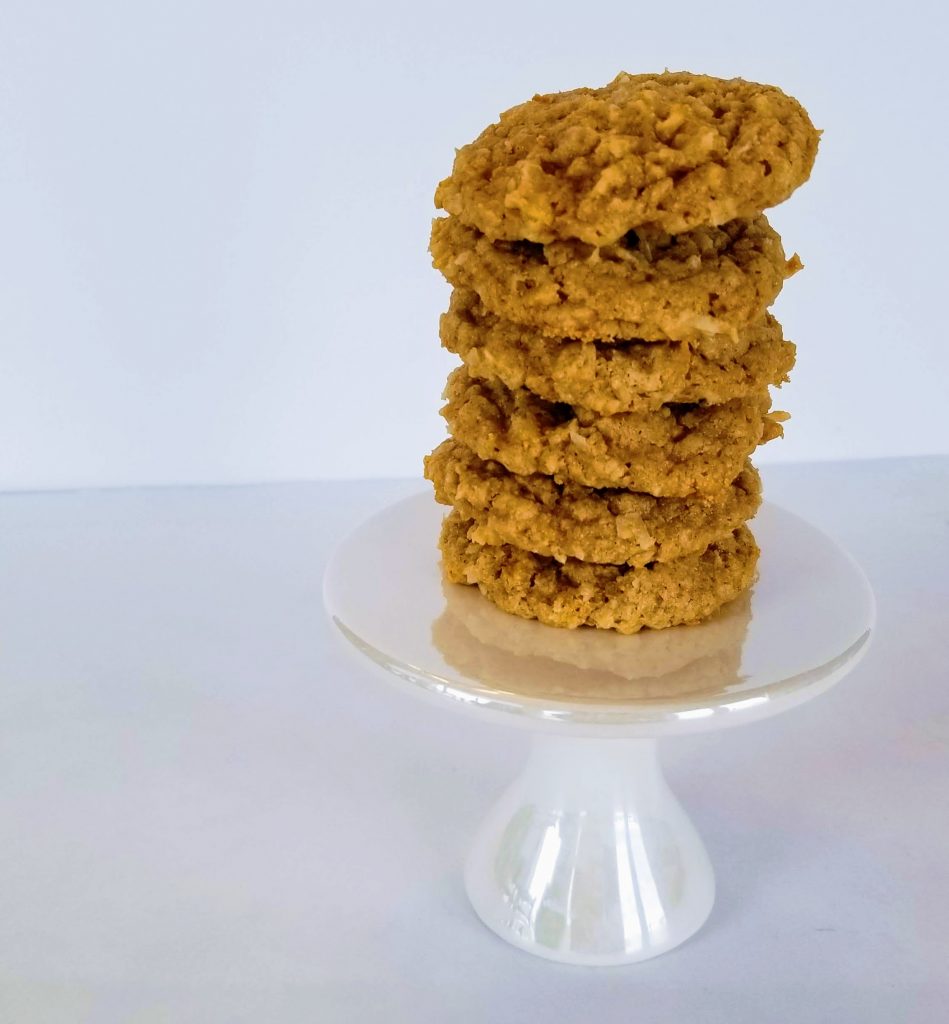 If you want even baked and similar shaped cookies I recommend buying some cookie scoops. They make the job a quick one, and give you different options for size. These cookies are your typical drop cookie. I used a scoop that measures about an ounce of dough. But you can definitely make them larger, just make sure to increase the bake time!
Happy Baking!
-Chels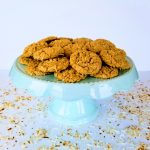 Print Recipe
Chewy Coconut Oatmeal Cookies
Chewy on the inside, Crunchy on the outside with a great Oatmeal Cookie Texture and wonderful Coconut Taste.
Servings:
5
Dozen Small Cookies
Ingredients
2

Cups

Whole Wheat Flour

1

tsp

Baking Soda

1/2

tsp

Salt

1

Cup

Butter, room temperature

1

Cup

Granulated Sugar

1

Cup

Brown Sugar

1

tsp

Vanilla

3

Large

Eggs

2

Cups

Oatmeal*

1 1/2

Cups

Coconut*

1 1/2

Cups

Crushed Corn Flakes*
Instructions
Put your baking rack in the Center of the oven and Preheat to 350°

In a separate bowl, whisk together your flour, baking soda and salt. Set aside. Crush your corn flakes and set aside as well.

In the bowl of a stand mixer fitted with the paddle attachment, add your butter, sugar, and brown sugar. Whip until fluffy and lighter in color (about 3 minutes).

Add your eggs and vanilla and mix until fully combined. Scrape down the sides and bottom of your bowl.

Add your flour mixture and mix until just combined.

Add in your oatmeal, coconut, and corn flakes and mix until just combined.

Using a cookie scoop, or a spoon just larger that a tablespoon, Drop your dough onto your cookie sheet about 2" apart and bake in your preheated oven for 10-12 minutes. Edges should be set, but the center will look just slightly underdone. Let the cookies rest on the cookie sheet for at least 5 minutes and then remove to a wire rack to cool.

Store in a Tupperware container or a large Ziploc bag for up to a week.
Notes
***Oatmeal can be increased to up to 3 cups, just decrease some of the coconut/corn flakes, or expect a chunkier cookie.
***Coconut and Corn Flakes can be decreased or even omitted, but make sure to increase the Oatmeal.
Although great the way they are, you can add chocolate chips, raisins, Craisins, nuts, etc… make them your own!