As an Amazon affiliate, and affiliate with other businesses, I earn from qualifying purchases.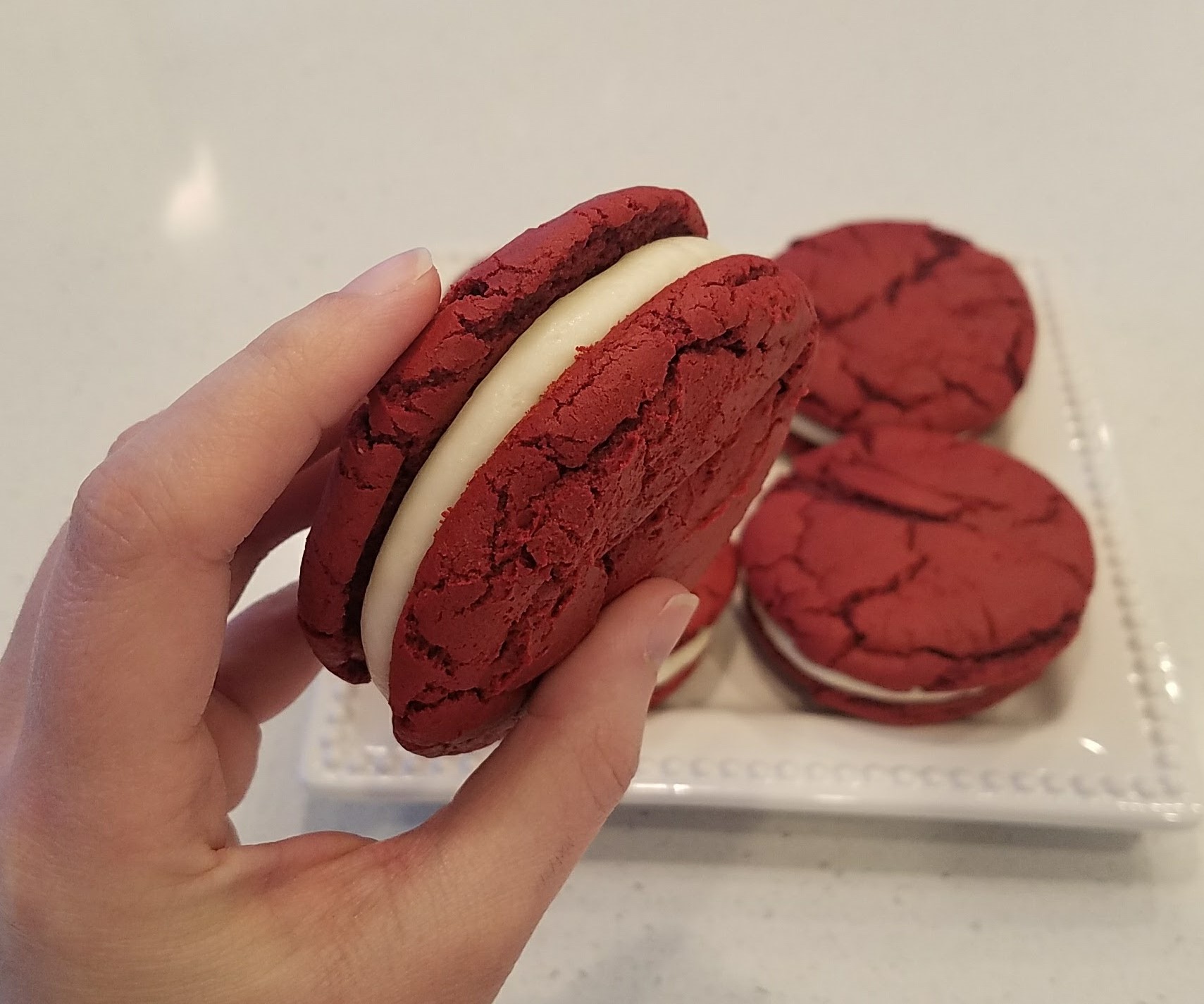 Amazingly Easy Red Velvet Sandwich Cookies from a Cake Mix! These Cookies are Soft, Chewy and Pair beautifully with my Delicious Cream Cheese Frosting!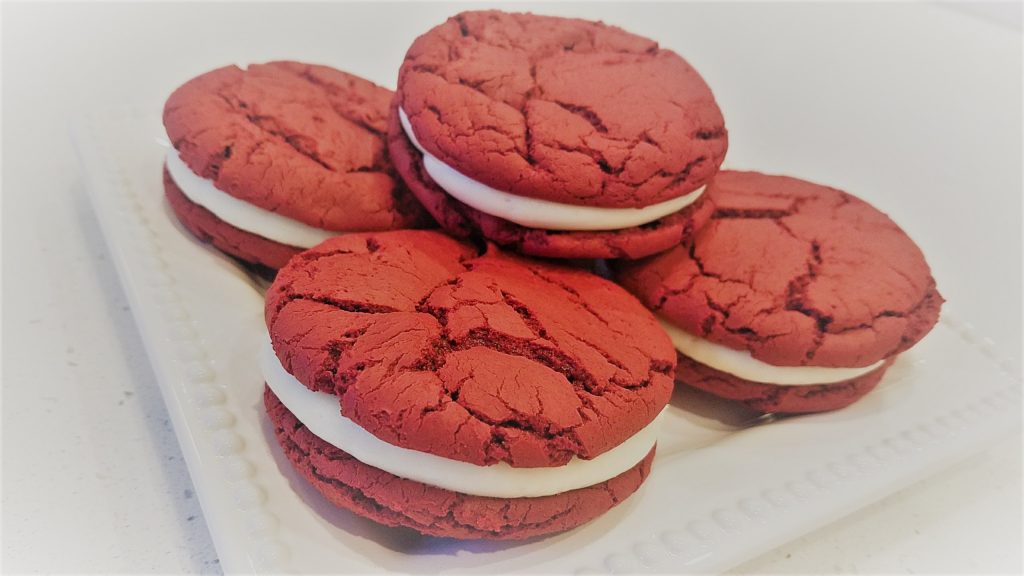 Jump to Recipe
These Easy Red Velvet Sandwich Cookies have been in my arsenal for years! When my husband and I were new parents, we had a bad business venture and ended up living with my husband's grandfather while looking for jobs to support our little family of 3.
We ended up getting a job as Home Parents at a Treatment Facility for At Risk Youth where we lived and worked for almost 5 years. It was a HARD job! I was young. Only 21 and acting as "Mom" to a home of up to 16 teenage boys at a time. I learned some of the most important lessons in life while doing this job. But one lesson that I learned is what led me here.
I've been baking since before I can remember, but there, at this job that tested every part of me, I learned to bake my way through the hard times. I had some particularly bad experiences with others at this job. Yes, youth in a treatment facility were not easy, but to be honest, some of the adults were even more difficult to deal with.

I was young and immature. I hadn't learned some of life's toughest lessons, but I hated contention (still do!). So, one day when I was feeling particularly overwhelmed and frustrated with a coworker, I baked some cookies. Nothing fancy. I don't even remember what kind. But when they were baked and sitting on that cooling rack, I had a thought to plate and take them to this person.
Follow inspiration
Now, I'm not one to say that I hate another person, but I DID NOT care for this person very much. So, to swallow my pride and give her cookies was a big step for me. But after I did, an unexplainable love for her came over me. I could see her. It softened those feeling of contempt and replaced them with just a little bit of understanding.
It didn't FIX things, but it helped. I baked a lot for her. Every time things got really difficult to bear, I baked for her. I realized that baking helped me. Serving her while doing something that I loved helped me to feel love for HER. To this day, I still talk to her. Not a lot. We will never be "besties". But it cultivated love and respect.
This taught me how to deal with difficult people. I bake for them. I used this technique many times while living at the treatment center, and not just for difficult people. When I needed to say:
"I love you"
"I see you, you're not alone"
"I can't stand you, but I'm trying"
"Thinking of you"
"I'm Sorry"…
Baking became my emotional, mental, and creative outlet. I use it with my kids, I use it for my neighbors, I use it in my marriage. And it helps me. It helps me to create love where it is not always present. So take an hour. Make some Easy Red Velvet Sandwich Cookies and take them to someone you don't care for. Because the phrase "Baked with Love" is a real thing. But I would like to amend it, Bake FOR Love! I'd love to hear your Baking for Love moments! Did you feel hate dissipate? Tell me!
These Easy Red Velvet Sandwich Cookies were what I was known for back then. I made them all the time. By HAND!!! Before I had a mixer. This is a thick dough, so even though it's a cake mix recipe… a mixer is recommended. I also recommend pairing them with my FLUFFY CREAM CHEESE FROSTING (You will want to half the recipe). You won't be able to stop eating them!!!
tips for easy assembly
Use a Cookie Scoop! This is a tool that I have in my kitchen ALWAYS! It takes less time than balling the dough by hand, creates uniform cookies, and even baking!
Match up cookies of similar size before hand. This makes piping the filling and assembling the sandwich cookies a breeze. It also assures that you won't end up with one HUGE cookie pairing with one SMALL.
Store in the fridge inside an airtight container. Cookies should be fine for up to a week if stored properly.
What is the difference between these cookies and Whoopie Pies?
The major difference between these Easy Red Velvet Sandwich Cookies and Whoopie Pies is the Cookie itself! Whoopie Pies naturally tend to have more of a cake like texture. They are a soft and fluffy cookie. These cookies are soft and chewy. More like a traditional Drop Cookie instead of a cakey cookie!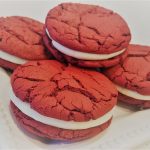 Print Recipe
Easy Red Velvet Sandwich Cookies
Delicious and Simple Red Velvet Cake Mix Cookies that come together quickly and Can be paired with many delicious Frostings!!!
Servings:
12
Sandwich Cookies
Ingredients
1

Box

Red Velvet Cake Mix

2

Large Eggs

1/3

Cup

Vegetable Oil
Instructions
Preheat oven to 350°.

Add all ingredients into the bowl of a stand mixer fitted with the paddle attachment. Mix on low until fully combined.

Using a medium sized cookie scoop make roughly 2" round balls. Place each ball of dough 2" apart onto a baking sheet lined with a silicone mat or parchment paper.

Bake for 10-12 minutes or until cookies are puffy and cracking. Edges should be set, but center should still look just a touch underdone where the cracks show.

Let rest on pan for 5 minutes and then transfer to baking sheet to cool completely.

When Cool, pipe or spread Cream Cheese Frosting onto the bottom of one cookie and top with another. Repeat until all cookies have been frosted and paired.
Notes
I use Betty Crocker's Red Velvet Cake Mix.