As an Amazon affiliate, and affiliate with other businesses, I earn from qualifying purchases.
a gooey and delicous mix of chex, golden grahams, coconut and almonds… this sweet conconction is Addictive and will please the toughest of crowds at any party.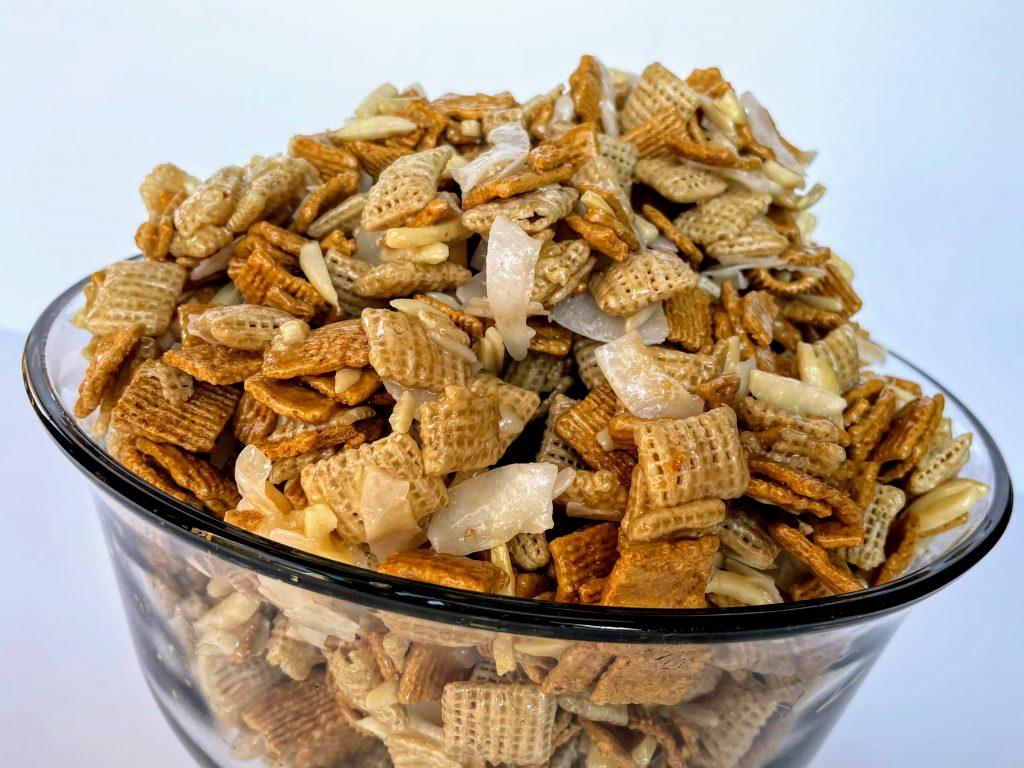 If you love your cereal, and you love sweet and gooey treats, Razzle Dazzle Chex Mix NEEDS to be a snack for your New Years Eve festivities this year. A combo of Golden Grahams, Chex Rice Cereal, Coconut and Almonds with a sweet, buttery vanilla caramel glaze will leave you wanting more.
But don't fret… this recipe makes enough for even the largest family to enjoy.
New Years eve for our family of 6
We have 4 kids in our house, so a family friendly New Years Eve is usually a given. Rarely do we go anywhere or party until the wee hours of the morning. New Years Eve usually consists of making some snacks, and having a movie marathon until midnight. While most of our kids make it, we usually lose at least one before the clock strikes midnight.
On our list of goodies is usually some sort of popcorn, (we've opted for Caramel Puff Corn the past 2 years, the ooey-gooey version!!), some finger foods, and some sparkling cider to toast with at midnight. And while our kids look forward to New Years Eve, my husband isn't the biggest fan. So if I want him to stay up with us it's important to have snacks that he enjoys. Because of this, and because my kids have made themselves physically ill with the puff corn, I'll be making this recipe instead!!
This Razzle Dazzle Chex Mix doesn't disappoint a single soul!! So…. we'll be chowing down on this and enjoying our Low Calorie Cranberry Citrus Mocktails!! You seriously need to make these! They are sooooo good, super low calorie and low sugar! WIN WIN!! And they totally make up for all of the sugar you will consume eating this Razzle Dazzle!! 😉
Where did Razzle Dazzle Come from?
The recipe originates from my grandmother. I'm not sure where she got it, but it was one of those regular treats we'd beg her to make if we were at her house. My cousins loved it, their mothers made it, and they're the reason I even have the recipe! Because my mother refused to learn! She says it's too dangerous to have around! (Because it's THAT good, people!!)
It's really simple to make, makes a HUGE batch, and is great to bag up and gift to a few friends or neighbors if you're feeling particularly generous. (Yeah, we don't share this one! We eat it ALL!!!)
What do you need?
2 LARGE mixing bowls (When I say Large, I mean… LARGE!!!)
Waxed Paper
Saucepan
A Large Box of Golden Grahams
A Box of Rice Chex Cereal
10 oz Bag of Slivered Almonds
3 Cups Big Flake Coconut (If you can't find it, use shredded coconut
2 Cups Sugar
2 Cups Light Corn Syrup
1 1/2 Cups Salted Butter (3 Sticks)
Vanilla
Razzle Dazzle Chex Mix step by step
Mix all of the cereal, coconut and almonds in a big mixing bowl and set it aside.
Put the Butter, Sugar and Corn Syrup in a medium sized saucepan and bring to a boil. Stir it frequently and boil for 4-5 minutes.
Add your vanilla and then pour it over your cereal mixture.
Stir it well until it's all coated and then spread out onto waxed paper to cool and dry.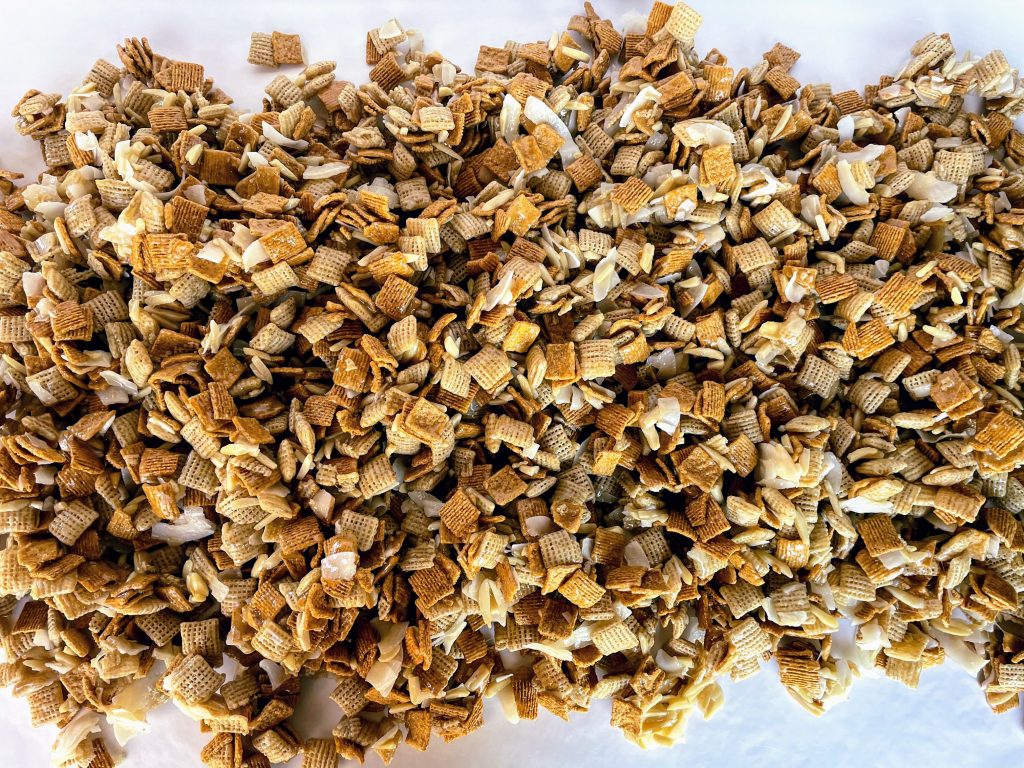 how to store it
Store your leftover Razzle Dazzle Chex Mix in a airtight container or Ziploc bag for up to a week.
other easy treats for your new years eve
And if you're looking for something else sweet and easy might I just recommend switching out the sprinkles in these Easter Rice Crispy Treats to something a little more festive like these adorable Meet Me at Midnight sprinkles?! Or I also LOVE LOVE LOVE an Easy Red Velvet Sandwich Cookie for ANY occasion.
However, if you're feeling a little more adventurous… My Classic New York Style Cheesecake would be a perfect addition to your New Years Eve Spread as well!
Happy New YEars to you & Thank You!
2020 has been hard, and I have learned so much. I have learned to find Joy in the difficult times. To be thankful for the little things. I have learned to prioritize what is really important and I have enjoyed extra time with my family. Made more time for my mental and physical health and learned to put other things on the back burner. And I haven't quit on my dream of blogging!!! (That last one has been a challenge, this is actually a lot harder than I thought it would be.)
I am so grateful for you… if you've read this far, you are the reason I blog! Whatever you choose to make, I hope you have a FABULOUS New Years Eve, and I wish you the best in 2021!! Maybe 2021 will be the year you turn to Sugared Sentiments to learn new baking skills and tackle new recipes! I hope you'll stick around. It can only get better from here!
-Chels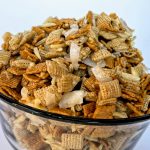 Print Recipe
Razzle Dazzle Chex Mix
An ooey-gooey mix of Chex, Golden Grahams, Coconut and Almonds
Ingredients
16

oz

Golden Grahams Cereal

About 2/3 of a Family Sized Box

12

oz

Rice Chex Cereal

Average Box

10

oz

Slivered Almonds

3

Cups

Big Flake Coconut*

2

Cups

Granulated Sugar

2

Cups

Light Corn Syrup

1 1/2

Cups

Butter, salted

1/2

Tbsp

Vanilla
Instructions
Mix Golden Grahams, Chex, Almonds and Coconut in 2 large bowls and set aside.

Add Butter, Syrup and Sugar to a medium sized sauce pan and bring to a boil, stirring consistently. Once mixture starts boiling, turn the temperature down to medium and let it boil for 4-5 minutes. Continue to stir.

Pour liquid mixture over cereal mixtures and mix well. Spread over wax paper to cool and dry.

Store in a Ziploc bag or airtight container at room temperature for up to a week.
Notes
*If you can't find big flaked coconut, you can substitute shredded coconut.