As an Amazon affiliate, and affiliate with other businesses, I earn from qualifying purchases.
sweet and fruity, but not packed with sugar and empty calories, these low calorie cranberry citrus mocktails are all the flavor and none of the guilt.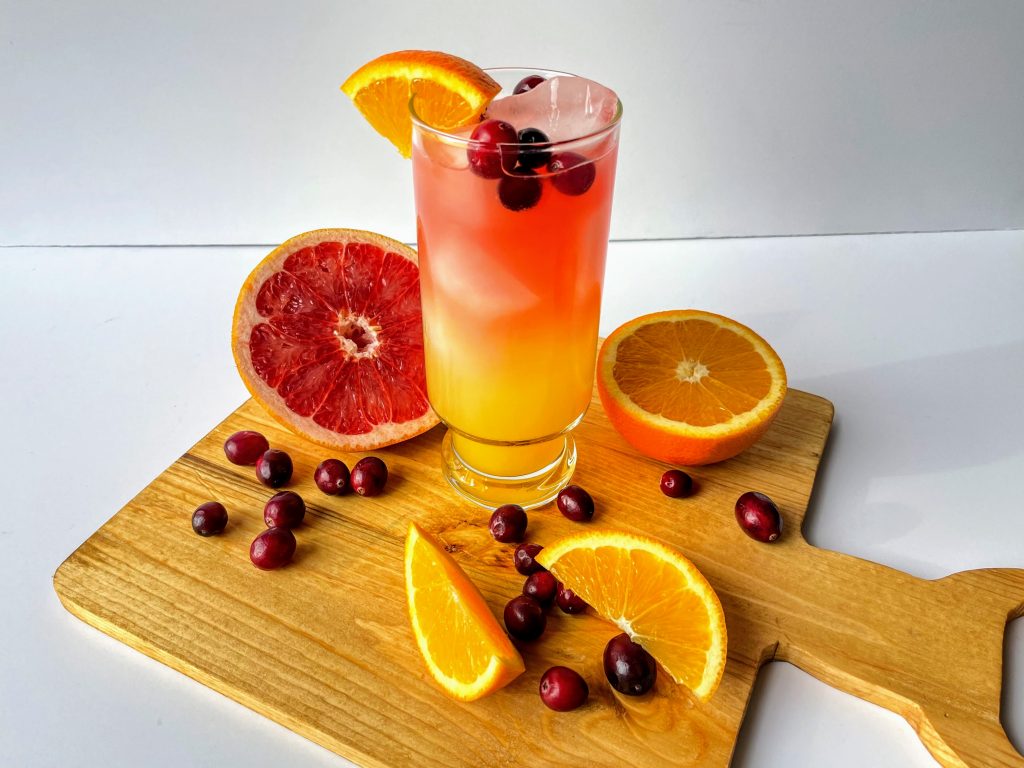 This Low Calorie Cranberry Citrus Mocktail packs all the flavor with almost no calories and very little sugar! If you are looking for a sparkling drink to kick off your New Year, look no further! With just a touch of holiday flare to soak up the rest of December, and a gorgeous presentation, this mocktail is dressed to impress. Even if all you are doing is celebrating with your family.
New years with 4 kids!!
We go pretty small on New Years Eve, but we like adding a few fun things to spice up the night and make it just a little bit different from our typical evening together. Usually we toast with some sparkling cider, but it's PACKED with sugar. And because this year has been a health and fitness journey for me, I really try hard not to drink my calories. Which is part of why we'll be switching to this Low Calorie Cranberry Citrus Mocktail this year.
Let's be honest, you know I'm going to have treats… duh!! So I'm planning to save the calories for this Razzle Dazzle Chex Mix we'll be wolfing down. And maybe, just maybe, some No-Fail Chocolate Chip Cookies. Because they're my husband's favorite!! So it is absolutely essential that I have a yummy drink that doesn't completely sabotage my goals.
For how gloriously beautiful this Low Calorie Cranberry Citrus Mocktail looks, it COULD NOT be easier! All you need to do is pour the ingredients in the right order, with just a little bit of delicacy, and you'll get that jaw-dropping Ombre effect.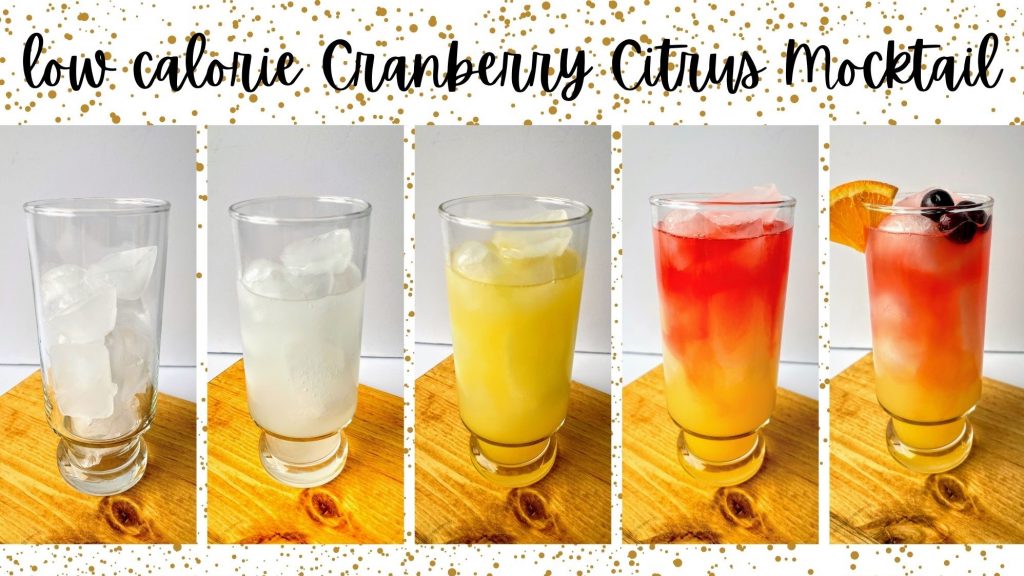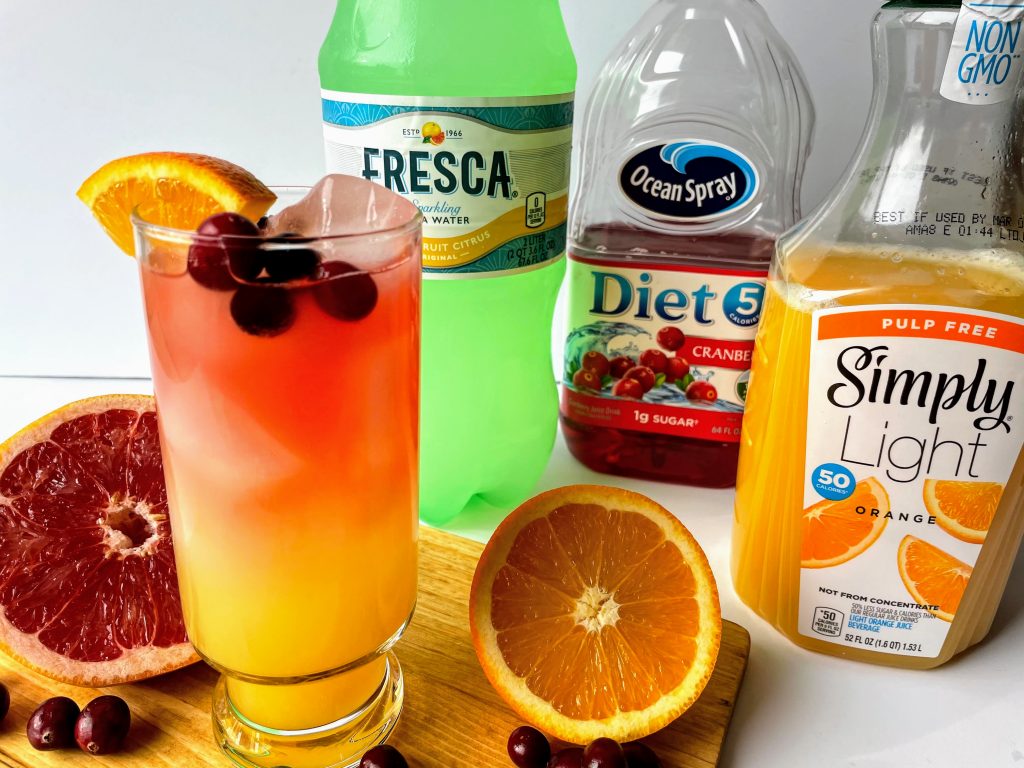 HOW TO GET THAT OMBRE LOOK
Fill your Cup 3/4 of the way with Ice. (Trust me, even if you'll need to refill, this drink is best SUPER cold!)
Fill your cup 2/3 of the way with Fresca.
Add a splash of your favorite Orange Juice. (We use light, because it tastes great, but has lower sugar. But you'll use very little, so full strength Orange Juice won't add a lot of calories) Unless you have MANY MANY glasses!!
Add a couple splashes of Cranberry Juice. (We use 5 Calorie Ocean Spray, but once again, use what you'd like!) Keep in mind that THIS step is where you will create that Ombre effect. So pour slowly so that red will stay toward the top of the glass.
OPTIONAL… Add Orange slices to the side of your glass and a few fresh Cranberries to really add that wow factor!
You can drink your mocktail as is, with the beautiful Ombre effect intact, or use a straw and mix it all together. Although, it's stunning in color if you don't mix it, we prefer ours *shaken* just a bit! This really melds all those flavors together.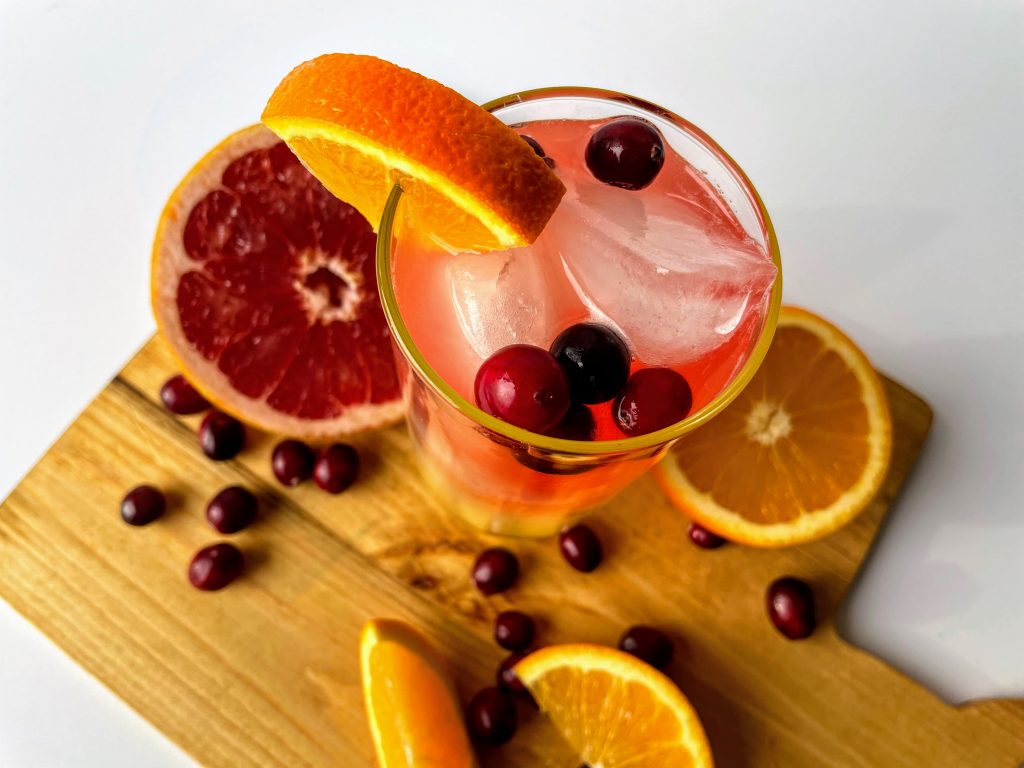 Happy New Year, Everyone! I wish you health, happiness and joy. I hope you can see the positive things that have come from your challenges this year. I know it has been a tough year for many of us. Please know how grateful I am for your support and for reading my posts! This year has been quite the journey for me and I'm so touched to have been blessed to connect with so many. Thank you so much!
Enjoy your New Years, and enjoy your Low Calorie Cranberry Citrus Mocktails!!! They'll be your friend all year long!
-Chels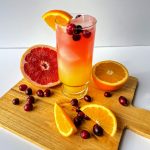 Print Recipe
Low Calorie Cranberry Citrus Mocktail
A sparkling fruity drink with a beautiful Ombre appearance
Ingredients
3/4

Cup

Ice

2/3

Cup

Fresca

1/8

Cup

Light Orange Juice

1/4

Cup

Light Cranberry Juice

OPTIONAL: Fresh Cranberries and Orange Slices

garnish
Instructions
Fill your glass 3/4 of the way with Ice.

Fill the cup 2/3 of the way full of Fresca.

Add a splash (about 1/8 of a cup, or 2 tablespoons) of Orange Juice.

Add a couple splashes (about 1/4 cup) of Cranberry Juice, slowly. The slower you pour, the more distinct the Ombre effect of your mocktail will be.

If desired, garnish your mocktail with an orange wedge or slice and a few fresh cranberries.
Notes
Use any brand of juices you like, and if you are NOT a diet fan or Fresca fan, you can substitute with Sprite or Sprite Zero.