As an Amazon affiliate, and affiliate with other businesses, I earn from qualifying purchases.
Perfect for Royal Icing, these Soft No-Spread Sugar Cookies are easy to roll out, and relatively mess free! They pack that buttery, vanilla flavor, and once decorated, remain soft for days.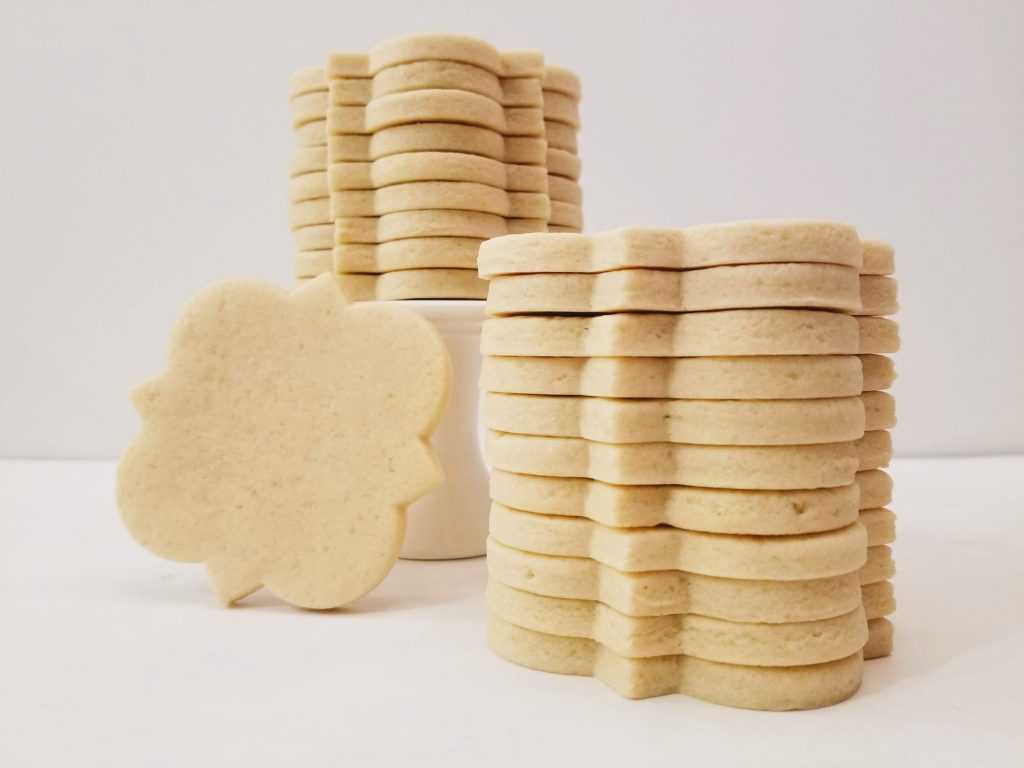 Decorating with Royal Icing can be complicated and stressful without the right recipes, tools, and tips for success. This recipe for Soft No-Spread Sugar Cookies starts you off on the right foot and is the first part of a 3 part series for Royal Iced Sugar Cookies! Get my recipe for Soft Royal Icing and then head to my post on Royal Icing Consistencies for help flooding your cookies with ease!
My childhood was spent baking cookies EVERY Sunday! I vaguely remember a Sugar Cookie phase. My mom had this big wooden box full of recipe cards. (You know, before the days of Pinterest and Google!) And the recipe that created the base for these perfect cookies was always the one I came back to – even after venturing outside the recipe box! I've yet to find a sugar cookie recipe that I like better. Luckily for me, our family has a great arsenal of passed down recipes! And I intend to share them all with you. These Soft No-Spread Sugar Cookies are nearly identical to my Soft Roll Out Sugar Cookies. Just a small tweak to the recipe and a few extra steps after baking make them PERFECT for Royal Icing!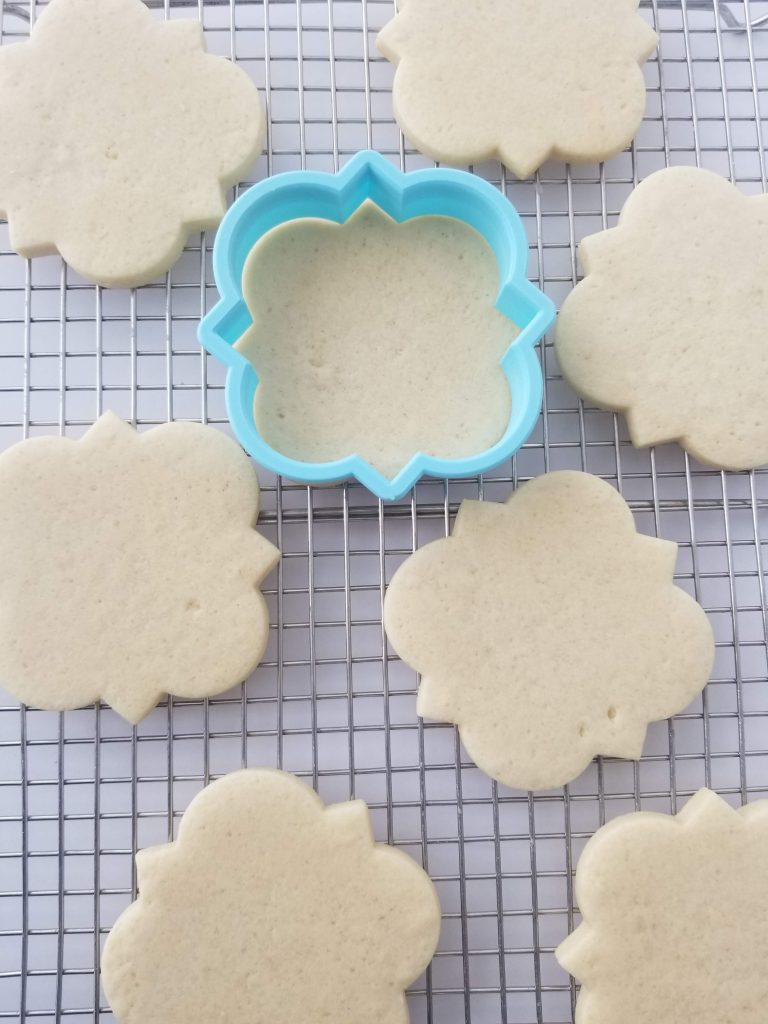 What I love about this recipe
First things first, one of the things I love about this recipe is the fact that I can roll them out at room temperature! I learned this technique from a class I took with Blyss Cookies! I just HAD to adjust my own recipe to be rolled the same way, because… GAME CHANGER!!! No stiff, cold, hard to roll out dough disks. No messy floury surfaces. Just ease and MESS FREE rolling!
Secondly, these Soft No-Spread Sugar Cookies really do spread VERY LITTLE. The use of baking powder instead of soda gives them just a bit of a rise, without a puff and without changing the shapes too much.
Lets get started with what you'll need to make these deliciously tender Sugar Cookies!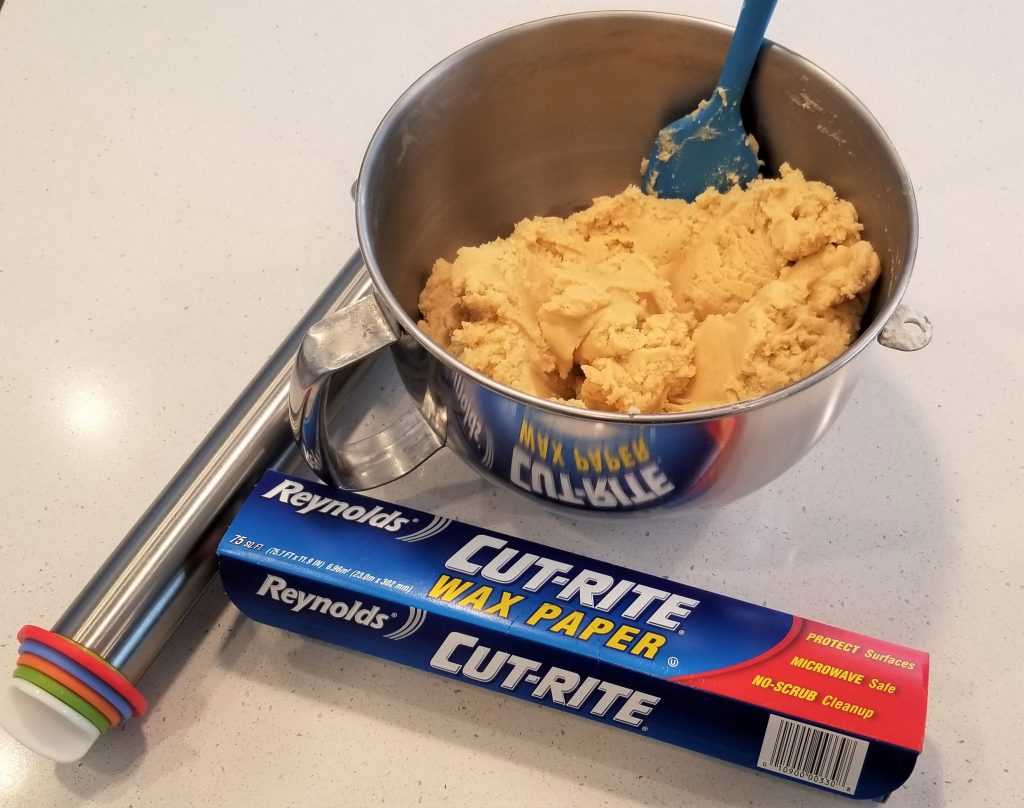 What tools do you need?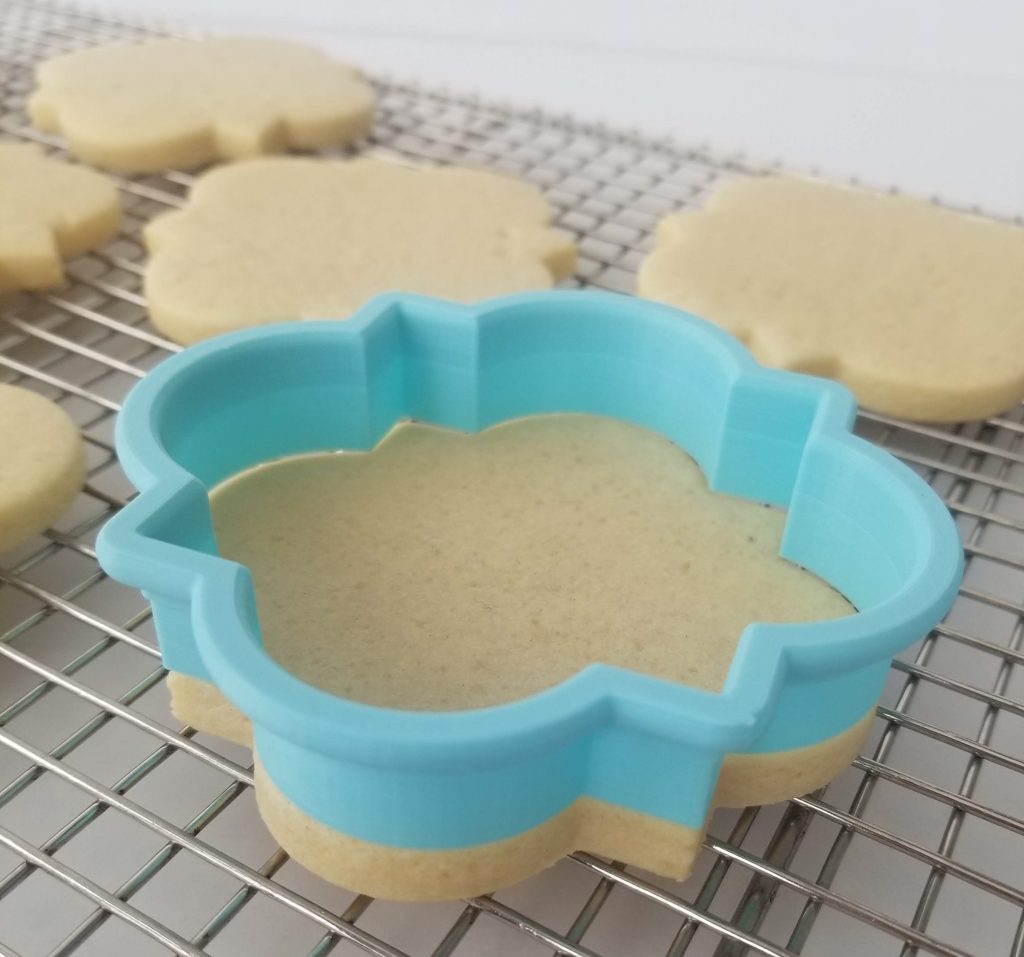 Tips for the perfect dough
I suggest getting all of your ingredients ready to go ahead of time. Measure out your flour, Mix your baking powder in with your milk, and make sure your butter is at room temperature.
Scrape down the sides and bottom of your bowl after each addition. This makes sure that all of your eggs, butter and other sticky ingredients don't remain on the bottom of the bowl, and are evenly distributed.
Slowly add that last cup of flour. I live at a high altitude, so I need all 8 cups of flour, but you may not! You'll know your dough is good to go when it starts to clean the sides of your bowl. If you pinch a bit with your fingers it should feel a bit like playdoh, it shouldn't be sticky, but it shouldn't crumble. You can always add more flour, but you can't go back if you have added too much. So go slow!
How to roll out your dough
Depending on how thick you intend to roll your Soft No-Spread Sugar Cookies, I suggest dividing your dough into 3 equal sections. I tend to roll mine at 1/4″ thick when decorating with Royal Icing because they hold their shape a little bit better for me. But I often change my mind and want a thicker cookie as well. If you roll them at 3/8″ you can get away with 2 portions of dough!
To roll each portion, place the dough in between two pieces of wax paper. If you don't have wax paper you can also use parchment or plastic wrap. I like wax paper because it somewhat sticks to my counter top and doesn't slide around while I'm rolling. Parchment paper doesn't do that, and I tend to push a little to hard with my rolling pin and break through plastic wrap! But any of the 3 options will do the job!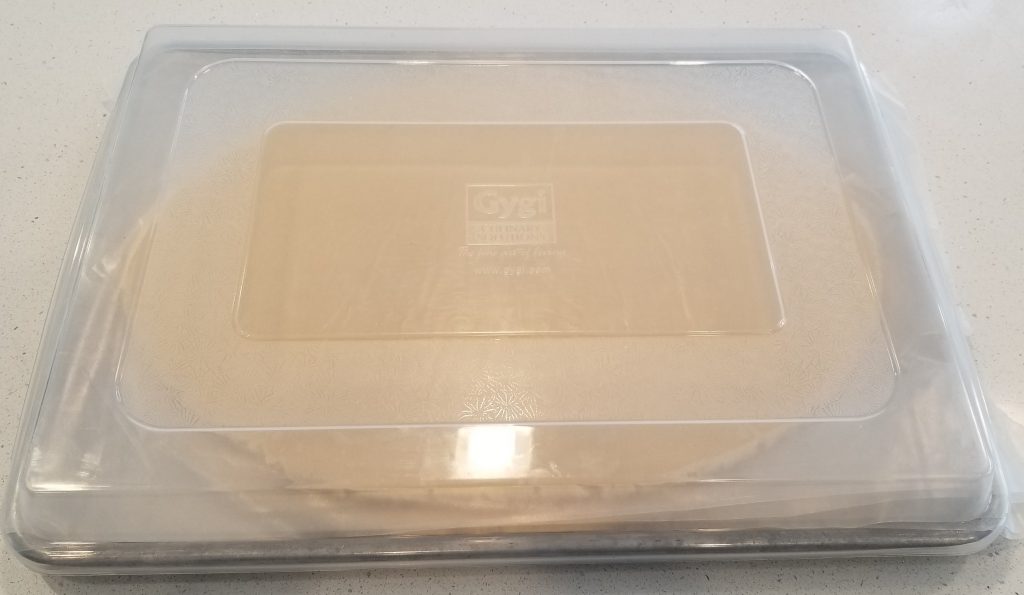 Once the portions have been rolled, place them in a container and slide them into the refrigerator for about an hour or overnight. If you are in a hurry, you can place them into the freezer for 20-30 minutes instead.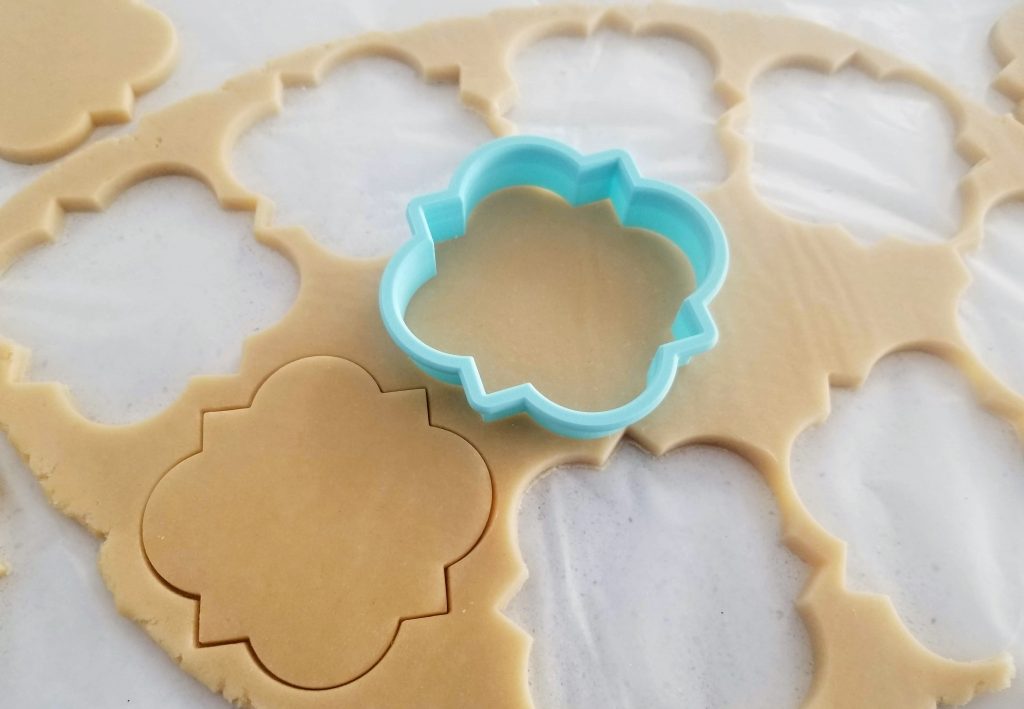 When cutting your Soft No-Spread Sugar Cookies, don't immediately re-roll your scraps. Set them to the side, and then combine all of your scraps to re-roll together. Every time you re-roll your dough you develop your gluten, your dough gets a little more tough- creating a tougher cookie, and your shapes start to get a little wonky. I don't typically roll my dough more than 3 times. You can see an example of what each re-rolled dough looks like baked below.
Baking the cookies
These few tips will help you have the flattest cookies possible. This helps keep your Royal Icing on the cookies. If your cookies dome, that icing will just pour off of the cookie.
Place a silicone baking mat onto your cookie sheet.
Cut your shapes and place them onto the mat. Space like-sized shapes at least an inch apart. Try to bake similar sizes on the same pan. Drastically different sizes should be baked separately or the large cookies will be doughy and the mini ones will burn.
Bake until the edges are firmly set and the center is no longer shiny.
Immediately after removing the cookies from the oven, use a fondant smoother or the back of a flat spatula to gently work out any air bubbles. You can do this by adding slight pressure and moving the smoother in a circular motion. I have Amanda at Cookie Concepts to thank for this tip!
For EXTRA flat cookies, after 2 minutes, flip each cookie upside down on the silicone sheet. Be careful not to burn your fingers or mutilate your delicate shapes. Leave them there like that for about 5 minutes and then transfer to a cooling rack.
Also, each time you've re-rolled your dough, you will probably need to add an extra minute onto your bake time.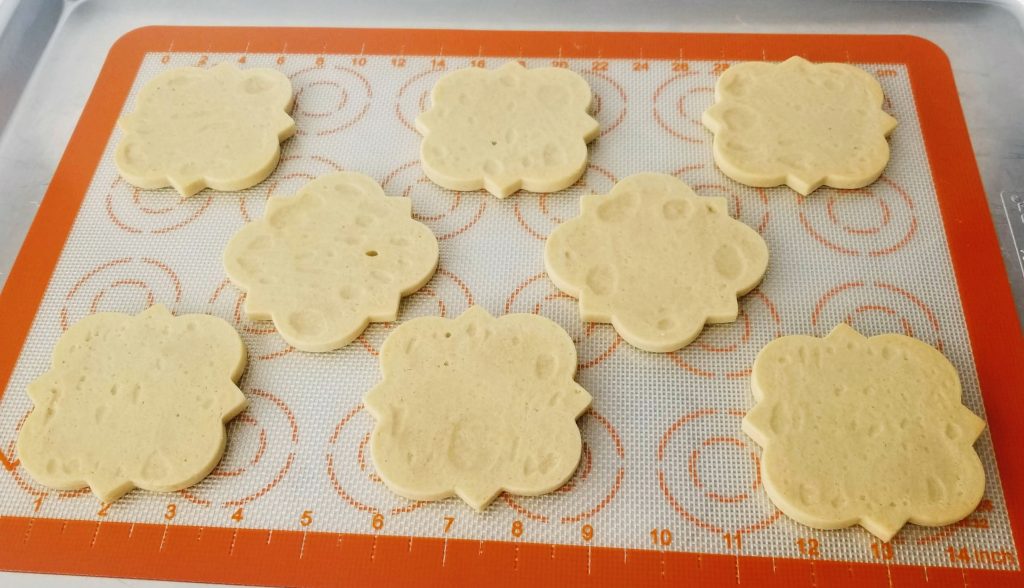 Tips and tricks
One thing that makes a big difference in preventing overflow is decorating the bottom of the cookies. It is the FLATTEST part of your cookie and you'll end up with very few overflowing cookies! If you DO decide to decorate the bottom of your cookie, take care to make sure that you are baking any specialty (Plaques that are meant for lettering… etc) cookies upside down. That way when you flip them over to decorate they are actually face up!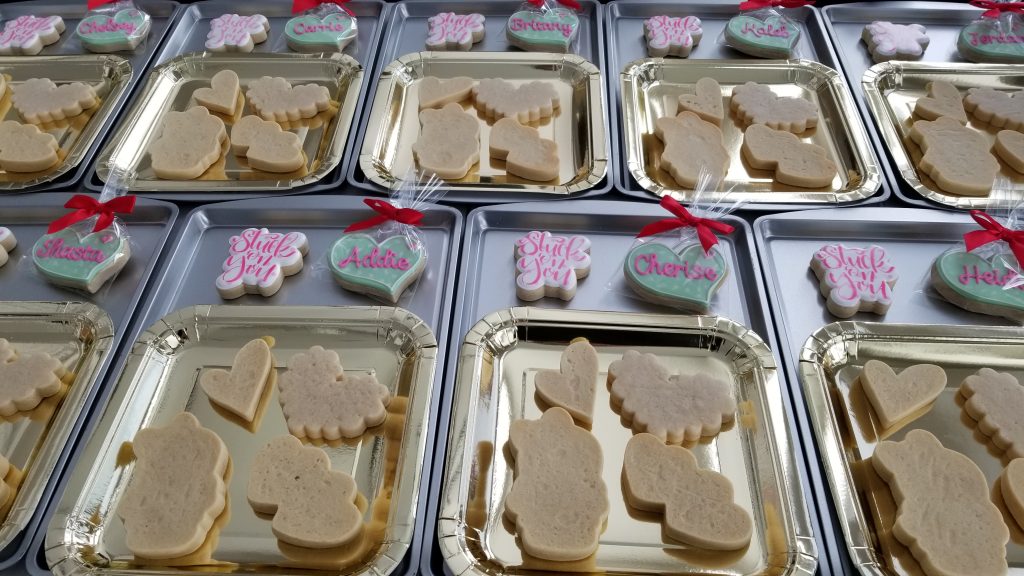 Flooding sugar cookies is one of my very favorite pass times. It is very therapeutic. My goal with sharing this recipe is to give you the gift of a tried and true recipe that makes flooding that much easier! If you are just starting out, practice makes perfect… don't expect perfection with your first try. But instead, allow yourself room to improve. Your only competition should be yourself!
Happy Baking! -Chels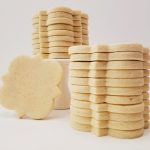 Print Recipe
Soft No-Spread Sugar Cookies
Soft No-Spread Sugar Cookies are a roll out Vanilla Sugar Cookie recipe perfect for Royal Icing. They bake flat and maintain their shape while baking.
Ingredients
2

Cups

Unsalted Butter, softened

2

Cups

Granulated Sugar

1

tsp

Salt

2

tsp

Vanilla Extract

4

Large

Eggs

7-8

Cups

All Purpose Flour

1/4

tsp

Baking Powder

1/2

Cup

Milk
Instructions
Cream butter, sugar, salt and vanilla together until light and fluffy (about 3 minutes)

Scrape down the bottom and sides of the bowl.

Add eggs and mix on medium speed until fully combined.

Scrape down the bottom and sides of the bowl.

Dissolve baking powder in milk and set aside.

Add 4 cups of flour and mix on low until combined.

Add milk mixture. Mix until fully incorporated.

Add the rest of the flour one cup at a time. Go slow with the last cup of flour. (I live at a high altitude and need all 8 cups) You will know there is enough flour when the dough is playdoh like consistency. It should not be sticky, but it shouldn't crumble. The dough should clean the sides of the bowl (if using a stand mixer fitted with the paddle attachment).

Separate your dough into 3 equal sections and roll each section in between two pieces of wax paper, parchment, or plastic wrap. Use a rolling pin with guide rings for even results.

Place rolled sheets of dough into a container and place into the fridge for at least an hour, or overnight. Dough can also be stored stored in the freezer for 20 minutes if you are in a hurry, or stored there for later use.

When ready to cut and bake, preheat your oven to 350° and place your oven rack in the center position.

Cut your shapes and place onto a silicone baking mat or parchment paper (for best results). Space cookies 1-2" apart and bake for 8-15 minutes depending on size and thickness.

When cookies are baked through, use a fondant smoother to gently press out any air bubbles and gently flip cookies upside down the mat to cool for 5 minutes. Then transfer to a wire rack to cool completely. These additional steps are optional, but will provide the flattest cookies possible. Decorate with desired icing.

Cookies can be stored in an airtight container for up to 3 days, or in the freezer for at least 2 months.
Notes
Almond milk, buttermilk, or sour cream can be substituted for milk.