As an Amazon affiliate, and affiliate with other businesses, I earn from qualifying purchases.
This Decadent Red Velvet Cake is the only Red Velvet Cake you'll ever want to make. It is moist, packed full of flavor, and has an incredible texture.
What I love about this recipe is that it doesn't just taste like Red Food Color! (Does anyone else think that's what most Red Velvet Cakes tastes like?!) This Decadent Red Velvet Cake is rich, never lacking in flavor, and NEVER dry! There are a lot of Red Velvet Cake Recipes out there that I honestly think just taste… yuck! But mine has kind of a unique flavor. And the funny thing is that the flavor was a total accident!
Jump to Recipe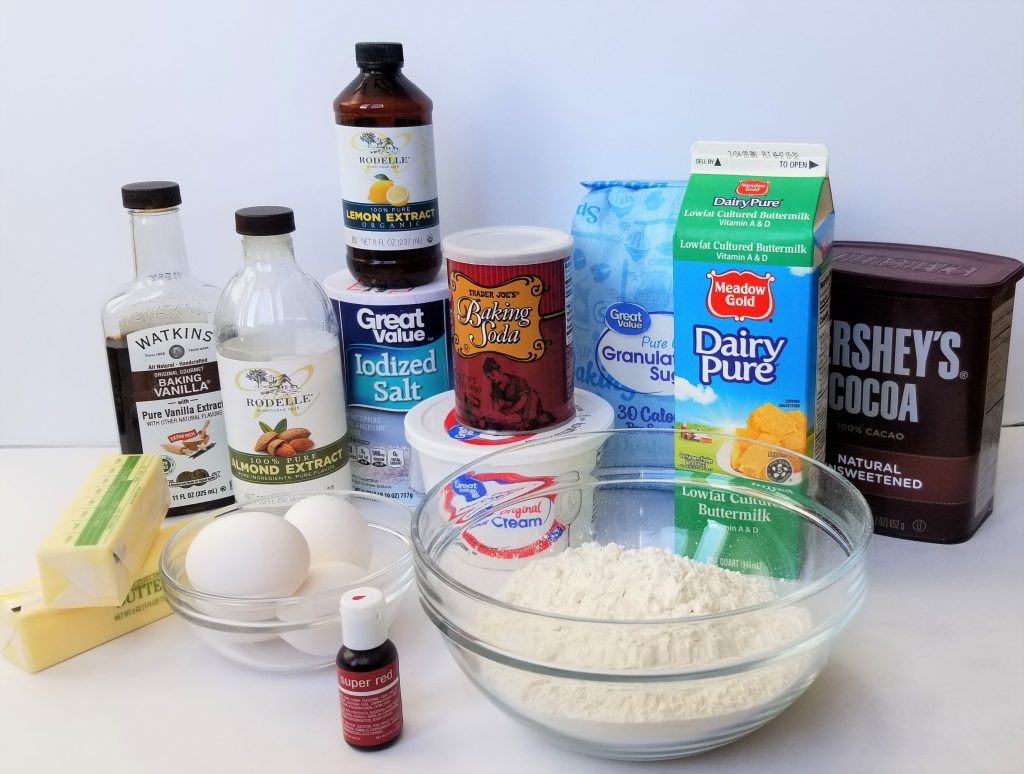 Red Velvet Cake was never my favorite cake. I never really understood the hype. So in over a year of baking custom cakes for friends and family I hadn't ever made a from scratch Red Velvet Cake. But I have pushy family members, and a few years ago my older brother INSISTED that I could come up with a cake recipe (for a cake that I don't normally like) in just 3 days!
Hahaha! I was doubtful… But I came across this Red Velvet Cupcake Recipe by McCormick and it had great reviews, so I figured I'd use it to try and make a cake. Over the years I've tweaked a few things and now I love it even more!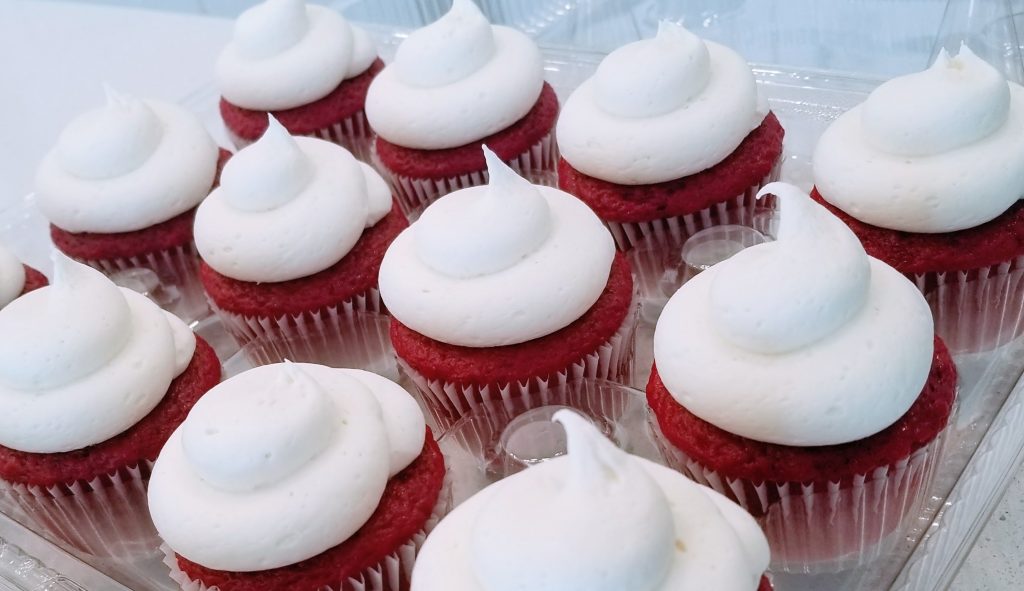 So here is how the happy accident occured…
I have A LOT of extracts in my pantry, and when reaching for the Almond Extract, I accidentally grabbed Lemon! When I poured it into the bowl it didn't smell like almond. I looked at the bottle and realized it was lemon extract, and briefly panicked! But I was on a time frame, and it was one of the last steps. There was no going back… so I baked the cake anyway! And when that Decadent Red Velvet Cake emerged from the oven I could TELL it was a winner! The smell alone had me drooling.
I paired it with my Fluffy Cream Cheese Frosting and it was the first Red Velvet Cake recipe that I have ever liked! The first one I actually WANTED to eat! And I think the hint of Lemon actually made a BIG difference.
Changes I made to the original Recipe
One thing that I didn't love about the McCormick recipe was that I felt it had too much Cocoa Powder. Red Velvet always has cocoa powder, but the cake itself shouldn't taste like Chocolate. It should be subtle. So I cut the cocoa powder in half! This makes the cake a brighter, happier red and gives it less of a cocoa flavor, which really helps the true flavor of the cake to take over.
Lastly I recommend substituting buttermilk for the milk. ***This step is completely optional.*** It still tastes great with just milk. However, I really like my cake to have a full body.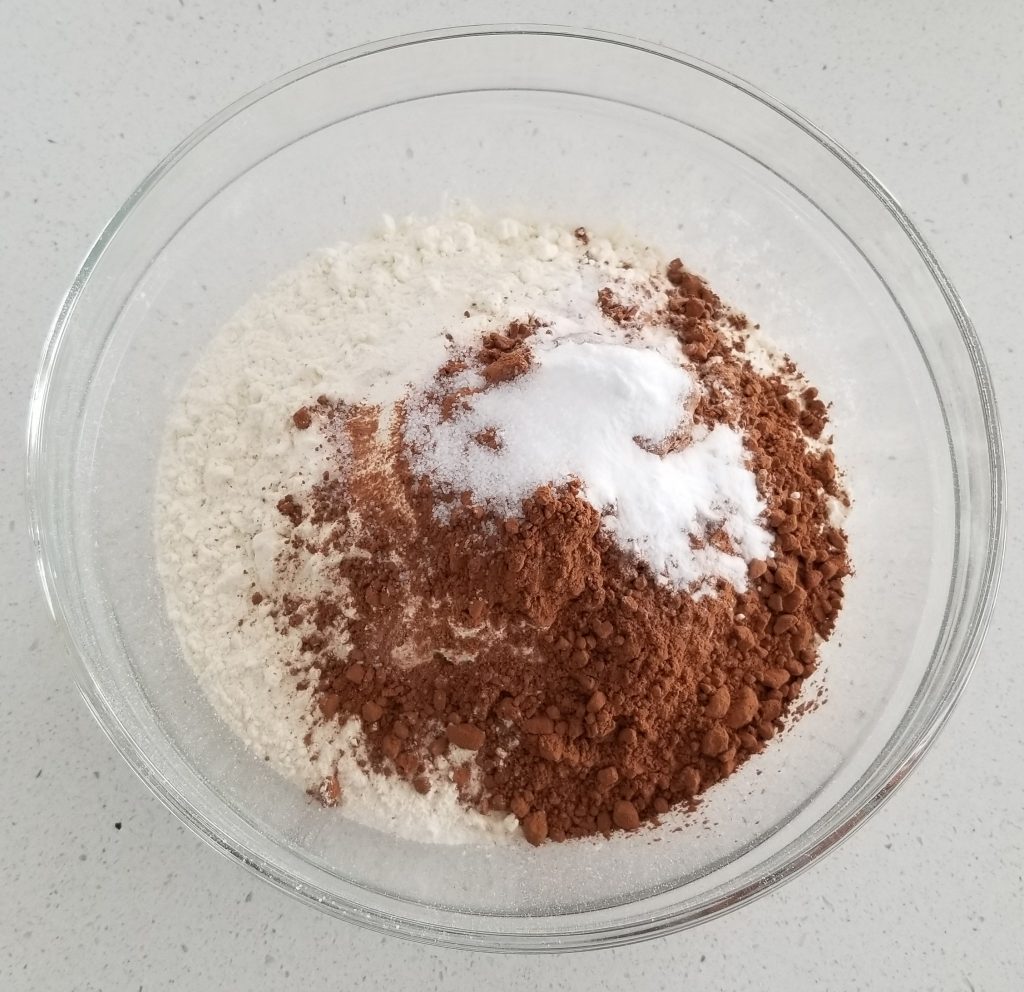 What makes this cake a moist, Tender Cake?
When I say full body, I'm talking about stack-able, sturdy and satisfying cakes. Personally, I tend to think that really airy, lite cakes leave you feeling like you need more. I like to eat a slice of cake and feel content. So I prefer my cakes to be on the denser side. I don't want them to taste like a brick by any means! But I don't want to feel cheated by a light airy piece either!
The butter, sour cream AND buttermilk in this Decadent Red Velvet Cake make it a bit heavier and extremely moist!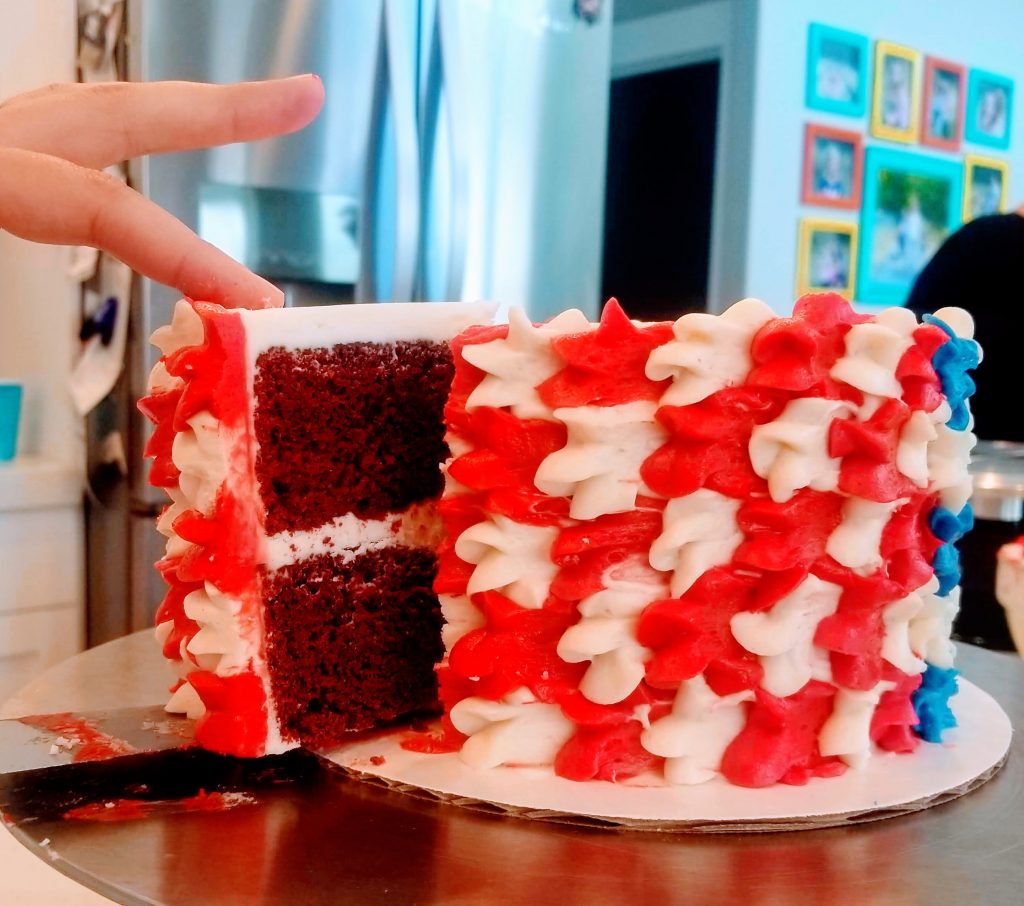 can you make this cake Gluten Free?
You sure can! Use your favorite Gluten Free Flour Mix to make this cake gluten free. I prefer the taste of 1 to 1 by Bob's Red Mill. I honestly can't even tell it's gluten free when I make it with this flour!
How to get started
When You are preparing to bake this cake, don't forget to head over to my post all about Baking the Perfect Cake Layers! Here you can learn how to prep your pans, what pans lead to better baking success, and most importantly, how to get that cake out of the pan PERFECTLY EVERY TIME!!!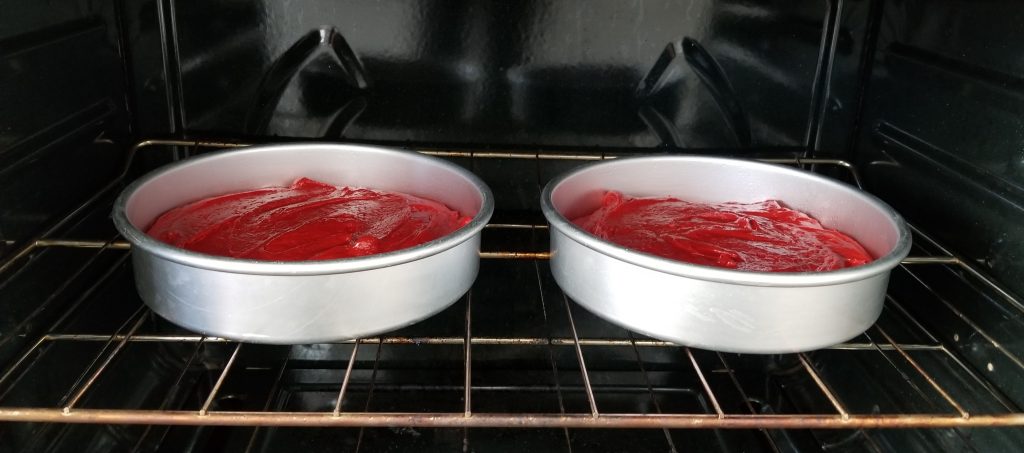 Whether you are a Red Velvet Fan or not, this Decadent Red Velvet Cake will definitely have you grabbing for a fork…
Want to try making that fun chocolate drip?
Pour 1/2 Cup of Hot Heavy Whipping Cream over 1 Cup of Hershey's Special Dark Chocolate Chips. Let it sit for 2-3 minutes and then stir until combined. Let it cool until just slightly warm. When it is no longer hot, use a squeeze bottle or a spoon to guide it over the edges of your chilled cake and let it work its magic! Head to my Instagram page to watch a video of a Ganache Drip Cake in action!
Happy Baking! -Chels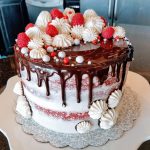 Print Recipe
Decadent Red Velvet Cake
A moist, flavorful, slightly dense Red Velvet Cake that tastes Crazy Amazing with my Fluffy Cream Cheese Frosting
Ingredients
2 3/4

Cup

All Purpose Flour

1/4

Cup

Cocoa Powder

1

tsp

Baking Soda

1/2

tsp

Salt

1/2

Cup

Buttermilk

1

Cup

Sour Cream

1

oz

Red Gel Food Color

1

tsp

Pure Vanilla Extract

1

tsp

Pure Almond Extract

1

tsp

Lemon Extract

1

Cup

Unsalted Butter, at Room Temperature

2

Cup

Sugar

4

Large

Eggs, at Room Temperature
Instructions
Preheat your oven to 325° Fahrenheit. Grease 2- 8" Baking Pans and line with Parchment Paper.

Whisk Flour, Cocoa Powder, Baking Soda and Salt together in a bowl and set aside.

Create your Wet Mixture by combining Buttermilk, Sour Cream, Food Color, and Extracts in a separate bowl and set aside.

Beat Butter and Sugar together until fluffy and lighter in color. (About 3 minutes). Scrape down the sides and bottom of the bowl and add Eggs. Beat until fully combined.

Stir in the wet mixture until fully combined. Scrape down the sides and bottom of the bowl to make sure no clumps of butter remain.

Add in the Dry Mixture and Stir until just combined.

Divide batter evenly between the 2 pans. This can be done easily with a kitchen scale (filling each pan with about 25 oz of batter), but if you don't have one, just eyeball it. Your pans should be about 1/2 way full. (You will have a bit of batter leftover, which is perfect for "test" cupcakes! 😉

Bake Cakes on Center oven rack for 35-40 minutes or until a toothpick inserted into the middle of each cake comes out with only a few moist crumbs. Do not over bake.

Remove Cakes from oven and allow them to cool for 10 minutes. After 10 minutes, invert onto a wire rack to cool completely. When cakes are cool, wrap each layer tightly in plastic wrap and place into the freezer to chill for easier decorating. Enjoy!!
Notes
Lemon Extract is optional, and can be omitted.
Milk can be Substituted for the Buttermilk
Recipe can be made Gluten Free by using your favorite Gluten Free Flour.