As an Amazon affiliate, and affiliate with other businesses, I earn from qualifying purchases.
This Banana Blueberry Cream Pie is easy, creamy, fresh and light. It's NO BAKE and can easily be made in less than 30 minutes! Inspired by the iconic pie at Bryce Canyon Pines Motel and Restaurant.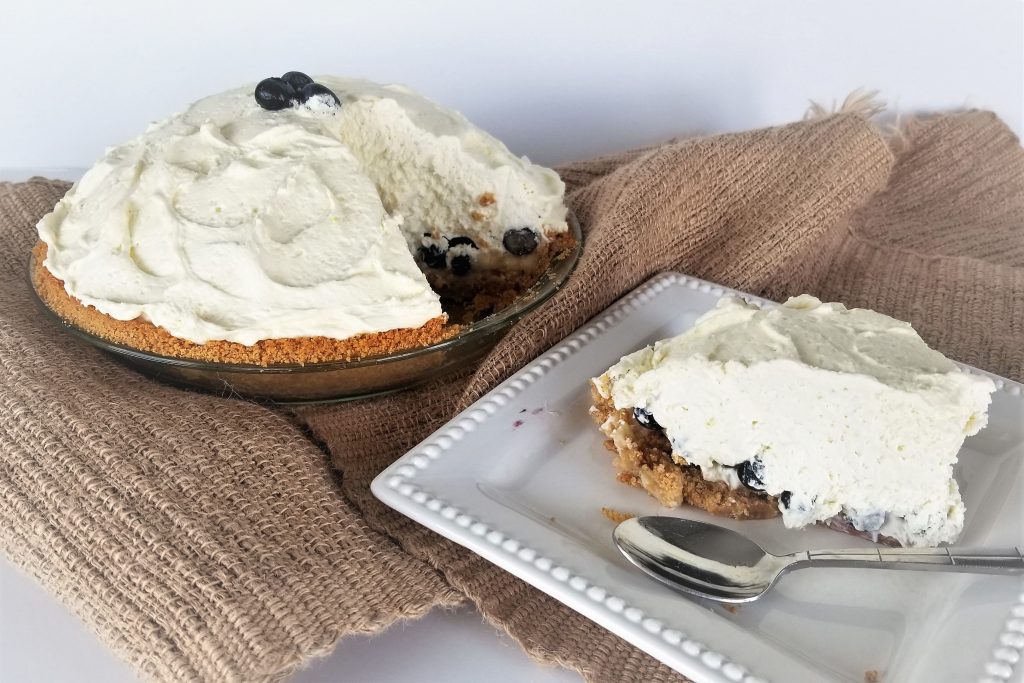 If you're looking for an easy and quick dessert to take to the summer BBQ or bring something a little different to your holiday pies look no further… This light and fresh Banana Blueberry Cream Pie is a crowd pleaser. You don't have to like pie to love this one! Fresh blueberries and bananas paired with a fluffy banana flavored whipped cream and buttery graham cracker crust makes for a delightful dessert enjoyed by kids and adults alike.
I recently relocated to the small and charming town of Panguitch, UT. And one of the great things about this little town is its proximity to beautiful scenery. Like Zions National Park, Dixie National Forest, and Bryce Canyon ! If you've never been, this is your wake up call…. BOOK YOUR TRIP NOW!!!
On highway 12 (Voted #2 of the World's Most Beautiful Highways, you're welcome!) there is a little motel called Bryce Canyon Pines Motel. It has a cute little restaurant famous for their pie and their soup… We've tried every pie there, but the Banana Blueberry Cream Pie is by far our favorite! So naturally, I needed to recreate it and share so that those who DON'T live less than 30 minutes from this marvelous dessert can try it as well!
This little restaurant is SO famous for their pie that you have to order it 24 hours in advance if you want a full pie. We have driven out to Bryce, ordered the pie, headed back, and driven out the next day AGAIN to pick it up. It's THAT good! (Don't be like us, remember to order the pie!)
completely from scratch… or modify it!
I love a dessert that I can make quickly and one I can modify. So this recipe is great for a number of reasons:
Don't want to make your own crust? Buy a store bought!
Don't like blueberries? Take them out, or sub for another berry! (Strawberries or Raspberries would be delightful as well!)
Too hot outside to turn on your oven? Don't bake your crust! That part is optional! Just grab a spoon… it'll be delightfully crumbly!
Make your Graham Cracker Crust
If you're choosing to use a store bought crust, you can skip this part and move on to prepping your fruit.
If you prefer a homemade crust, please visit my recipe for my Classic New York Style Cheesecake. The recipe for an amazing crust is there. You'll just want to put it into a pie dish instead of a springform pan!
With this recipe, it is totally optional to bake your crust. If you prefer the bolder flavor of the baked butter and toasted graham crackers, bake it! If you like it a little bit crumbly and more like a trifle, don't! I like it both ways, however, the crumbly crust is closer to the texture you would find at the Pine Motel.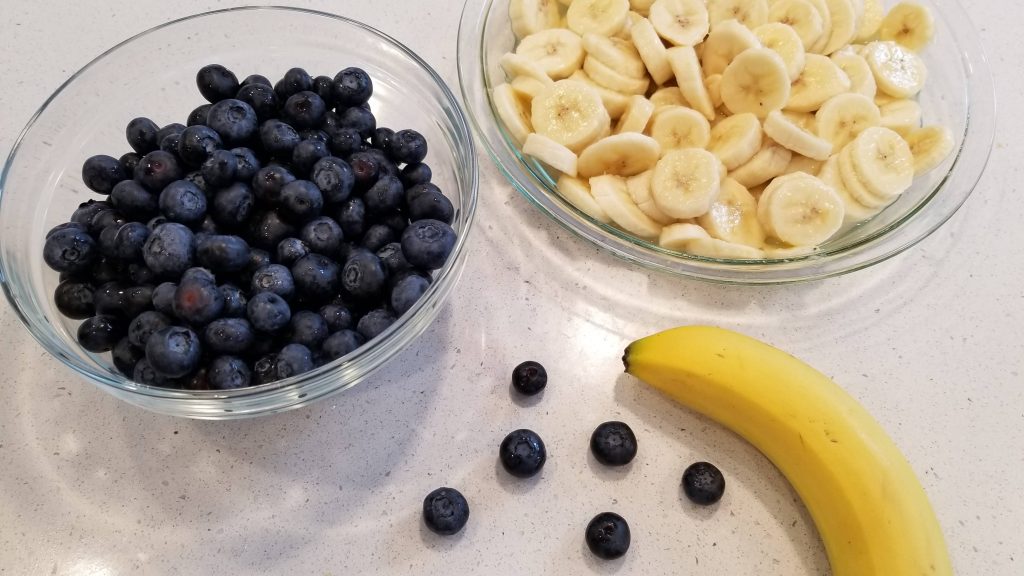 Prep your fruit
Wash your blueberries and set them aside. Then juice a lemon (You can use 1/4 cup of bottled lemon juice instead if you don't have a lemon on hand). Cut your bananas into about 1/4″ slices and pour some lemon juice on them so they don't brown. Toss them in the juice, but don't over work them, or they'll start to fall apart and get mushy!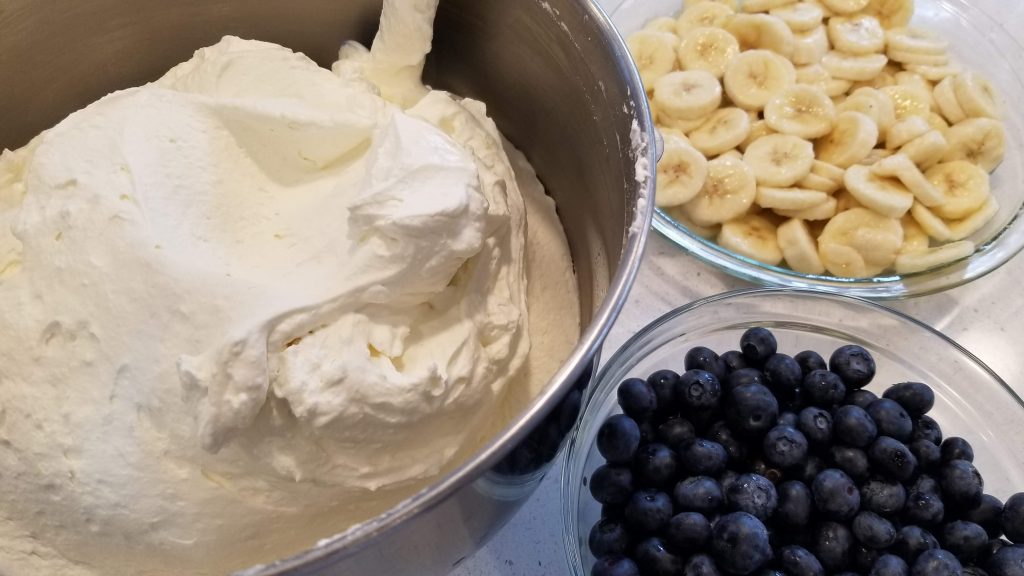 Make your whipped cream
Making the whipped cream is the most difficult part of this recipe… and it's not hard if you follow these simple steps:
Grab your bowl and whisk attachment. You can use a stand mixer OR a hand mixer. I wouldn't suggest you use a hand whisk, unless you're really looking for a workout!
Pour a pint of heavy whipping cream into your bowl along with your powdered sugar and your vanilla.
Start whipping your cream on low and increase your speed gradually. (If you start too fast you'll have whipping cream all over yourself AND your kitchen!)
As the cream starts to thicken you can increase your speed. This is the crucial part, DON'T leave your mixer during this process. Your whipping cream can quickly go from a cream to butter! So keep a close eye to see that you don't overmix.
Once you've reached medium peeks, you are ready to add your Jell-O pudding mix. (If you would rather, you can substitute Vanilla Pudding mix for the Banana. The banana just amplifies that flavor for you!)
Mix the pudding mix into your cream on low until it is combined and then add some milk to thin it out just a bit. (Don't add too much, we want to pile it high onto our pie!)
And you're done! That was the most complicated part of making this pie.
Now for assembly
Take your pie crust and layer your bananas and blueberries. (If you DID bake your crust, make sure it is cooled and ready for the fresh fruit and cream! Very important!) I like to add two rows of bananas and then throw the blueberries on top, but you do you it however you'd like!
Top the fresh fruit with your freshly whipped cream.
Add a few blueberries for garnish and you're done!
I'd love to know what you think of this quick and easy Banana Blueberry Cream Pie recipe… have you tried the original from Pines Motel? Let me know how you think it compares! And if you haven't tired the original, plan a trip to visit Bryce Canyon. It is BY FAR one of my most favorite places here in Utah! It'll take your breath away! Especially if you hike to the bottom and back up again 😉
And if you'd like to meet me in person, come stay at Henrie's Hitch N Post! You'll see a friendly face at the front desk, and I may or may not have some cookies too!
Happy Baking All!!
Chels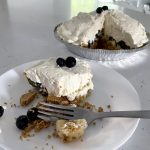 Print Recipe
Banana Blueberry Cream Pie
Banana Whipped Cream, Fresh Blueberries and Bananas and a Graham Cracker Crust
Ingredients
2 1/2 – 3

Bananas

1 1/2

Cup

Blueberries

1

Pint

Whipping Cream

1/2

Cup

Powdered Sugar

3

Tbsp

Banana Pudding Mix

1

tsp

Vanilla

1

Lemon (Juiced)

3

Tbsp

Milk

1

Graham Cracker Pie Crust
Instructions
Make your graham cracker pie crust, it does NOT need to be baked. Or use a store bought graham cracker pie crust.

Wash your blueberries and set them aside.

Make your Whipped Cream. Add the whipping cream, powdered sugar and vanilla to the bowl of your mixer. Using a whisk attachment start whisking on low. Increase the speed as your cream starts to thicken. When you've reached soft peaks, add in your pudding mix and mix until stiff peaks. Thin out with a little bit of milk. Set aside.

Slice your bananas and toss them with your lemon juice to prevent browning.

Assemble your pie. Place bananas on the bottom of your crust and top with the blueberries (save a few for the top of your pie). Then pile on your whipped cream and garnish with those saved blueberries.

Store covered in the fridge. Consume within 3 days.
Notes
Vanilla Pudding Mix can be substituted for the Banana Flavor if you prefer.
Bottled lemon juice can be used in place of juicing a lemon.