As an Amazon affiliate, and affiliate with other businesses, I earn from qualifying purchases.
The BEST Pumpkin Gingersnap Cheesecake you will ever have! Creamy, smooth, rich, Pumpkin Cheesecake with a sweet and spicy Gingersnap Crust – topped with perfectly spiced and pipeable Whipped Cream!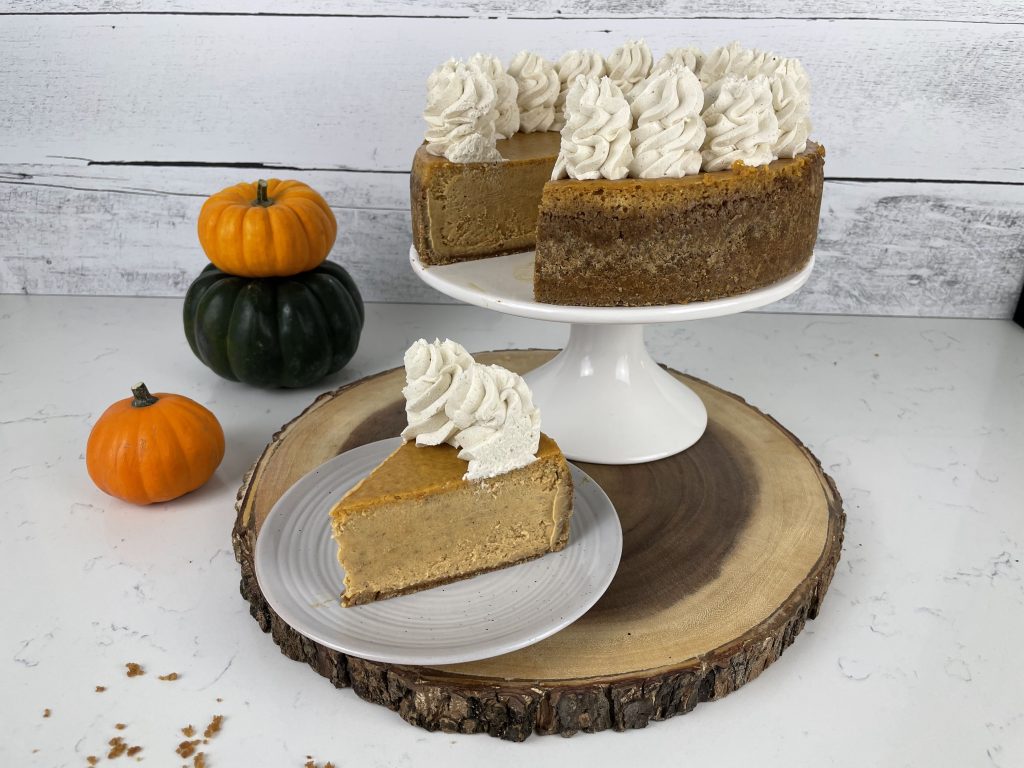 Move over Cheesecake Factory…. this BEST EVER Pumpkin Gingersnap Cheesecake & Spiced Whipped Cream never disappoints! It sincerely pleases the masses. This Cheesecake has a buttery, ginger crust. A creamy pumpkin packed filling. And a fabulous light and fluffy Spiced Whipped Cream. It is absolute perfection!!!
Hate pumpkin pie?
Doesn't matter… you'll LOVE this!
Hate Cheesecake?…
I've yet to meet someone who hates this one!
Many a customer (as I used to offer these babies each Thanksgiving) were warry of a Pumpkin Cheesecake, but I always received the BEST feedback!
"Oh my gosh if I don't get one this year I may die!! That's how good it is!! Probably the dessert I look forward to the most at Thanksgiving…"

-Jenna M
If you are looking to impress your friends, neighbors, or family this Thanksgiving (or pretty much any other day of the year) you need this recipe in your arsenal! Serve this Pumpkin Gingersnap Cheesecake & Spiced Whipped Cream very cold, or if you like it like I do, slightly frozen, for an extra special treat.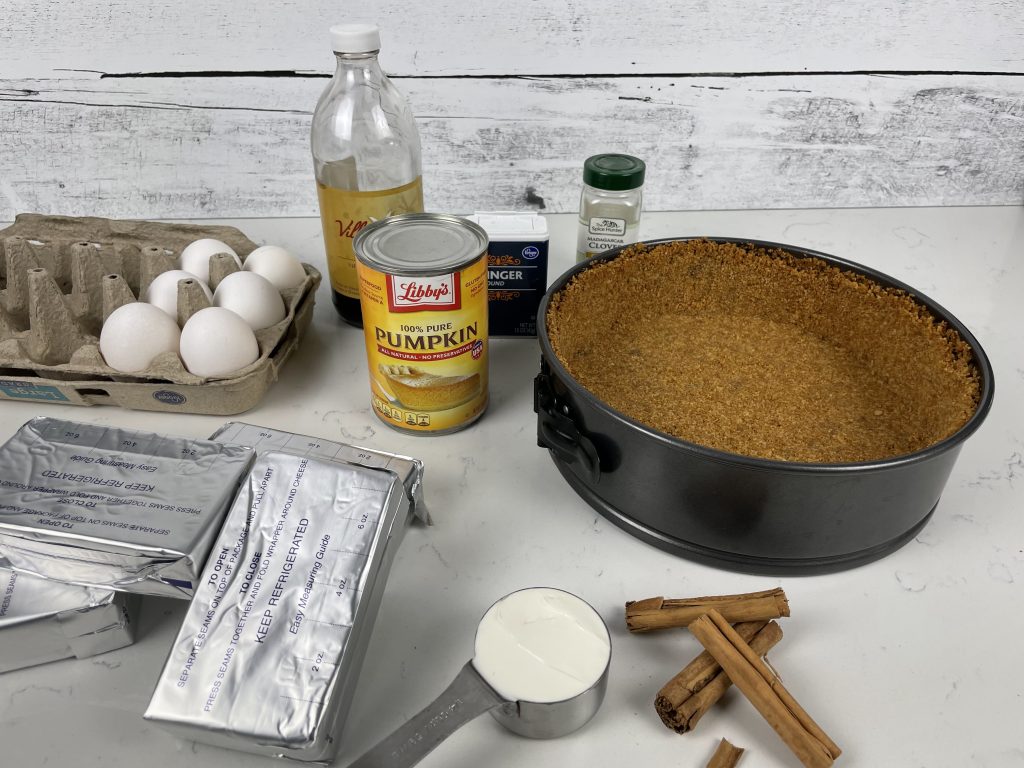 How this Cheesecake Came to be
A couple of years ago my brother's girlfriend requested that I make a pumpkin cheesecake for their Thanksgiving. I was hesitant. I had created my Classic New York Style Cheesecake, and it was a hit. But pumpkin… I hadn't even HAD pumpkin cheesecake before. And because I don't like pumpkin pie, I was a bit nervous to go taste testing. But I did! I tried a few different Pumpkin Cheesecakes from the popular joints, and then set out to combine the things I liked from each one into a unique and delicious dessert.
This is only a fraction of the feedback I received after filling that order:
"I've pretty much consumed the thing by myself!!! It was absolutely amazing! Better than Cheesecake Factory!… It seriously is the best Pumpkin Cheesecake I've ever had!"

-Tonja B
This is not your run of the mill pumpkin dessert. It does not taste like Pumpkin Cake or Cookies, it IS a little closer to a pumpkin pie if served completely thawed. But it's SOOOOO much better. It is its own unique blend of AWESOME!!! (Sorry, I've been watching too much How I Met Your Mother!)
I've got some great tips on baking a cheesecake over on my Classic New York Style Cheesecake post, so in order to keep this blog post short and sweet, head over to that post to learn more about baking a cheesecake if this will be your first one.
What sets this recipe apart from the others?
Honestly, the crust— it leaves nothing to be desired! This is definitely my favorite part. I prefer it just a little extra sweet… so I DO add the optional 1/4 cup of sugar.
Second to the crust is the spiced whipped cream. You can most definitely just buy a can of whipped cream and spray it on when you serve… but you'll be missing this final layer of flavor and fluff! It takes all of 5 minutes to make this delicious and fluffy spiced whipped cream… and it'll take your cheesecake from delightful to UNFORGETABLE!!!
Suggestions to make this the best pumpkin gingersnap cheesecake ever
Buy good gingersnap cookies! Find ones YOU like. Personally, I love Kroger brand. They're a little extra spicy and add just the right flavor!
Make the whipped cream… just trust me… I used Ateco 826 tip to decorate the top of this Pumpkin Gingersnap Cheesecake.
Make sure your ingredients are room temperature! This is very important for cheesecake. Because if you try to whip cream cheese cold you'll have a lumpy mess! And you're going to want that smooth and creamy filling! Yum!!!
Don't skip the water bath. It takes longer to bake a cheesecake with a water bath, yes. But if you bake without, your edges will be crusty and the center might not cook thoroughly. Also, aesthetically, your cheesecake will most likely crack!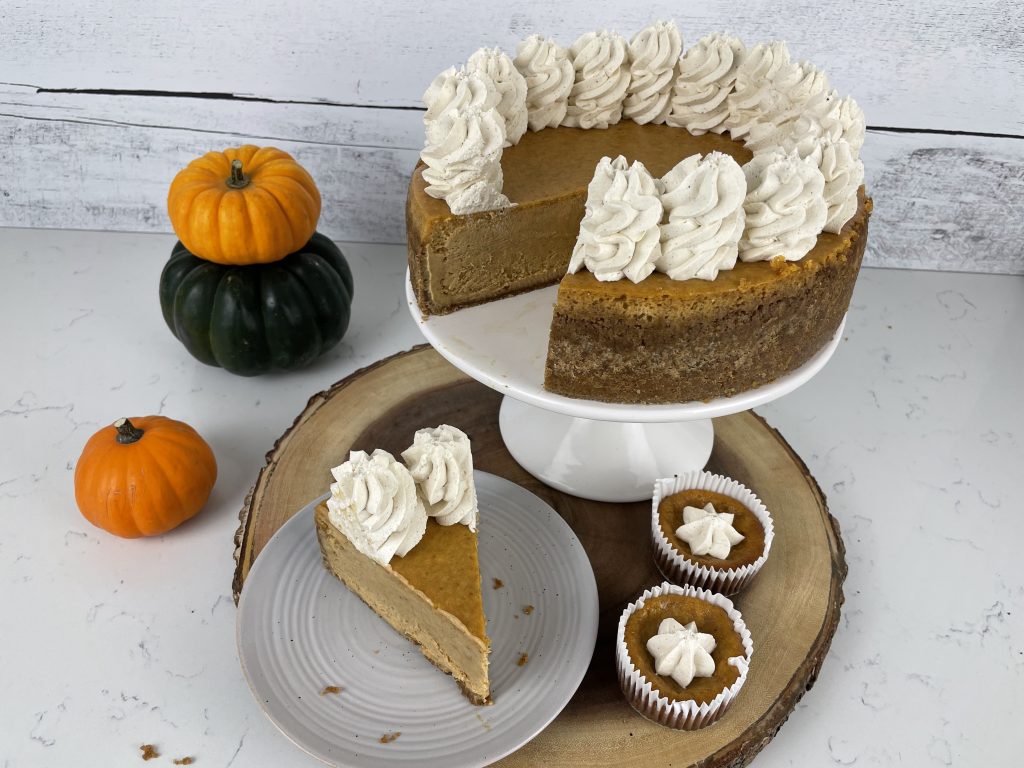 Step by Step: Making the Filling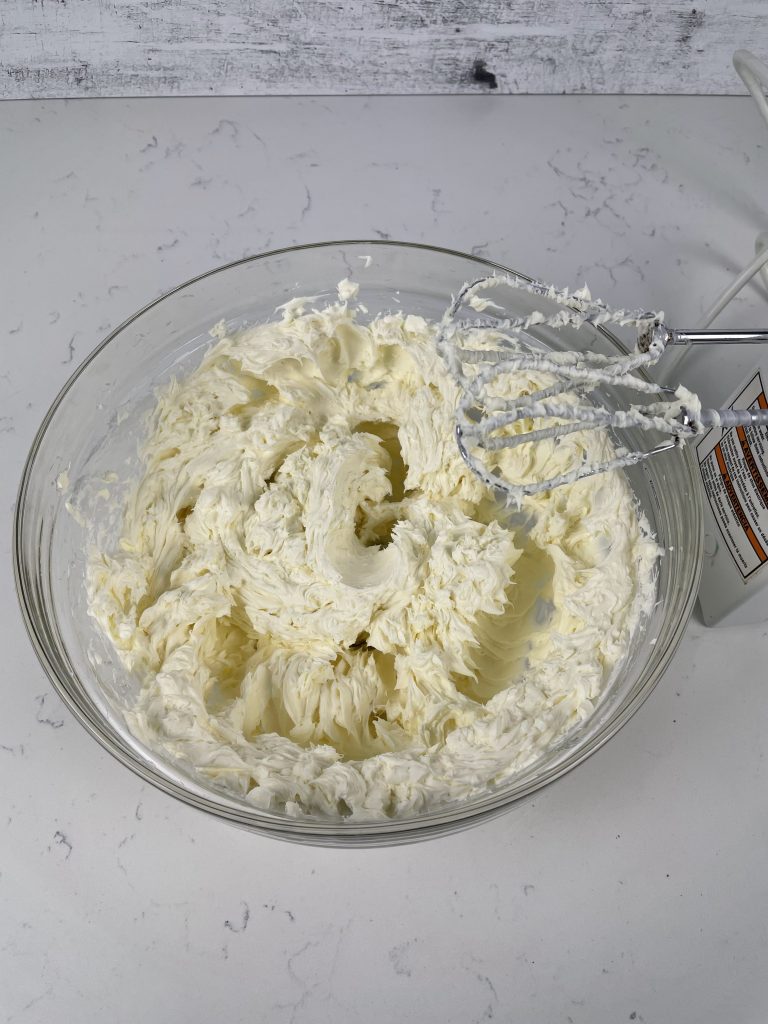 Option: Make Pumpkin Cheesecake Cupcakes
This recipe makes a little extra filling. Because of this you can make your cheesecake in a bigger 10″ Pan and only spread your crust along the bottom, instead of up the sides… or you can use the extra filling to make some Cheesecake Cupcakes! Slip some gingersnaps into the bottom of your liners and top with cheesecake filling! Easy Peasy!
Then bake these cupcakes underneath your water bath for the last 30 minutes your cheesecake is in the oven.
Best way to store Pumpkin Gingersnap Cheesecake
I suggest you place this puppy into the freezer directly after baking and cooling. (I like mine almost frozen anyway). Frozen, it will keep for up to 3 months if wrapped tightly.
This is also one of the great things about this recipe… you can make this ahead of time and hold off on the whipped cream until day of. PERFECT for Thanksgiving, because you can prep this beforehand and know it's ready to go!
Once transferred to the fridge, you should consume within a few days.
You could always slice and wrap individual slices and then freeze…. but that might be… dangerous! 😉
Other options for your Thanksgiving Festivities
While I HIGHLY recommend you add this Pumpkin Gingersnap Cheesecake to your dessert table this year, I have other great suggestions as well:
If you're looking for something a little unexpected in the pie category, why not make this EASY Banana Blueberry Cream Pie?! It's fresh and fun and kiddos love it!
If you're like me, and not a huge pie person, my Classic New York Style Cheesecake is another great option. You can top it with any flavor topping you feel your family is missing!
Honestly… Christmas dessert or not, my Soft Roll-Out Gingerbread Cookies are great for any occasion! They can always be made ahead of time and frozen!
And non-dessert related… Lion House Rolls!!!! My absolute favorite rolls. 100% Recommend taking the time to make this recipe! Barbara breaks it down beautifully for you.
Let me know what your favorite Thanksgiving desserts are! And do you love this recipe?!! Give it 5 stars and leave me your reviews! I love it when I hear from you.
-Chels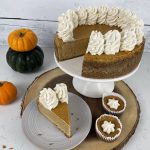 Print Recipe
Pumpkin Gingersnap Cheesecake & Spiced Whipped Cream
A creamy, smooth pumpkin cheesecake nestled in a gingersnap crust and topped with delicately spiced whipped cream.
Ingredients
For the Crust
8

Tbsp

Salted Butter

melted

1 1/2

Cups

Gingersnaps

Crushed

1

Cup

Graham Crackers

Crushed

1/4

Cup

Sugar

optional*
For the Filling
2

lbs

Cream Cheese

room temperature

2 1/2

Cups

Sugar

1/4

Cup

Sour Cream

room temperature

15

oz

Can Pure Pumpkin

1

Tbsp

Pure Vanilla Extract

1

tsp

Salt

2 1/2

tsp

Ground Cinnamon

1

tsp

Ground Ginger

1/4

tsp

Ground Cloves

6

Large

Eggs

room temperature
Spiced Whipped Cream
1

Pint

Whipping Cream

1/2

Cup

Powdered Sugar

1

tsp

Pure Vanilla Extract

1/2

tsp

Pumpkin Pie Spice

3

Tbsp

Cheesecake Pudding Mix

unprepared

2-3

Tbsp

Milk
Instructions
For the Crust
Preheat the oven to 325° with rack in the center oven position. Grease a 9" Springform Pan.

Mix together crushed gingersnaps (about 22 cookies), crushed graham crackers (about 7 full sized crackers), melted butter, and if a sweeter crust is desired- 1/4 C sugar.

Empty into prepared Springform Pan and press up the sides and along the bottom.

Bake in preheated oven for 12 minutes.

After cooling, wrap the outside of the pan in 2 layers of aluminum foil and place into a roasting pan. Set aside.
For the Filling
Beat the room temperature cream cheese until smooth, add sugar and mix until fully combined. Scrape down the bowl and add sour cream, mix until combined. Add Pumpkin and spices. Mix until fully combined, but do not overmix. Add eggs one at a time, mixing until fully incorporated each time.

Pour into cooled crust and slide into the oven. Pour enough water into the roasting pan to cover the bottom of the roasting pan, then bake for 1:45-2:15 minutes. Until the edges of the cheesecake are fairly set, but the center still has a wiggle. (time will vary according to each individual oven)

*If you are going to bake cheesecake cupcakes as well, put them in for the last half hour of baking.

When the cheesecake is done, turn off the oven and prop the door open just slightly to slowly let out the heat. Leave the cheesecake in the turned off oven for 1 hour. Then remove to the counter to cool for about 20 minutes more.

Cover with plastic wrap and put in fridge for at least 8 hours, or preferably in the freezer overnight.
For the Spiced Whipped Cream
When ready to serve, Combine the whipping cream with powdered sugar, vanilla, and pumpkin pie spice and whip until soft peaks.

Add pudding mix and beat until stiff peaks. Then thin out with a little bit of milk until piping consistency.

Remove cake from fridge or freezer, slide knife around the edges of your springform pan and pop the cheesecake from the pan, then top with prepared whipped cream. Serve immediately or cover and place in the refrigerator.

Cheesecake must be kept cool. Consume within 3 days if keeping it in the fridge. 3 months if frozen.
Notes
*Do not freeze cake with whipped cream. Make the whipped cream fresh day of.
*To make the cupcakes with extra batter, place gingersnaps in the bottom of cupcake liners and top with filling. Will make about 12 cupcakes in addition to a 9″ Cheesecake.
*Can make Cheesecake in a 10″ springform pan if not wanting to make cupcakes. Increase baking time if necessary.